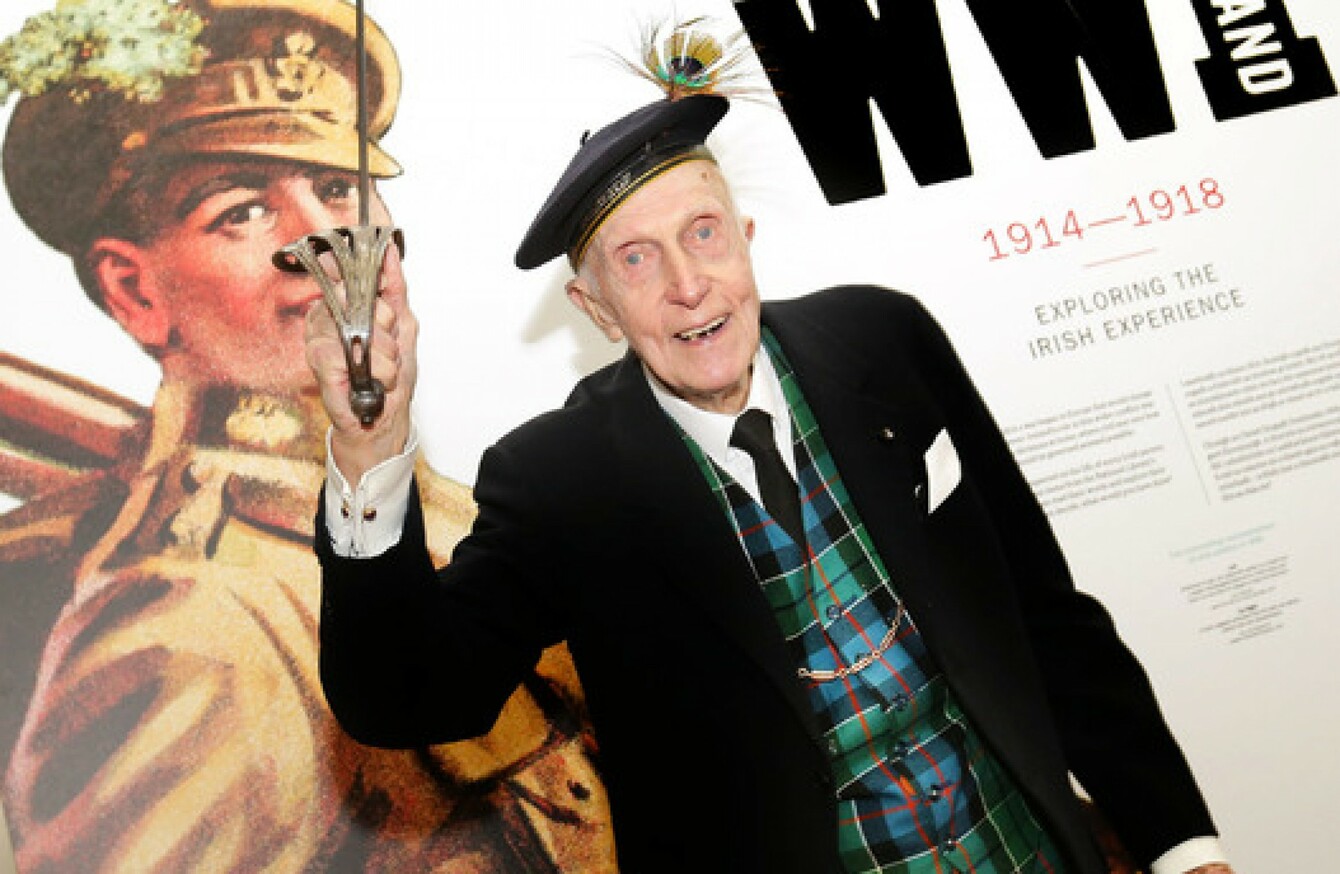 Image: Marc O'Sullivan
Image: Marc O'Sullivan
CAPTAIN SIR JOHN 'Jack' Leslie, one of Ireland's oldest surviving Second World War veterans, has died, aged 99.
Leslie was a member of Clan Leslie, and lived at the popular Castle Leslie estate in Co Monaghan.
He was the fourth baronet of the Leslie clan.
The Castle Leslie estate made the announcement of his death on Facebook this morning.
"The Leslie Family are sad to announce that Captain Sir John [Uncle Jack] Leslie Bt (age 99) passed away peacefully in his sleep this morning with the dawn chorus surrounded by his family," the statement reads.
The Ambassador of France to Ireland, Jean-Pierre Thébault, said in a statement today that France 'has lost a friend' with Sir Leslie's death:
I had the privilege to pay him a private visit last Friday. We chatted for half an hour. In his perfect French, he spoke of the many opportunities he had had to visit our country and the many links he and his family still had with France. In particular, he vividly remembered the heroic role played by his sister, Anita, during World War II, for which she was awarded the French Croix de Guerre (Cross of War). Near his bed, and close to his heart, were the insignia of Chevalier de l'Ordre de la Légion d'Honneur that France officially bestowed on him in November 2015, in recognition of his own role.
He said that with Sir John Leslie, "France loses a friend and mourns a hero".
Like thousands of other Irishmen and Irishwomen, he voluntarily enlisted and put his life, his future, at risk in the darkest hours of World War II, to fight for freedom and all the core values of our free societies. Their legacy will always inspire us.
Born in New York in 1916, the popular baronet was from one of Ireland's most prominent Anglo-Irish families and was well-known and liked in Monaghan.
He fought in the second world war and lived in Rome for 40 years, before returning to the Castle Leslie estate in 1994.
Much media attention focussed on his love of dance music, and in 2001 he travelled to Ibiza to celebrate his 85th birthday at Privilege – the world's biggest nightclub.
The Castle Leslie estate is a popular 5-star hotel and has been visited by many high profile guests over the years.
Leslie never married or had children. He is survived by his nieces and nephews and other extended family.
Members of the public have been asked to share their fond memories of Leslie on a Facebook appreciation page.
Leslie will be buried in a private burial enclosure next to the estate church of St Salvator.