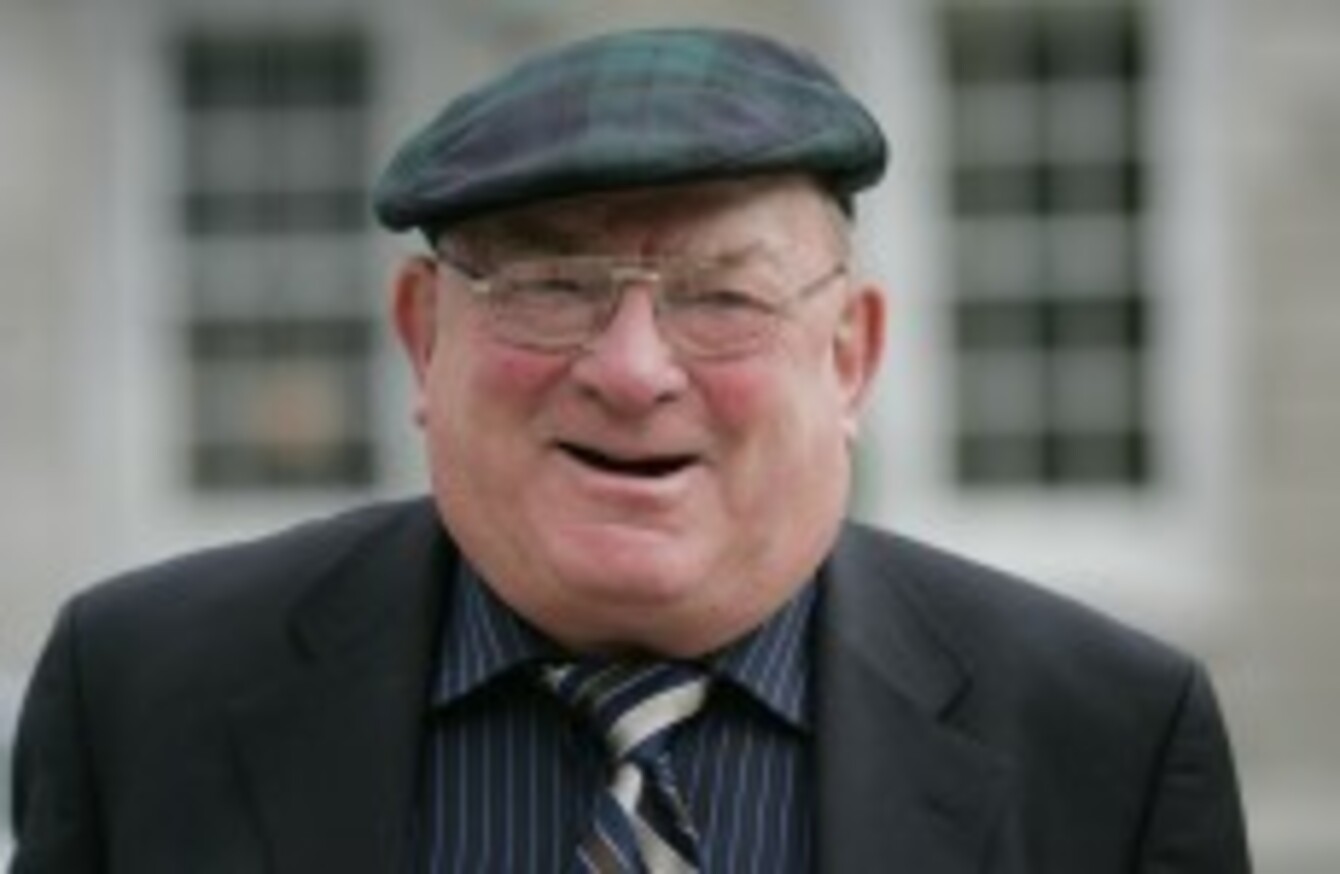 Jackie Healy-Rae
Image: Eamonn Farrell/Photocall Ireland
Jackie Healy-Rae
Image: Eamonn Farrell/Photocall Ireland
Updated at 4.30pm
FORMER KERRY TD Jackie Healy-Rae has died this afternoon. He was 83.
The former Kerry South deputy passed away just after 1.30pm this afternoon at Kerry General Hospital in Tralee.
His son Michael Healy-Rae, who succeeded him in the Dáil in 2011, told TheJournal.ie that the family were "devastated" at the loss and that he had been ill for a "good length" of time.
It was reported in November that Healy-Rae was "fighting the mother of all battles" against serious illness.
He was the founder of one of the country's best-known political dynasties and served as an independent TD for Kerry South from 1997 to 2011.
Born just outside Kilgarvan on 9 March 1931, John Patrick Healy acquired the 'Rae' part of his surname from the local townland where he born.
He was educated locally before emigrating to the US in the 1950s. He returned later in the decade and played hurling and football with local teams.
In the 1960s he established a plant hire business and also acquired a local pub in Kilgarvan which is still going today and is run by his son, Danny.
Fianna Fáil links
Healy-Rae's political involvement dates back to the 1960s when he headed several by-election campaigns for Fianna Fáil, most notably the election of John O'Leary in 1966.
He was co-opted onto Kerry County Council as a Fianna Fáil member in 1973 and was the party's director of elections in Kerry South for much of the 1970s and 1980s.
However, Healy-Rae quit Fianna Fáil in controversial circumstances prior to the 1997 general election when the party failed to nominate him as its candidate in Kerry South.
Though few backed him to win as an independent candidate he was elected and denied his former party a second seat in the constituency in the '97 general election.
He was one of four independent TDs to back the Fianna Fáil-Progressive Democrat coalition during its five-year term, securing funding for various public services in his constituency such as schools and roads.
He did a similar deal with Bertie Ahern after the 2007 general election, signing a 'confidence and supply' agreement where he said he would support the government in return for investment in Kerry South.
The deal was kept secret and only emerged after Healy-Rae retired in 2011.
Ill health
The patriarch of the Healy Rae dynasty had been in poor health recently. He was rushed to the facility in Tralee last month suffering from pneumonia – but had been in and out of hospital since the start of the year for various treatments.
He was given special dispensation to leave hospital back in May to vote for his grandson Johnny in the council elections.
Johnny and his father Danny – whose joint-campaign, famously, included the placing of an election poster on top of Carrantuohill – were both elected in the 24 May ballot.
Speaking to Radio Kerry from his hospital bed in the wake of the council elections, the 83-year-old slipped back into electioneering mode for a few moments as he talked-up the Healy-Rae clan's achievements in the area.
"You can see yourself the massive improvements that I made. The things that I've done and the money that I brought down will never again be brought down.
"There were things that were owed to the people of this county back over the years and they were left undone – and it was high time that some fella came along… And I was very glad that I came along to do it."
Fianna Fáil leader Micheál Martin said Healy Rae had been a unique politician "who captured the imagination of the people of Kerry and across Ireland with his story telling and his sheer determination to improve services in South Kerry".
"I know his close knit family will be devastated with their loss," Martin said.
Fine Gael Kerry TD Jimmy Deenihan said the county had lost a "committed and a passionate public servant".
"Jackie Healy-Rae was passionate about politics and passionate about Kerry."
- additional reporting from Daragh Brophy