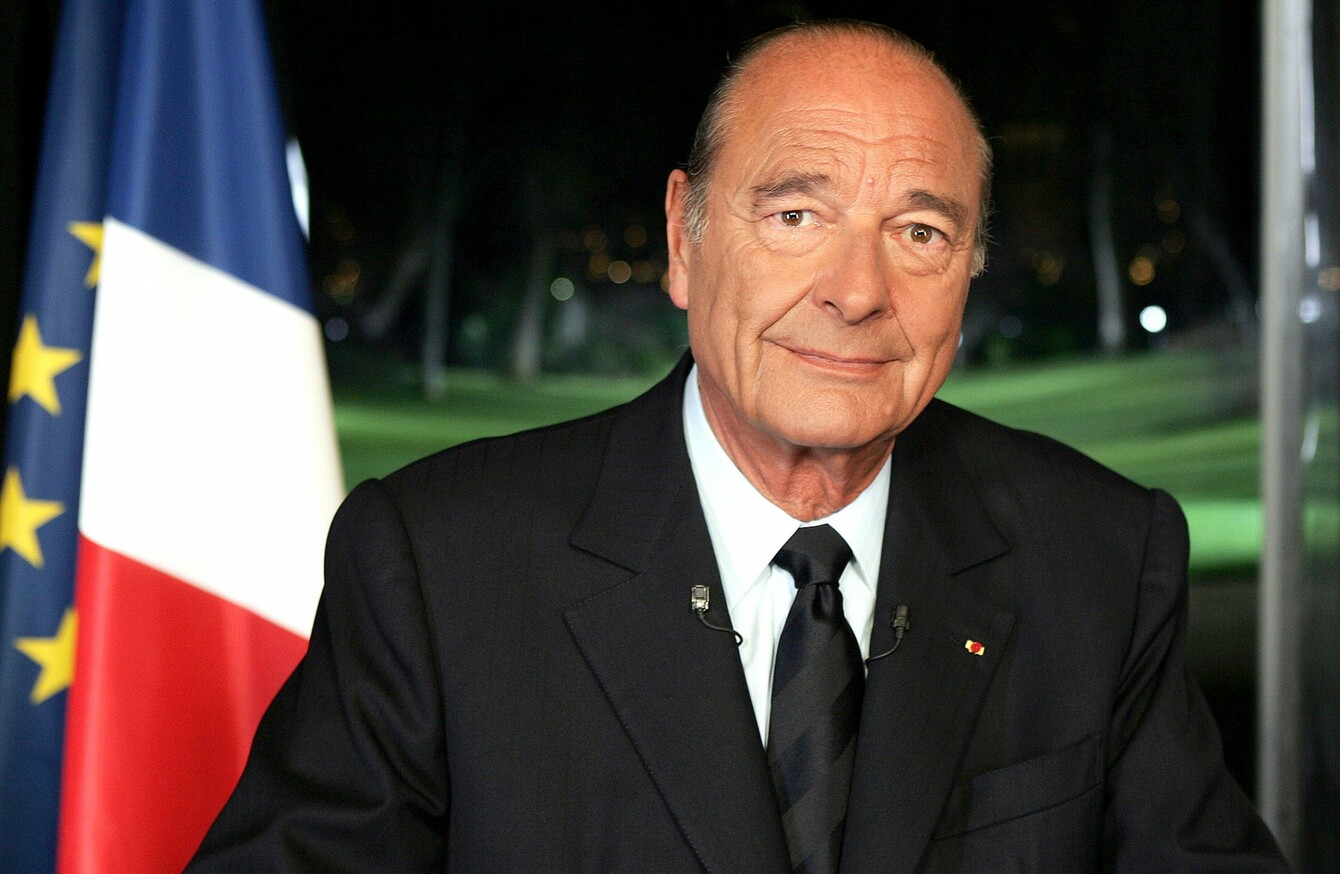 Former French President Jacques Chirac pictured in 2005.
Image: Pool/ABACA
Former French President Jacques Chirac pictured in 2005.
Image: Pool/ABACA
Updated Sep 26th 2019, 4:05 PM
FORMER FRENCH PRESIDENT Jacques Chirac, a centre-right politician who served as head of state from 1995 to 2007, has died, his family said.
He was 86.
"President Jacques Chirac died this morning surrounded by his family, peacefully," his son-in-law Frederic Salat-Baroux told AFP.
Twice elected head of state in 1995 and 2002, his 12 years in the Elysee Palace made him France's second longest-serving post-war president after his Socialist predecessor Francois Mitterrand.
On the international stage, Chirac could be best remembered for angering the United States with his public opposition to the 2003 war in Iraq.
An instinctive conservative but with an appeal that extended beyond the right, Chirac also served two stints as prime minister in 1974-76 and 1986-88 and was mayor of his native Paris from 1977-1995.
It was his time at the helm of the French capital that resulted, once he had lost his presidential immunity, in a conviction for embezzlement and misuse of public funds.
Chirac had rarely been seen in public in recent years and was long known to have been suffering from ill-health.
Taoiseach Leo Varadkar issued a statement this evening offering his condolences, describing Chirac as a "great friend of Ireland". 
"I want to express the condolences of Ireland and the Irish people to the family of former President Jacques Chirac, and to the people of France on the occasion of his death.
"France has lost a long-serving and influential leader who was instrumental in shaping modern France, serving twice as Prime Minister and as President from 1995-2007. He was a true European and wisely kept his country out of the Iraq war," Varadkar said. 
Jacques Chirac was also a great friend of Ireland, which he visited on many occasions. He worked closely with successive Irish Taoisigh, in particular on EU matters. Qu'il repose en paix.
President Michael D Higgins said "it is with great regret" that he learnt of Chirac's death.
"His contribution as a politician and statesman, over the course of a long career in public service spanning four decades, was a significant one," Higgins said. 
"As President of France, Jacques Chirac played a prominent role throughout one of the most important periods in recent European history," he said. 
He was a good friend of Ireland, visiting our country on several occasions and always working to further our strong relationship of enduring friendship.
"As President of Ireland, I express my deepest condolences to his family and the people of France." 
'Embodied France' 
"Jacques Chirac is part of the history of France," said parliament speaker Richard Ferrand from the centrist party of President Emmanuel Macron as he announced Chirac's passing to parliament.
Both chambers – the lower House National Assembly and the upper house Senate – observed a minute of silence after the news was announced.
Macron cancelled a planned trip to the south of France to discuss his pension reform and will address the nation at 6pm, his office said.
Macron's Socialist predecessor Francois Hollande praised Chirac as a "fighter" who had "known how to establish a personal link with the French". 
And Chirac's rightwing successor Nicolas Sarkozy, who regarded the former president as a mentor, said Chirac "embodied a France faithful to its universal values."
"He loved France so much. He loved the people, he loved his contact with them, he loved seeing them, he loved laughing with them," Line Renaud, an actress and friend of the former leader, told BFM television channel.
#Open journalism No news is bad news Support The Journal

Your contributions will help us continue to deliver the stories that are important to you

Support us now
Jean-Claude Juncker, European Commission chief was "moved and devastated" to learn of Chirac's death, a spokeswoman said, adding that Europe was losing a "great statesman".
Putin heaped praise on Chirac as a "wise and far-sighted statesman" and also singled out "his intellect and huge knowledge", the Kremlin said. 
Merkel said he was "an outstanding partner and friend to us Germans" while British Prime Minister Boris Johnson said Chirac had "shaped the destiny of his nation".
Former British premier Tony Blair, who along with former US president George W Bush backed the Iraq war that Chirac so vehemently opposed, described him as "a towering figure in French and European politics."
"Whatever our differences, I found him unfailingly kind, generous and supportive," Blair said on Twitter.
Chirac infuriated Washington by refusing to join the US-led coalition in the invasion of Iraq in 2003, a landmark decision which badly hurt Paris-Washington relations.
But as Iraq slipped into chaos in the aftermath of the invasion, many observers saw his opposition to the conflict as one of the crowning achievements of his political career.
Additional reporting from Gráinne Ní Aodha and Adam Daly