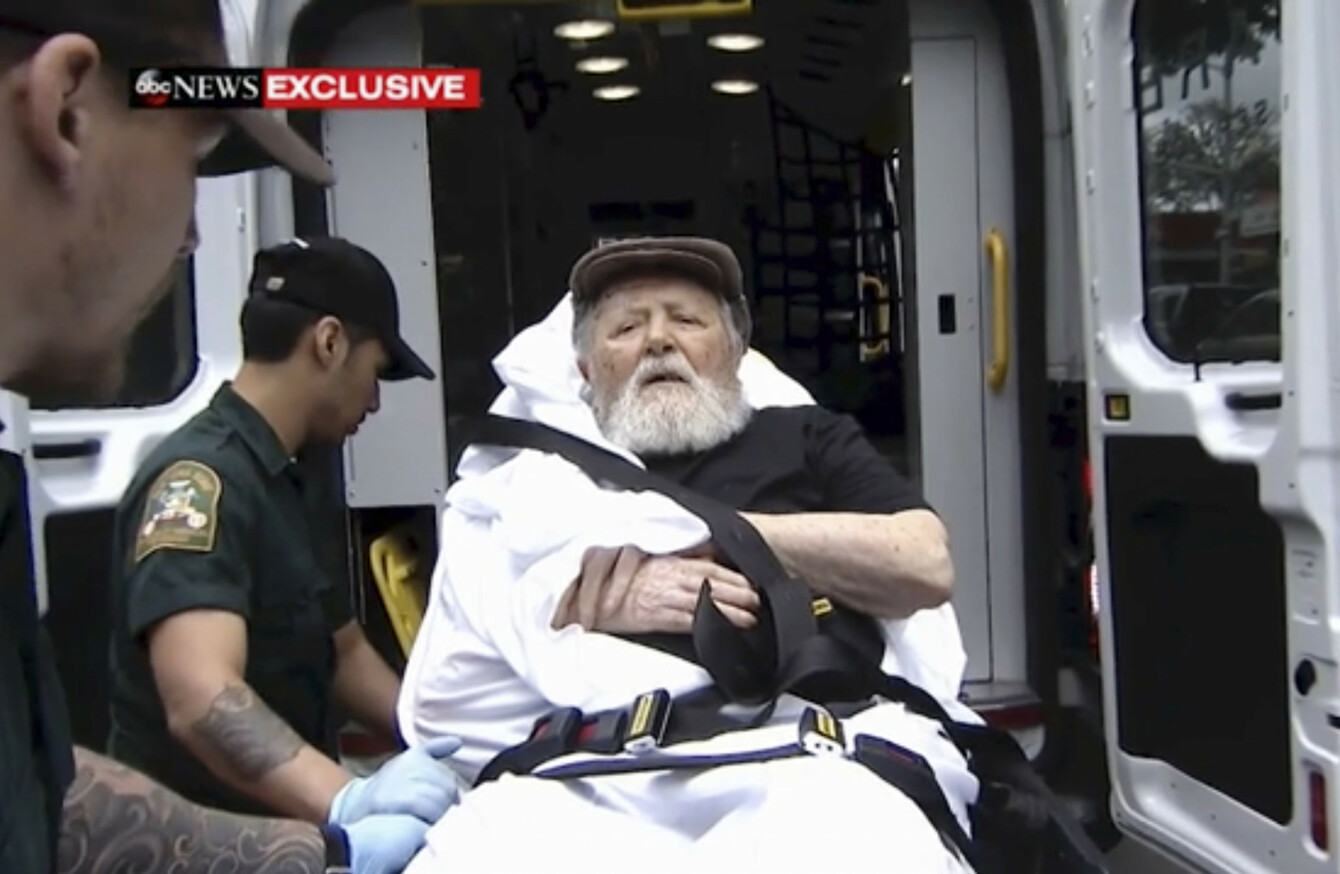 Jakiw Palij, a former Nazi concentration camp guard, is carried on a stretcher from his home into a waiting ambulance in the Queen, New York.
Image: AP
Jakiw Palij, a former Nazi concentration camp guard, is carried on a stretcher from his home into a waiting ambulance in the Queen, New York.
Image: AP
GERMANY SAID IT has a "moral duty" to take in a 95-year-old former Nazi guard at who was was stripped of his US citizenship.
The German foreign ministry said it had agreed to accept the former Ukraine national Jakiw Palij, following his expulsion from the United States on Monday, saying Berlin felt obliged to accept him in light of the Nazis' crimes.
"The United States had repeatedly pressed for Germany to take in Palij," the ministry said of the former guard who worked at a camp where more than 6,000 people were killed.
However, while Germany initially resisted moves to accept Palij because he was not a citizen, the foreign ministry said that those who served in the Nazi regime should not be able to live out their twilight years in peace in their country of choice.
Palij concealed his Nazi past from immigration agents when he moved to the United States in 1949, the US Justice Department said.
He became an American citizen in 1957.
Criminal investigation
Efraim Zuroff, chief Nazi hunter at the Simon Wiesenthal Center in Jerusalem, praised the "perseverance and dedication" of US authorities in their efforts to have Palij removed.
The White House said in a statement that President Donald Trump had "prioritised" the removal of Palij "to protect the promise of freedom for Holocaust survivors and their families".
German media reports said Palij arrived at Düsseldorf airport on Tuesday and was to be taken to a care home.
German prosecutors had opened a criminal investigation against Palij in 2015, but closed the case for lack of evidence.
Although Germany has put several aged former Nazi guards on trial in recent years for crimes committed during the Holocaust, the head of the Central Office for Investigation of Nazi Crimes, Jens Rommel, told AFP it was unlikely he would be prosecuted.
"Nothing has changed in terms of the evidence just because he has been transferred here," he said.
Nightmarish day
Washington had tried for several years to expel Palij, who had lived in Queens, New York since 1949.
Palij, who was born in what was then Poland and is now Ukraine, admitted to federal officials in 2001 that he was trained as a Nazi guard in spring 1943, the Justice Department said.
A federal judge revoked Pajil's US citizenship in August 2003 and the following year, a US immigration judge ordered his deportation to Ukraine, Poland, Germany or any other country that would admit him.
In court documents, the US government said men who trained at Trawniki participated in implementing the Third Reich's plan to murder Jews in Poland, code-named "Operation Reinhard".
On November 3, 1943, more than 6,000 men, women and children imprisoned at Trawniki were shot to death in one of the largest single massacres of the Holocaust.
"During a single nightmarish day in November 1943, all of the more than 6,000 prisoners of the Nazi camp that Jakiw Palij had guarded were systematically butchered," Eli Rosenbaum, then director of the Justice Department's Office of Special Investigations, said at the time.
"By helping to prevent the escape of these prisoners, Palij played an indispensable role in ensuring that they met their tragic fate at the hands of the Nazis."
The last alleged Nazi war criminal deported by the US to Germany was John Demjanjuk, who served as a guard at the Sobibor extermination camp in occupied Poland, in 2009.
A German court sentenced him to five years in prison in 2011. He died the next year.