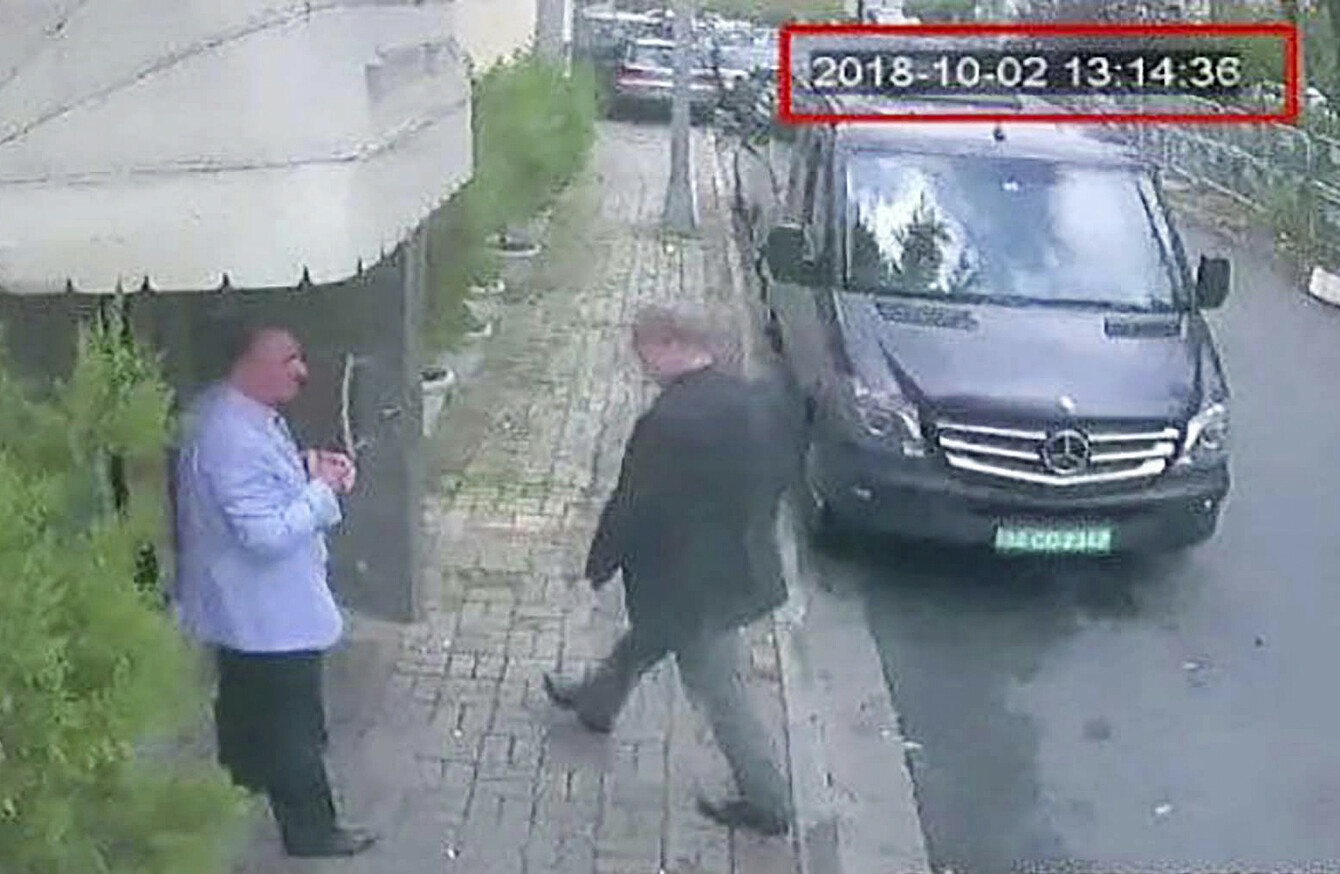 A still image claiming to show Saudi journalist Jamal Khashoggi entering the Saudi consulate in Istanbul on 2 October.
Image: AP/PA Images
A still image claiming to show Saudi journalist Jamal Khashoggi entering the Saudi consulate in Istanbul on 2 October.
Image: AP/PA Images
THE ONGOING CONTROVERSY over the disappearance of the Saudi journalist Jamal Khashoggi doesn't appear to be abating any time soon.
On Thursday, US President Donald Trump admitted that he believes the Washington Post columnist, a strong critic of the Saudi government and royal family, is dead.
And late on Friday, Saudi Arabia admitted that the journalist was killed during a fight inside its consulate in Istanbul.
"The discussions between Jamal Khashoggi and those he met at the kingdom's consulate in Istanbul … devolved into a fistfight, leading to his death," the Saudi Press Agency said, citing the public prosecutor.
Khashoggi was last seen entering the Saudi consulate in Istanbul on 2 October, and in the two and a half weeks since, claims and counter claims have been presented almost daily by Saudi officials and pro-government Turkish media.
With the episode threatening relations between the Middle Eastern country and the West and calls for United Nations involvement, we break down the main points behind the controversy so far.
Who is Jamal Khashoggi?
A columnist with the Washington Post, Jamal Khashoggi went from being a Saudi royal family insider to an outspoken critic of the kingdom's government.
He comes from a prominent Saudi family with Turkish origins and his grandfather, Mohammed Khashoggi, was the personal doctor of Saudi Arabia's founder, King Abdul Aziz al-Saud.
As a young journalist, he interviewed Osama bin Laden several times, but later distanced himself from the al-Qaeda founder.
He served as editor-in-chief of the Saudi daily Al-Watan in 2003, but was seen as too progressive and was forced to resign after just 54 days.
Khashoggi first moved to Washington in 2005, before returning to Al-Watan in 2007, lasting almost three years before being fired for "his editorial style, pushing boundaries of discussion and debate within Saudi society", as his website describes it.
He eventually fled Saudi Arabia in September 2017, just months after Crown Prince Mohammed bin Salman was appointed heir to the region's most powerful throne.
He was due to marry his Turkish fiancee Hatice Cengiz this month, vanishing on 2 October after he entered the Saudi consulate in Istanbul to obtain papers to do so.
What happened to him?
After Cengiz said that Khashoggi never returned to her, reports began to circulate that the Washington Post contributor was murdered inside the consulate.
Saudi officials initially claimed that Khashoggi left through the back door and hit back at reports of his death as "baseless", although they have refused to provide proof of this account.
On 14 October, further claims began to emerge in Turkish media that Khashoggi had been tortured and dismembered, and that his killing had been recorded on his Apple watch, which automatically uploaded the resulting audio to his iCloud account.
However, Turkey has so far refused to reveal this audio, if it exists, and Erdogan himself has stopped short of directly accusing Riyadh of wrongdoing.
On Friday night, Saudi Arabia finally admitted that Khashoggi died inside the consulate, saying a "fistfight" took place during which the journalist lost his life.
How were reports about Khashoggi's killing investigated?
An 11-person Saudi delegation initially visited Turkey to investigate the disappearance on 13 October, with Donald Trump threatening Riyadh with "severe punishment" if it was found Khashoggi was killed inside the consulate.
After being given permission on 15 October, Turkish officials conducted an eight-hour search of the Saudi consulate the following day.
They were given access to CCTV footage and even took soil samples from the consulate, although certain areas of the building were kept off limits.
Following the search, Turkish police said they found evidence that Khashoggi was killed inside, and police planned a second search at the Saudi consul general's home.
Erdogan told journalists that investigators sought traces of "toxic" materials and suggested parts of the consulate had been recently painted, without elaborating.
Leaked surveillance video also showed how Saudi diplomatic cars travelled to the consul general's home shortly after Khashoggi went into the consulate.
What was the reaction to these claims?
Following the investigation, CNN cited two sources saying that Saudi Arabia was preparing a report admitted that Khashoggi's death had resulted from a botched interrogation.
But amid a continuing lack of information, the Turkish investigation is ongoing, with a search of the secluded Belgrad Forest in Istanbul – 15km from the Saudi consulate where Khashoggi's remains are suspected to be buried – beginning on Friday.
Yesterday the US seemed to be holding firm, saying it would give Saudi Arabia "a few more days" to work on its probe, which followed a visit meeting between US Secretary of State Mike Pompeo and Saudi Arabia's King Salman.
However, Trump admitted yesterday evening that it "certainly" looked like Khashoggi was dead and threatened to take action if so.
What do other countries think?
On Tuesday, Nils Melzer, the UN special investigator on torture, said that if Turkey and Saudi Arabia can't conduct "a credible and objective investigation," then international involvement may be needed.
Britain, France and Germany also released a rare joint statement saying they were treating Khashoggi's disappearance "with the utmost seriousness" and called for a "credible investigation".
On the other side, Russia said it would not "start deteriorating relations" with Saudi Arabia as long as "it did not know what really happened".
What happens next?
Despite long-held tensions between the two countries, Turkish prime minister Erdogan has been unwilling to directly criticise Saudi Arabia over the controversy.
And although Saudi Arabia said it would fight any measures taken internationally over Khashoggi's death, most analysts don't think the country will cut off oil supplies, on which the West is heavily dependent.
Trump, although threatening "severe punishment" if Saudi Arabia is found to have been involved in the episode, has also voiced reluctance to limit arms sales to the kingdom, which analysts see as one of Washington's key allies.
That said, the whole episode hasn't done much for Saudi Arabia's already poor image in the West.
The Crown Prince's October business conference, the Future Investment Initiative dubbed "Davos in the Desert", has suffered heavily over the controversy.
US Treasury Secretary Steven Mnuchin, Richard Branson, IMF chief Christine Lagarde, Uber CEO Dara Khosrowshahi, and Ford chairman Bill Ford are among the key figures to have pulled out.
But ultimately, the political consequences may not be far-reaching enough to have a major impact, and will depend on how far the investigation into Khashoggi's death goes and what it uncovers.
With additional reporting from AFP.