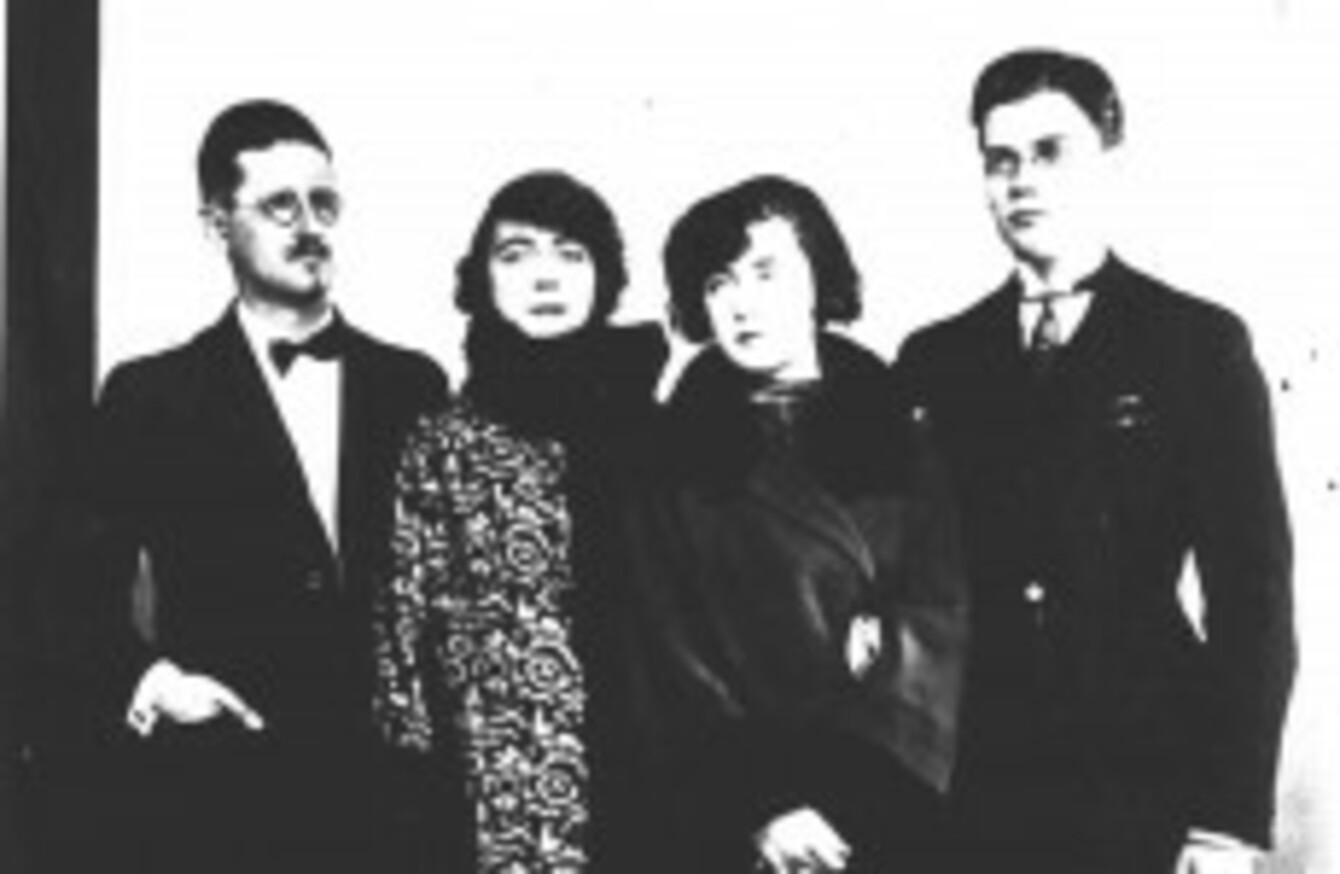 James Joyce, left, pictured with wife Nora and their daughter and son in Paris in 1924.
Image: AP/Press Association Images
James Joyce, left, pictured with wife Nora and their daughter and son in Paris in 1924.
Image: AP/Press Association Images
I KNOW PARIS is home to some of the world's greatest art and architecture, but I hadn't realised that James Joyce spent the last 20 years of his life in the city, finishing Ulysses and writing all of Finnegan's Wake. I discovered all this when I moved to the Latin Quarter of the city this spring to write at the Centre Culturel Irlandais behind the Pantheon. My room was just a few blocks away from where Joyce wrote the final chapter of Ulysses and I determined to get to know more about his time in the city.
Four things I learned about James Joyce's time in Paris:
1. What a miracle it was that Ulysses was published at all.
Once it had been branded as obscene in the US Courts, no British or American publisher would touch it. And then, by what seemed like a miracle, the feisty, diminutive young American, Sylvia Beach of Shakespeare and Co, 7 Rue d'Odeon, suggested to Joyce that she would be honoured to publish it herself. She was willing to take all the financial and legal risk onto herself. She arranged with a printer in Dijion that 1,000 copies would be printed, and that Joyce would get an unbelievable two-thirds of the net profit.
After 7 years of writing Joyce finally had a publisher.
There were still hurdles. Two chapters remained to be written, and the previous day, the husband of Joyce's typist had seen what she was writing and had thrown the manuscript into the fire. Nonetheless, Beach and Joyce went off to celebrate in Bullimer that night. "How do you feel about being Irish?" a friend asked Joyce that night. He replied, "I regret it, for the temperament it has given me."  At that point Beach interupted to propose a toast to Ulysses.
The current Shakespeare and Co bears no connection with the previous bookshop and lending library which occupied 7 rue d'Odeon. Furthermore, Joyce would have been disgusted by the bohemian crowd it attracts.
Image: Manchán outside the present Shakespeare and Co with its current co-owner, Sylvia Beach Whitman.
2. The true extent of Joyce's poverty.
The reason Joyce became so bourgeois in Paris, and insisted on eating in only the most expensive, lofty places was because when he first arrived in Paris in 1920 he hadn't a penny. The family went hungry, and had to beg for clothes, bedding and furniture. He was asked to go a meet an eminent Belgian critic and author and during their promenade around Jardin du Luxemburg, Joyce interrupted him to ask, "Can you lend me a hundred francs? Tomorrow is my son's birthday and I want to give him something."
At that time, one hundred francs was a not inconsiderable sum. The following afternoon the money was spent, and Joyce sat gloomily in his flat contemplating his penury.
A month later Ezra Pound sent TS Eliot to see Joyce, and asked him to bring a packet for Joyce. They met at the Hotel de l'Elysee and Joyce immediately set about opening the packet. The author Wyndham Lewis was there, and remembered "Joyce unrolled the slovenly swaddling of damp British brown paper in which the good-hearted American had packed up what he had put inside. Thereupon, along with some nondescript garments for the trunk a fairly presentable pair of old brown shoes, revealed, in the centre of the bourgeois French table."
They all looked awkwardly at this tragic display of charity, until TS Eliot in his burnished Bostonian voice asked Joyce if would be dine with them. Joyce immediately insisted he bring them to a special local place – he ordered the finest food and wine, insisted on paying and tipping munificently. Wyndham describes how Joyce always paid for everyone in every bar, every taxi, every restaurant. It was crucial that no one ever suspected how poor he was.
It was shame about his earlier poverty that led him to always eat at Fouquets on Champs Elysee and Trianions near Montparnasse. He loathed the Bohemian places favoured by Hemingway such as Café Les Deux Magots.
Image: Restaurant Polidor, rue Monsieur le Prince, a traditional bistro where Joyce regularly ate before he got a taste for the more expensive surroundings of Fouquet's and the like.
3. The large number of famous people who were all gathered together in Paris at that time.
Woody Allen's 2011 film Midnight in Paris is quite correct. Joyce regularly met Hemingway, Beckett, Ezra Pound, TS Eliot, Yeats, etc. He only met Proust once, and the encounter was hilarious. All of these famous writers indulged in intense backbiting and Joyce himself tried to stay out of that society.
He wrote in a letter to his generous patron Miss Harriet Weaver (who sent him up to £350,000 in various installments while in Paris) that, "I never go to any of the weekly reunions as it is a waste of time for me at present to be cooped up in overcrowded rooms listening to gossip about absent artists and replying to enthusiastic expressions about my (unread) masterpiece."
#Open journalism No news is bad news Support The Journal

Your contributions will help us continue to deliver the stories that are important to you

Support us now
Instead, Joyce would carefully pick a few individual people who could be useful to him – either they could help him type his manuscript when his eyes got so bad he went pretty much blind, or could help him keep up to date with events in Dublin. Frequently the great and the good would arrive from Ireland, hoping to discuss literature with him but all he ever wished to do was talk about the shops and pubs of Dublin. His favourite task was to get people to name every shop and proprietor from Amiens Street (near Connolly Station) to Nelson's Pillar, which at that time still stood on O'Connell Street.
Image: James Joyce, second from left, with fellow writers (from left) Ford Maddox Ford, Ezra Pound and John Quinn in 1923. Pic credit: Tophams/Topham Picturepoint/Press Association Images.
4. Just how blind Joyce was in his final decade.
Joyce needed a few friends as in his last decade 1930 to 1940, he was too blind to walk around without a helper. He would crash into furniture in his flat. He took morphine and cocaine for the pain, and put leeches on his eyes. His glaucoma and cataracts were chronic. He would have to lie down so that he would peer through tiny slits in his eyes to correct his manuscript. His daughter remember seeing him crying because he could no longer write.
He warmed immediately to the young Beckett, because Beckett was willing to come read books for him. Likewise when Beckett would type for him, Beckett was able to learn directly from the master how he constructed his prose.
Image: James Joyce in 1931 – the extent of his deteriorating sight is indicated by the very thick lenses on his spectacles. Pic credit: AP/AP/Press Association Images.
Film-maker and travel writer Manchán Magan's exploration of Joyce's Parisian haunts will screen tonight on RTÉ's The Works as part of a James Joyce special in honour of Bloomsday. The show, which airs at 11.10pm on RTÉ One, also includes the following treats for Joycean fans:
a recreation of the dinner scene from The Dead at 15 Usher's Island in Dublin, the home of Joyce's aunts, in which Stephen Rea reads the hospitality speech;
an interview with Peter Sheridan and Kate O'Toole by Sinéad Gleeson;
a rendition of the Invisibility Song from Ulysses by Sin\'e9ad Murphy and Darina Gallagher;
an excerpt from the Joycean play, The Tower, performed at Sandycove Martello Tower;
an exploration of the relationship between Joyce and Beckett by Nadine O'Regan and academic Sam Slote.