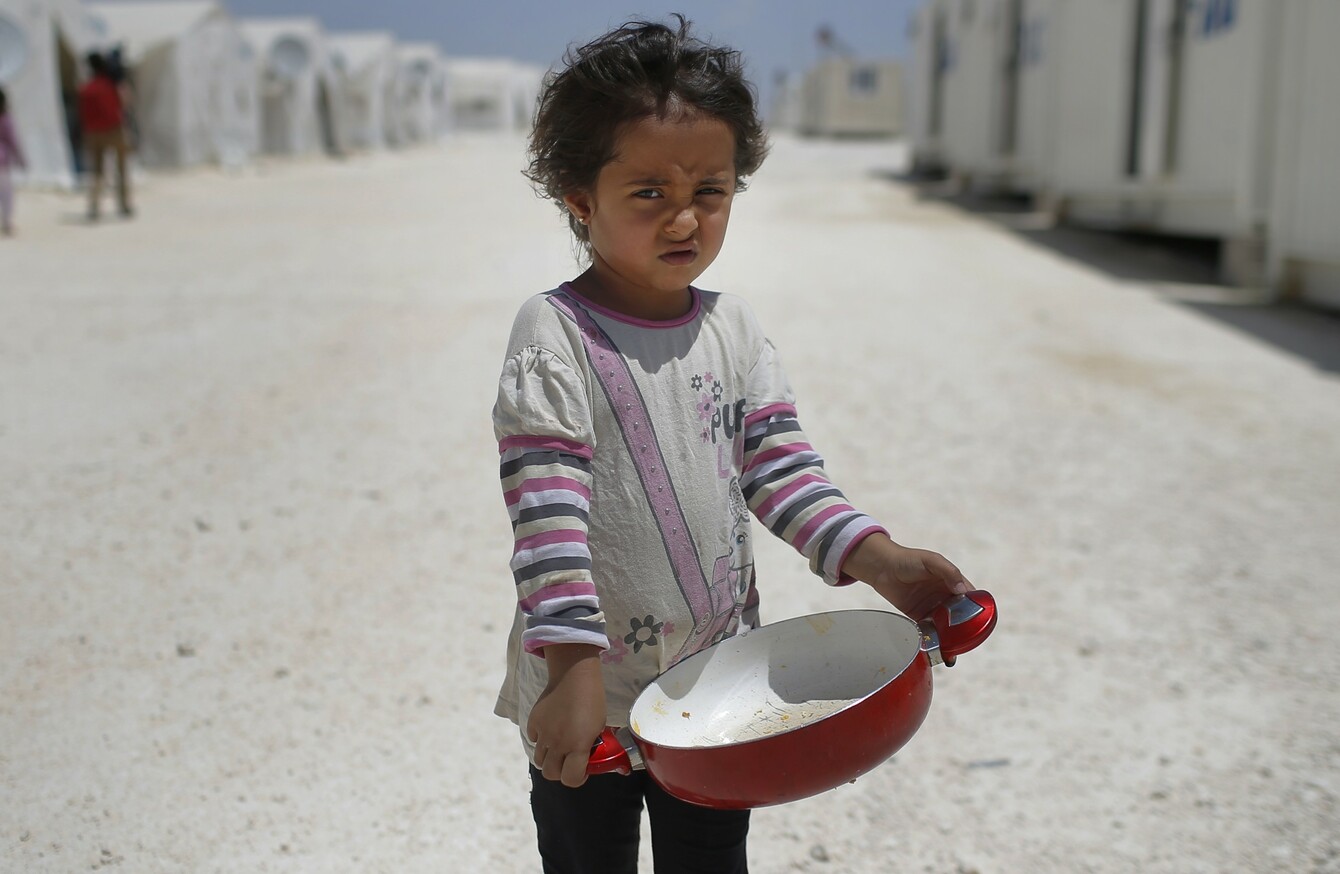 A Syrian child at a refugee camp.
A Syrian child at a refugee camp.
THE WORLD CAN be a dark and scary place sometimes – and that's not even when it comes to fiction. Real life, with its wars, deaths and conflicts, can be hard to get your head around.
And if you're a parent, how to tell your children about war and the state of the world in 2017 can be a source of stress.
Do you presume they will be able to handle things, or that it might stress them out? And as Ireland gets more multicultural, how do you encourage your child to be open to change in the world around them, and see different people as, well, people?
Award-winning children's writer Jane Mitchell doesn't shy away from tackling difficult subjects in her work. In When Stars Stop Spinning, a young boy ends up in a rehabilitation centre after a joyriding accident. In Different Lives, a young girl rejects university to emigrate to London. In Chalkline, a young Kurdish boy decides to become a child soldier.
Now, in her latest book, A Dangerous Crossing, Mitchell has turned to the current conflict in Syria. She tells the story of Ghalib, a young boy whose family decide to leave their Syrian home and travel to Europe. This is a decision driven by war, violence, and the lack of medical care for Ghalib's brother Aylan, who has a disability.
'Kids deserve to know what's happening
"I thought children deserved to know and understand what's happening," Mitchell told TheJournal.ie of her motivation behind writing the book.
"Children see it and hear about it, and then they hear the political rhetoric on the right side and the left side – that we should open our doors and let everybody in, versus we should build barriers, we should build walls, we should ban people.
And children are struggling to make sense of it, adults are struggling to make sense of it, we don't know what approach to take and what our views are because this is new, this is completely different to all of us.
Mitchell strongly believes that "children are as entitled to understand what's happening as much as adults are".
When creating a story around the experiences of a young boy and his family, Mitchell wanted to put a personal face on a very big situation. "You're trying to show that it's not just masses of people, thousands of blank unknown faces coming in on these vessels and looking for entry to Europe," she said. "Where if the tables were turned it could be Europe, as happened in WWII, seeking refuge in other countries."
She decided to write about Syria because it struck a "very strong emotional chord" in her. Writing about a topic helps her process it, and because of her teaching background, "my inclination then is to present it in some way that it might be accessible to children who might not understand what's going on otherwise".
For research, she scoured the internet for documentation on the conflict, including reports from human rights groups like Amnesty International.
She also drew on her experiences travelling in countries like Lebanon, Egypt and Palestine, and met with a Syrian family who had moved to Dublin, to find out about the country before the war.
Jungle volunteer
After the first draft of the novel was finished, Mitchell went to volunteer at the 'Jungle' camp in Calais, where 6000 migrants were living at the time. She decided that it would be remiss of her to go before she had finished the novel.
I wouldn't feel right going out, looking at all these people at a really, really tough time and then coming back and writing about them.
What the trip did do was, she said, give her a richer sense of what the camp was like.
Mitchell thought long and hard about writing a young boy or girl protagonist, but decided to go for a male character.
"Girls are quite restricted in that culture but I still wanted to have the girls in the book, so I have Bushra and Safaa, and they're both strong plucky kids… they're good role models for girls."
One of the characters, Bushra, draws attention to the fact that she and her male counterparts aren't allowed to do the same thing – "she says things aren't the same for girls, I don't have the same freedom as you do".
She also wanted to show the diversity of the people living in Syria who are impacted by the war.
Aylan has a disability. I wanted to bring that into it to, again, normalise it, that these aren't families that are all perfect, they have problems, they have difficulties within their own families.
All of the children's names are the names of children who have died during the conflict, and were taken from a daily list put online by the Syrian Network of Human Rights.
Readers "see Safaa, Ghalib, Aylan and they can go back to the book at the end of the book and say 'oh my gosh look at that, Safa came from Raqqa and she was a 12-year-old girl'. They realise they are real children and not makey-uppy children".
Changing views
Did writing about the Syrian conflict change how she felt about the issue? "It is so much more complex than I realised," said Mitchell, explaining how at first she intended on including some up-to-date information on the details of the conflict and the forces involved.
"I was finding out more and thinking [that] even by the time the book is published there could be a whole change in that there could be different forces come in," she said.
The complexity of the war is not to be underestimated and that was a big, big eye-opener for me.
The Syrian family she spoke to in Dublin helped to educate Mitchell on what the country was like – and dispel any misconceptions people could have about how developed a country Syria was.
"I think it was really, really good to talk to a Syrian family and learn what life was like before the war, and how beautiful a country it was and how cultured the people were and what a prosperous good country it was to live in," said Mitchell. "It was a good place, it was a developed country and it's being completely savaged and ravaged by this war."
Asked if people ever approach her with concerns about bringing such difficult topics to young readers, Mitchell indicated that parents can sometimes make the wrong assumptions.
"I think adults are more deeply affected by the story than sometimes children are," she said. "I go into schools to talk a lot about Chalkline in particular, and you get a lot of the teachers saying 'oh my God, that was so upsetting'. And you go into the class and the children themselves… they seem to be able to accept it and an awful lot more.
"I do think there is a tendency for adults to protect children from dark subjects and dark information and so on," continued the author.
But children are exposed to very dark stuff in the playground every day, the subculture with children, the bullying that goes on every day, what's available on on the internet, what they can download on films – that's much, much darker than anything that I'm going to write.
She assured that she "would always be sensitive to how I present something and how I talk about something that it would be suitable for young children to read".
When Chalkline won the children's choice award at the Book of the Year Awards, it was a moment of validation for her. "[it] showed me look, kids can well handle this".
Children "can take on board complex ideas and dark subjects", said Mitchell – adding that that their imaginations can be "really wild".
She did find herself surprised in how children are interested in reading about a different culture or a different country.
"That's the big, big feedback I get from them, 'wow, we never thought and we didn't realise', and it's great to learn a bit about what they eat in these places or even what they wear, and they don't go to school till this time and 'how come the girls don't go to school?'."
They would challenge me with their questions and with their insight into stuff, kids are very… they are just surprising in their level of awareness of what they've taken on board and what they've read, so they'll ask me loads about the background.
The natural curiosity that children have can be very helpful, said Mitchell, "because that can foster international relationships and understanding of different cultures instead of this keep people out, keep them away, bar them".
'What the hell have I done to help anybody?'
It's clear that Mitchell's trip to Calais was a particularly eye-opening time for her. During her time volunteering, she would spend four to five hours a day visiting the camp, handing out much-needed items like jackets and gloves.
Even in June, it was cold and chilly at the camp, and many of the men she met had foot problems such as foot rot due to wearing plastic sandals. Showers were cold water from a pipe and using the bathroom meant queuing for a portaloo.
"So we were doing art workshops, distributing items, talking to the guys, having a bit of banter. There's a lovely gentle humour about them, in spite of the appalling situation and their ordeal, they keep a kind of sense of humour and they smile and they are so grateful," she recalled.
But when she returned home, Mitchell felt "what the hell have I done to help anybody?"
"I don't think I've done anything other than give out a few coats and be with people," she remembered thinking.
"But a few people said to me afterwards 'you showed them there is still humanity in the face of things and people are still prepared to be kind to them and think of them as humans'."
They are humans who are just in awful situations, and it could happen to us. And once you engage with them, a smile crosses any boundaries, any barriers it doesn't matter what language they speak – there were people from Sudan, Eritrea, Somalia, Syria, Iraq, Afghanistan. And I didn't speak their language but you'd give them a smile and show them whatever you're having for them and a pat on the back or shake their hand.
At the camp she met doctors, scientists, English teachers, and many young men.
"They were desperate people. Nobody wants to come to those places. We were there when the French gendarmes set off some tear gas and that was scary, because France is feeling the pressure, because they were in a state of emergency at the time."
A question of survival
Without spoiling the book, it doesn't end on a textbook happy ending, though the family do get to where they want to.
"I knew I would end it when they arrived in Greece, but I wasn't sure who was going to arrive and who was going to survive and who wasn't… but I knew that there was going to be some crisis at the end because I wanted to end on a little bit of excitement rather than a damp squib," said Mitchell.
The reader is left wondering what happens to Ghalib and his family – and, knowing what awaits them, fears that it may not be a fairytale ending.
"These people aren't seeking a war any more than any of us. Syria was a peaceful place, it was a developed sophisticated, cultured country and these people are like Europeans, they have the same interest, the same curiosity… everything about Syria is very similar, and it could happen to an Irish child or a UK child.
And it's to try and let [the reader] identify, to put a name on somebody, to put a story behind them, to put a background, so we're talking one individual and one family rather than trying to generalise it into a global movement of people.
A Dangerous Crossing is out now.