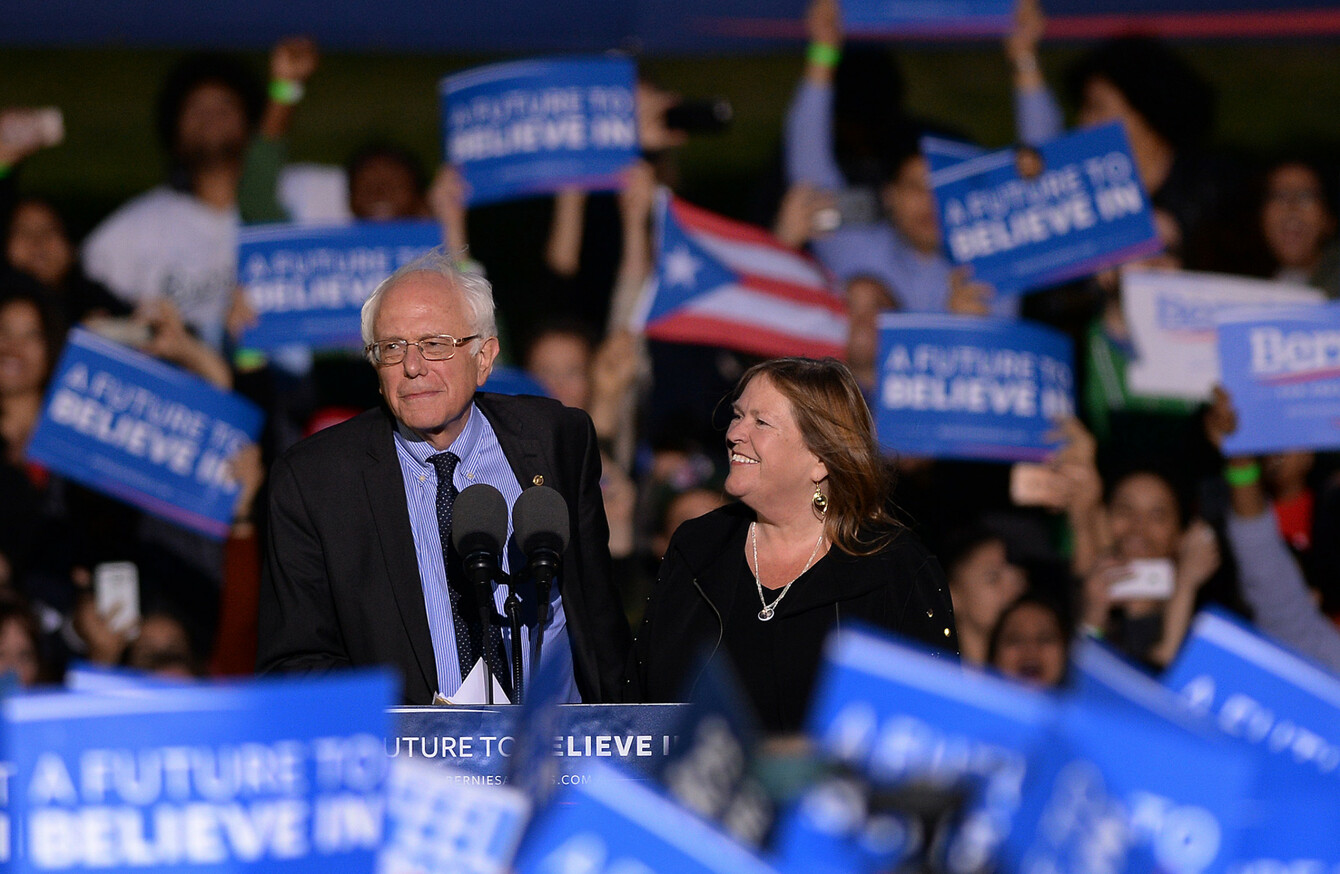 Image: SIPA USA/PA Images
Image: SIPA USA/PA Images
SHORTLY AFTER DONALD Trump's victory in the 2016 presidential election, many people began musing over how a businessman with little knowledge of world affairs beat a well-established career politician.
And that was where the analysis started and ended – the reason he won was because he wasn't a part of the establishment, and hadn't spent his life tweaking his political stances in order to climb to the top of the political ladder, bemused analysts decided.
This led to a commonly-repeated theory that if the Democrats had chosen the socialist Senator from Vermont, Bernie Sanders, as their candidate, then he would have beaten Donald Trump.
Although he's affiliated with the Democratic party, Sanders is an independent candidate; he's gathered a loyal following, particularly among young people, for his criticism of the Iraq war, his calls for banking reform and affordable healthcare, among others.
This would have made him the perfect alternative to Donald Trump, political pundits argued in hindsight.
Unsurprisingly, Bernie's wife Dr Jane O'Meara Sanders, who also served as his policy and press adviser, agrees.
"He would have beaten Trump, because people vote for someone with ideas and a vision, rather than with somebody who is negative," she said in an interview with TheJournal.ie ahead of a panel discussion in Cork next week.
We saw signs of [Trump's win] beforehand – but Trump was a pointed disruption rather than a different vision for the future.
"But that is water under the bridge, the next election we're focusing on is to the US Senate. We're campaigning all over the country for governors or Senators and government people, we can't wait for the next presidential election to instigate change.
People need to vote in the midterms because they put in place checks and balances against the President.
The House of Representatives has a Republican majority of 54.9% to 45% ; in the Senate there's a slim Republican majority of 51-49% (those percentages represent the voting share – there's a certain portion of non-voting members in each party).
The elections to vote in members of both houses, called the Midterm elections, will be held in November. Democrats are hoping to regain control of the houses in order to limit the influence that the Trump administration has by block voting against legislation.
But what about the presidential election after that? With Donald Trump already talking about the next election as if it's already been won, will Bernie Sanders run against him?
"He is considering it, he has not made a decision yet," O'Meara Sanders says.
It's not about him. It's about making sure whoever runs can beat Donald Trump in 2020. It's not about him, it's about 'How do we win?'
But would it be difficult to work with the Democrats again after they treated Sanders so unfairly at the Democratic National Convention last time round?
This August, the Democratic party voted to change the influence "superdelegates" had over nominating the parties candidates; in 2016, Hillary Clinton jumped forward into a huge lead, giving her a major advantage in the primary (which is like the US presidential semi-final that decide the two final presidential candidates).
They definitely had a favourite candidate, it was very hard to see it going in our favour – but to see it publicly was hard. Bernie said to me: 'Jane, this is no surprise, we saw this coming. We need to keep fighting'.
It's not a sore point anymore, the Democrats have changed some rules at the DNC so that it's less likely to happen again, whether its for or against Bernie or other candidates.
She says that after November elections, mostly likely early next year, Sanders will decide if he'll run for the office of US President.
So does O'Meara Sanders think Trump will get a second term?
"Some people have reached saturation at this point, some people are turning off. They don't believe our media, which I don't blame them for.
Some media are very even handed, but most are either anti-Trump or pro-Trump, and I think that's turning people off the political process, and that's not good for democracy.
"The people who are activists will vote in the Midterms. The way they are treating women in this country will motivate men and women to go to the polls and to vote. My concern is that they have not been able to be as involved in affecting change as we would like."
Sanders Institute
O'Meara Sanders, who has Irish roots – in fact, a ancestry test she took indicated that she's 96% Irish – is coming to Ireland in a week's time to take part in a debate about 'Re-Vitalising Democracy'.
The panel discussion, which will be moderated by David McWilliams, is being hosted by the Sanders Institute and the I.NY Festival, which is a project that celebrates the links between Ireland and New York.
#Open journalism No news is bad news Support The Journal

Your contributions will help us continue to deliver the stories that are important to you

Support us now
So what's her take on how we do that?
"Bold ideas and civil discourse, actions: I'll mention some of that at the INY conference.
The rise of autocratic leaders around the world – it demands that people get involved. Democracy is not a given – we need to make sure people get involved.
She says that this is the kind of work that the Sanders Institute is involved in.
"What we're trying to do is to engage individuals and organisations, to address issues that affect ordinary Americans' lives rather than the latest scandal or the latest gossip."
We're not going to be talking politics, or complaining the other side, we're going to be talking about real solutions to real issues.
It is going to be conversations, we could get thousands of people and then propose policies, and then distribute this.
You see Seth Meyers on A Closer Look address serious political issues in a funny way, Robert Rice brings complex issues down to a five-minute video. That's what we're trying to do for people with political policies.
"And it's not just talking to each other and then going – talking is just the start.
She mentions the calls for affordable healthcare in America and the rebuttal being how do you finance that.
"Stop paying for all those wars, is one argument, but it needs to be more specific."
I.NY Festival 2018 is part of the Global Irish Festival Series and takes place at venues across Limerick City from 7-14 October. For tickets and information visit www.thisisINY.com
I.NY and The Sanders Institute 'A Conversation on Democracy Now' takes place on Monday 8 October at 8pm in The Lime Tree Theatre. Tickets priced from €5 – €20 from www.thisisINY.com