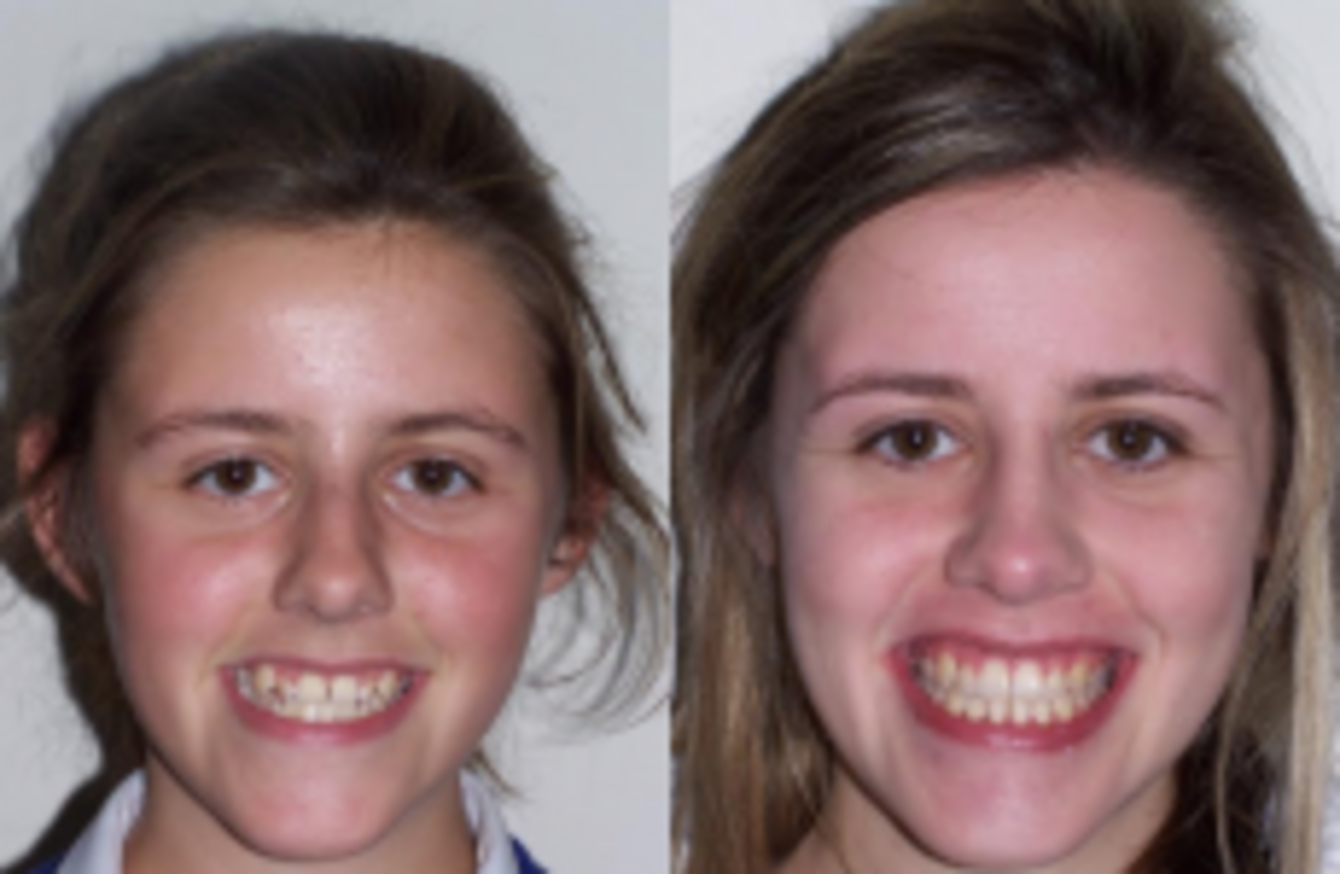 Deirbhile before and after her surgery.
Deirbhile before and after her surgery.
DEIRBHILE MORAN IS a confident 18-year-old secondary school student, hoping to do well in her Leaving Cert and secure a place on a nursing course.
Speaking to her in a recent interview, there seems very little that could stop her. She is bright, articulate and full of confidence.
However, that's not always how her life was.
At the age of 8, she and her parents were informed that she would need surgery at a later date to correct a developing, overlapping jaw.
During primary school, the issue wasn't a big deal, according to the Navan pupil.
"At the time I didn't notice there is something wrong. I didn't realise. Looking back at pictures, you see."
But the problems began as she got a bit older and became "very conscious of it".
"I was slagged about it in secondary school," she told TheJournal.ie.
I was called Jaws because my bottom jaw went over my top jaw. That was one of my names. There were a few things.
"People would come up to me and say it was weird and unnatural. At 13, when you're trying to fit in that can push you down a wee bit.
"Maybe I put it on myself because I talked about it a lot? But it was pretty awful."
At age 15, the treatment process with the orthodontist began.
"I was thrilled the day they told me I'd get it," recalls the teenager.
Even though it was months of not eating properly and pain, I don't regret it at all.
Looking back, she says her appearance stopped her from doing things, such as auditioning for the Transition Year school play ("I thought people would look and say, 'Why is she doing that?') and putting her hand up in class ("I was afraid people would look at me.")
"Now, I feel like everyone else," she adds.
The corrective jaw treatment involves the surgical manipulation of elements of the facial skeleton to restore proper anatomic and functional relationship in patients with dentofacial skeletal anomalies.
Bones have to be cut and re-aligned, then held in place with either screws or plates. Deirbhile's surgery was performed by Dr Dylan Murray, a craniofacial and jaw surgeon in Temple Street and the Mater.
"After the surgery my jaws were held closed with elastic bands for six weeks. I had to take nourishment through a straw as I could not open my mouth. Bit by bit I was able to move on to taking yoghurts and soup but it took approximately three months before I could eat normally again and throughout this time, I still had my braces on."
Deirbhile says she is grateful that her family could provide for the surgery through private insurance as the public waiting list would delay the procedure by about three years.
Orthodontic lists within the HSE are consistently making headlines because of the long time people are required to wait for surgeries. Earlier this summer, TD Mattie McGrath highlighted that 399 people in South Tipperary alone were waiting more than 41 months to be treated.
He said he knew of cases where young people were in "excruciating pain", a situation he called "barbaric".
This week, the case of a teen girl who was "stuck with braces" over a pay dispute was highlighted by Fianna Fáil.