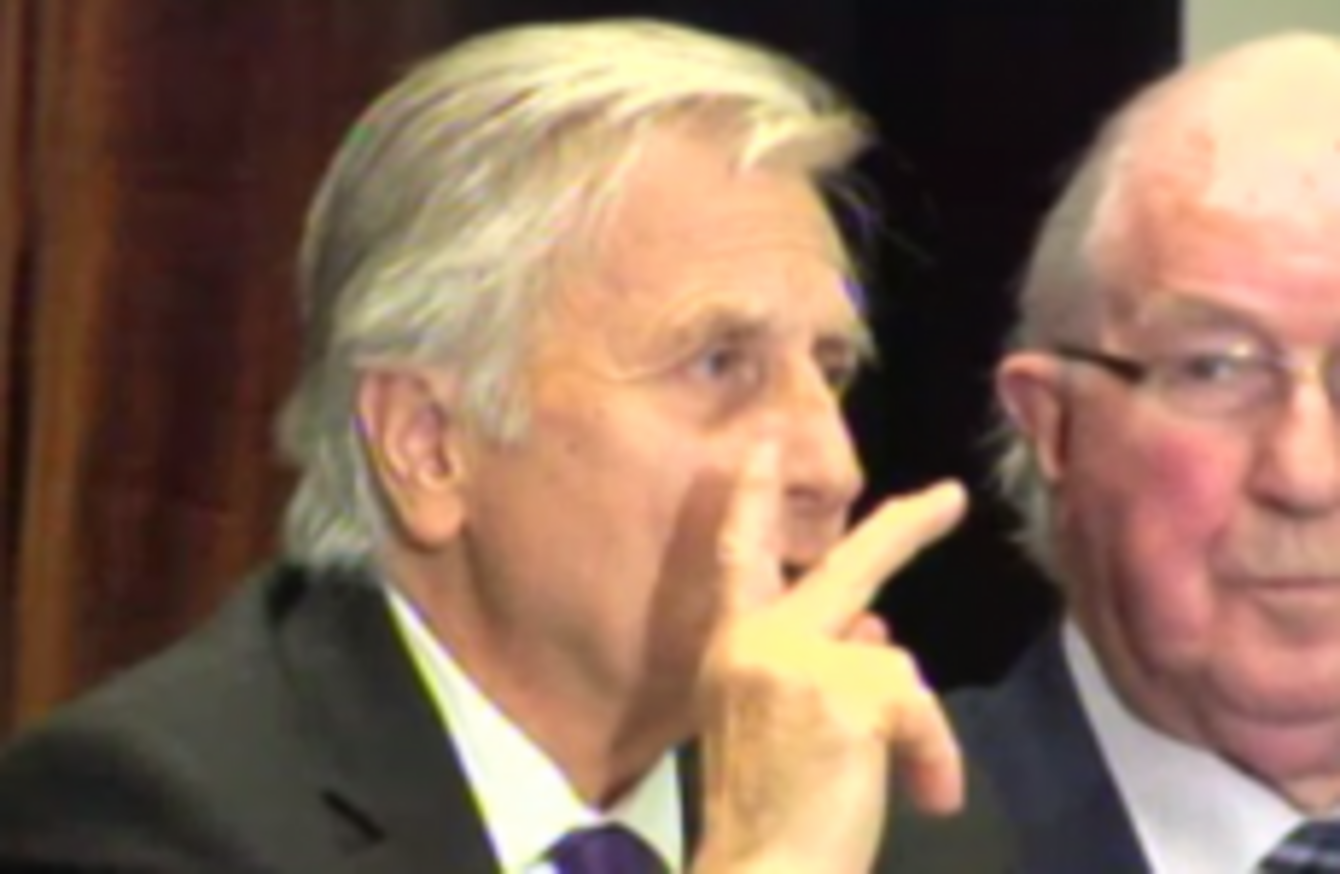 Jean Claude Trichet in Kilmainham today
Image: Oireachtas TV
Jean Claude Trichet in Kilmainham today
Image: Oireachtas TV
JEAN CLAUDE TRICHET has denied that he phoned Brian Lenihan three days before the bank guarantee to insist that the Irish government save its banks at all costs.
The former president of the ECB has told members of the banking inquiry that there was "no message to Brian, no message to the government of Ireland" when asked about remarks the late finance minister made in an RTÉ documentary five years ago.
In an interview for the RTÉ One documentary 'Freefall', broadcast in September 2010, Lenihan said:
"Mr [Jean-Claude] Trichet [ECB President] rang me, and hadn't been able to get through to me. I was at a racecourse in County Kilkenny at a Fianna Fáil event on the Saturday. So I caught up with on Mr Trichet's message the following day which was that 'you must save your banks at all costs'."
Asked about this by Labour senator Susan O'Keeffe today, Trichet said "there was no call to Brian".
He added that all central bankers across Europe were telling their governments: 'Don't do a Lehman Brothers'. He was referring to the catastrophic collapse of the US investment bank in the weeks prior to the Irish bank guarantee.
Trichet earlier said he had a "very close and confident cooperation" with the late finance minister, who he paid tribute to.
The guarantee
The former head of the Frankfurt-based bank was speaking at an IIEA event in the Royal Hospital Kilmainham this afternoon where he faced questions from members of the banking inquiry.
Under questioning from Socialist TD Joe Higgins, Trichet mounted a robust defence of the ECB and its actions in relation to Ireland. He said:
"Sir, we had helped Ireland more than any other country, it seems to me that there is something which is missed here. We were the institution which was helping Ireland much more than any other central bank did for any country.
Earlier, in an hour-long speech, Trichet said the bank guarantee was introduced by the Irish government without any coordination with the European Central Bank or other EU authorities, banking inquiry members have heard.
He said that the ECB was, in fact, critical of some aspects of the blanket guarantee after it was issued on 30 September 2008.
He insisted: "The bank guarantee was introduced by the Irish government without any coordination with the ECB or any other EU partners."
Burning bondholders
Trichet has also told the audience that he did not force the Irish government to guarantee and repay all bondholders. He insisted the ECB's belief then and now is that bailing-in senior bondholders may have had more adverse consequences than benefits.
He told the audience in Kilmainham that the ECB "simply gave advice" on the bondholder issue and insisted the bank did not have the authority to issue instructions to national governments.
He later said that in conversations with Lenihan "there was an overwhelming sentiment that it would be a very bad idea" to burn bondholders.
Had bondholders been burned the cost for Ireland would have been considerably higher, Trichet said, adding that it "would have destroyed credit worthiness".
Under questioning from Fianna Fáil's Marc MacSharry, Trichet said he had no memory of Lenihan wanting to burn bondholders.
'A bomb will go off'
Trichet also told Fine Gael TD Eoghan Murphy that he never threatened the current government with the withdrawal of ECB liquidity if some bondholders were burned in March 2011.
Trichet is reported to have told Finance Michael Noonan that if junior bondholders were burned "a bomb will go off. It will not go off in Frankfurt, it will go off in Dublin".
The banker said this was not his style of metaphor and "totally not in line with relationship I had with your government".
He said he could not recall any differences between the IMF and the ECB on the bondholder issue in 2010, though admitted "it might have been the case" that their views differed in 2011.
In his earlier speech, while admitting there were major deficiencies in the euro area and a lack of implementation of EU governance rules, Trichet insisted the main cause for the crisis lay with national governments.
He said that systematic, monthly warnings on labour costs were ignored as long as there was no financial crisis.
Asked by inquiry chairman, Ciarán Lynch, as to why no representative of the ECB could appear before the inquiry, Trichet said the legal analysis was that the bank was only accountable to the European Parliament.
He added that he could not speak on behalf of an institution which he is no longer president of.