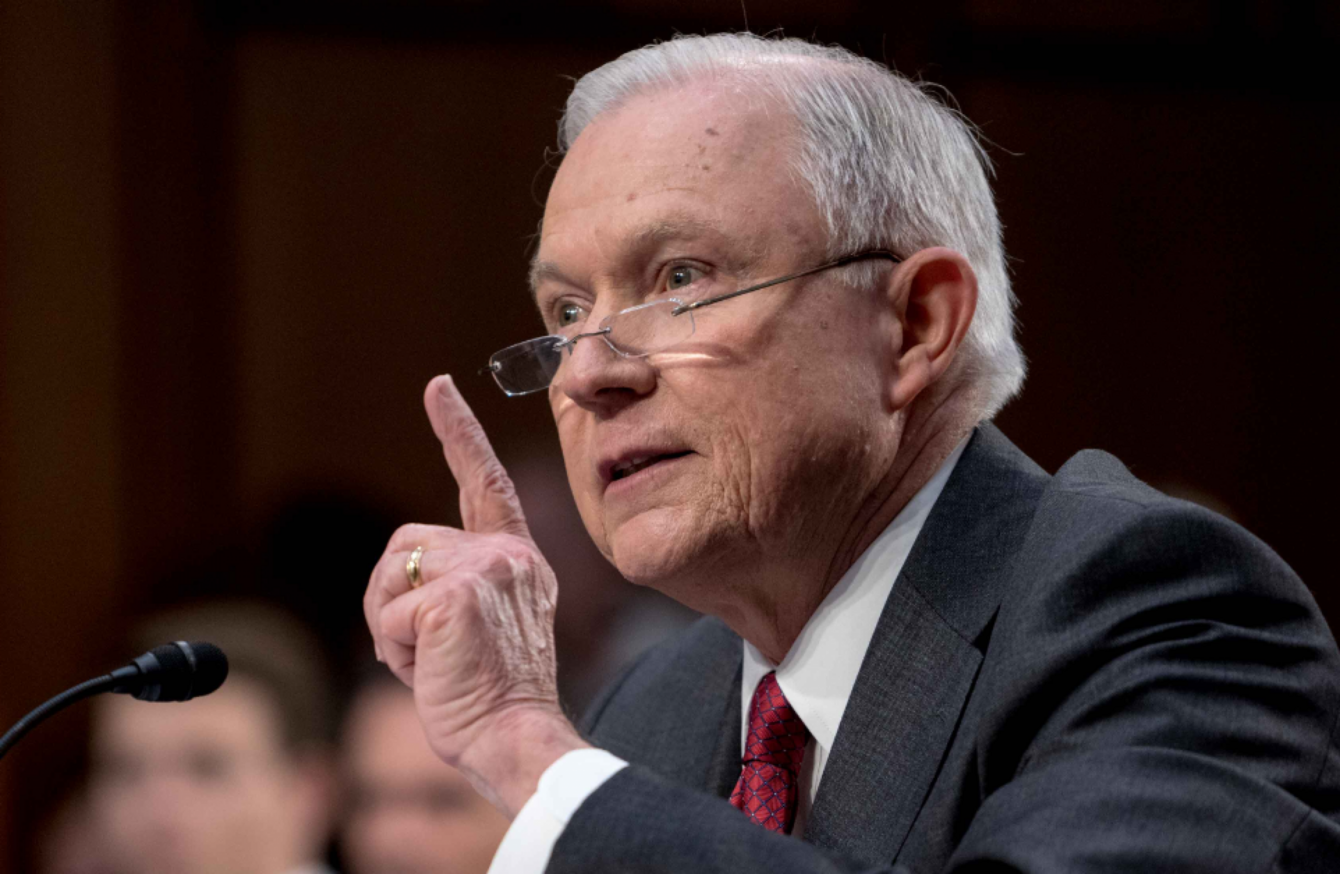 Former Attorney General Jeff Sessions
Image: Ken Cedeno/Zuma Press/PA Images
Former Attorney General Jeff Sessions
Image: Ken Cedeno/Zuma Press/PA Images
US PRESIDENT DONALD Trump yesterday fired Attorney General Jeff Sessions a day after a heated midterm vote, naming a loyalist to replace him in a move that raises questions over the future of the Russia investigation.
The axing capped more than a year of bitter criticism by the president over his legal advisor's decision to recuse himself from the probe into Moscow's interference in the 2016 election, paving the way for the appointment of Special Counsel Robert Mueller.
In announcing the resignation in a tweet that thanked the former Alabama senator "for his service" — Trump right away named as acting Attorney General Sessions' chief of staff, Matthew Whitaker.
The announcement set off immediate alarm bells: Whitaker has been overtly critical of the broad scope granted to Mueller's team to probe beyond allegations that Trump's campaign colluded with Russia in 2016, into other ties between Trump, his family and aides, and Russia — an investigation the president has called a "witch hunt".
In an op-ed in August last year he publicly urged Deputy Attorney General Rod Rosenstein — who oversees the probe — to "limit the scope of his investigation to the four corners of the order appointing him special counsel".
As acting Attorney General, Whitaker now has the power to wrest oversight away from Rosenstein and take charge himself.
Democratic Senate Minority Leader Chuck Schumer immediately called on Whitaker to recuse himself from the probe as his predecessor had, "given his previous comments advocating defunding and imposing limitations" on it.
Senator Bernie Sanders, a former presidential hopeful, went further, tweeting that "any attempt by the president or the Justice Department to interfere with Mueller's probe would be an obstruction of justice and impeachable offense."
Demonstrations are being planned across the US for 5pm local time in all time zones to protest Whitaker's appointment and potential impact on the Russia probe. 
First casualty after midterms 
They were joined in their demands by Republican Mitt Romney, a former presidential candidate and frequent Trump critic who won a US Senate seat in Tuesday's election.
Thanking Sessions for his service, Romney said that it was "imperative that the important work of the Justice Department continues, and that the Mueller investigation proceeds to its conclusion unimpeded".
Whitaker himself meanwhile offered little clue about his intentions in a bland statement to reporters that praised his former boss as a "dedicated public servant" and said he would work to leading a department that conformed to the "highest ethical standards".
Sessions was the first casualty of a cabinet shakeup that had been expected from Trump following the midterm elections where his Republican party lost control of the House of Representatives but retained the Senate.
But his departure was anticipated since early this year, after he endured withering and repeated criticism from the president over the legally troubled ban on Muslim travellers Trump sought when he came into office, and over the Mueller probe.
"At your request, I am submitting my resignation," Sessions said in the first line of a letter addressed to Trump, released by the Department of Justice.
Trump's first backer 
Sessions was the first US senator to back Trump's presidential run in 2016, giving the New York real estate billionaire credibility against a broad field of Republican stalwarts.
The two were reportedly brought together by a shared wish to crack down on immigration.
After taking office in January 2017, the former prosecutor launched tough law-and-order policies and a broad ban on Muslim travelers promised by Trump during the campaign.
He was in the vanguard of administration pushes to expand the ranks of federal law enforcement, fill courts with conservative judges, and crack down on Central American gangs such as MS-13.
But the president was infuriated when in March 2017 Sessions recused himself from the nascent Russia investigation, because of his own Russian contacts during the 2016 campaign. Instead, he gave Rosenstein that authority.
When Trump weeks later fired FBI director James Comey in anger at the Russia investigation, Rosenstein stunned the administration by naming Mueller, a former FBI chief, to lead the probe as an independent prosecutor.
That structure, with Sessions recused and Rosenstein supervising Mueller, has insulated the investigation from outside interference.
Still, Trump has repeatedly accused Mueller of running an illegal investigation staffed by Democrats and threatened to shut it down.
- © AFP 2018, with reporting by Órla Ryan