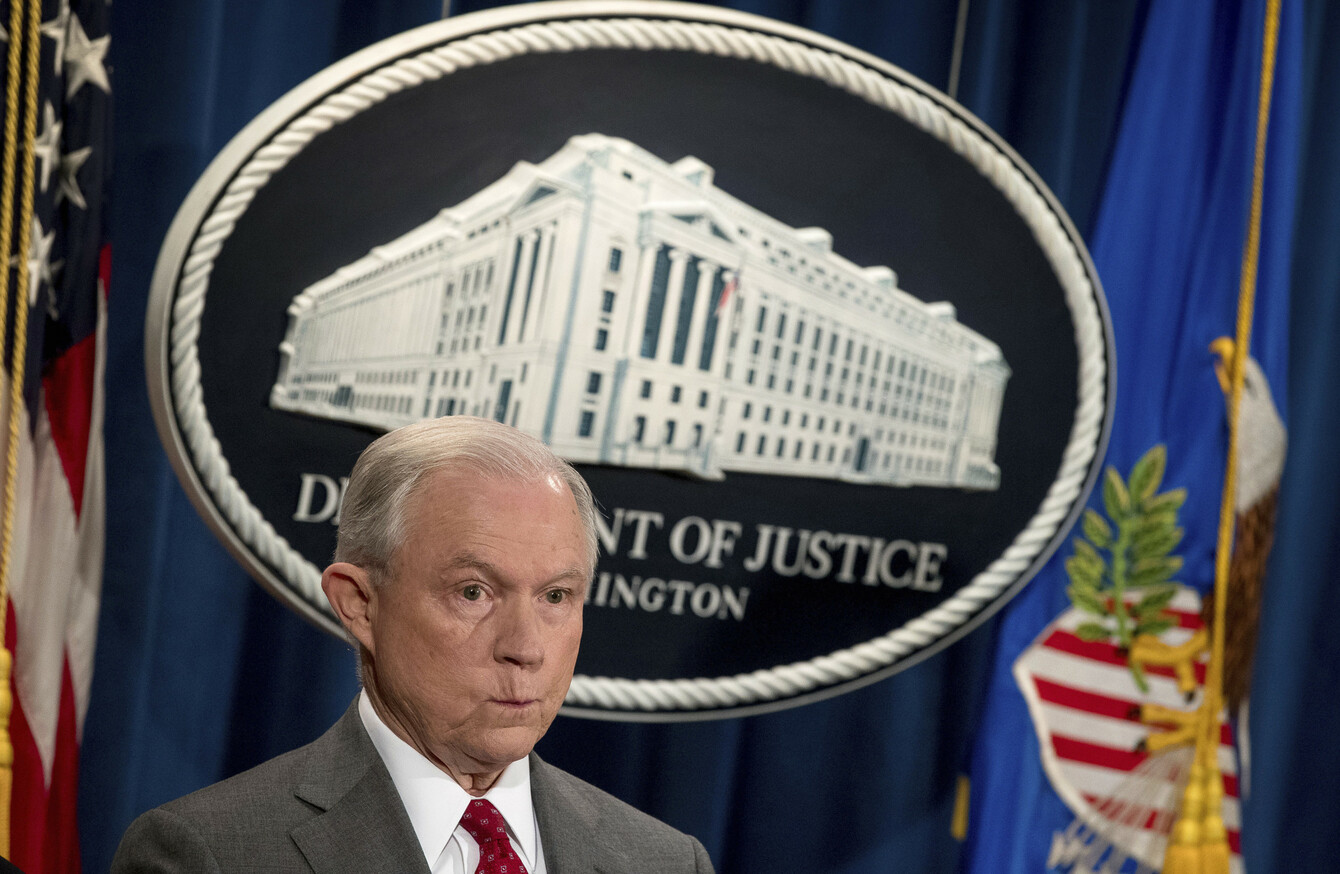 Jeff Sessions pauses as he announces a crackdown on White House leaks.
Image: Andrew Harnik via PA Images
Jeff Sessions pauses as he announces a crackdown on White House leaks.
Image: Andrew Harnik via PA Images
US ATTORNEY GENERAL Jeff Sessions has vowed to crackdown on people revealing classified or sensitive national security information and threatened to jail leakers – branding such illicit acts a betrayal to fellow Americans.
President Donald Trump has repeatedly fumed about "illegal leaks" and even lashed out publicly at Sessions last week for taking what he called a "very weak" position on the issue.
Under pressure, and with some saying his job could be on the line, Sessions responded.
"I strongly agree with the president and condemn in the strongest terms the staggering number of leaks undermining the ability of our government to protect this country," Sessions told a press conference.
Four people have already been charged with "unlawfully disclosing" classified material or concealing contacts with federal officers, he said.
The number of active leak investigations this year has tripled compared with the tally before Trump took office, Sessions added.
"We are taking a stand. This culture of leaking must stop," he said.
Director of National Intelligence Dan Coats, joining Sessions, issued his own tough warning to would-be leakers and described such revelations as "betraying" the American people.
"Understand this: If you improperly disclose classified information, we will find you," he said.
We will investigate you, we will prosecute you to the fullest extent of the law.
Leaked transcripts
The announcement comes after six months of political intrigue and open feuding in the White House, which has manifested itself in a torrent of damaging revelations to the media.
It also follows a leak that was unusual even by the standards of this administration – the publication by The Washington Post of the contents of private phone calls between Trump and foreign leaders.
#Open journalism No news is bad news Support The Journal

Your contributions will help us continue to deliver the stories that are important to you

Support us now
Yesterday, the newspaper published the full transcripts of conversations the Republican billionaire leader held in January with Mexican President Enrique Pena Nieto and Australian Prime Minister Malcolm Turnbull.
Sessions, while not addressing specifics of the transcripts, signalled his anger over the revelations which apparently came from inside the White House, saying "no government can be effective" when its leaders' discussions of sensitive matters are released.
The attorney general issued a not-so-veiled threat to the media, saying that while the administration has respect for the press, "it is not unlimited."
"They cannot place lives at risk with impunity," he added. "We must balance the press's role with protecting our national security."
Other experts and political commentators have said that the transcripts could cause serious problems for world leaders, who might feel they can't speak freely with the US president because of the threat of their phone call being leaked.