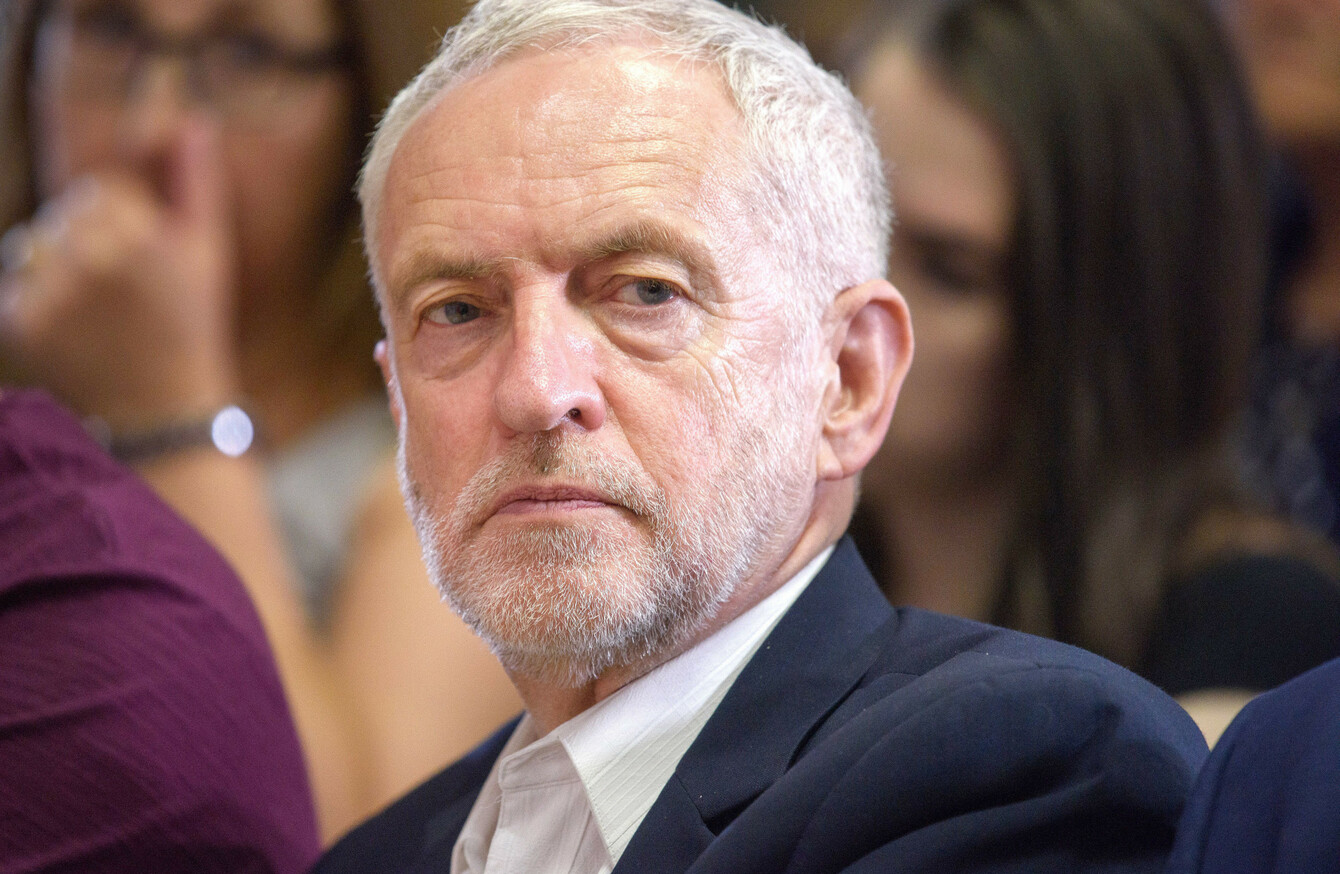 File photo Jeremy Corbyn
Image: John Linton
File photo Jeremy Corbyn
Image: John Linton
LABOUR LEADER JEREMY Corbyn has broken his silence on the anti-semitism row that he says is a "real problem" in his party and insists that he will root out anti-semites.
In an opinion article for The Guardian, Corbyn described claims of an "existential threat" to Jewish life in Britain as overheated rhetoric but acknowledged that there is a real problem in the Labour party.
I accept that, if any part of our national community feels threatened, anxious or vulnerable, not only must that be taken at face value but we must all ensure those fears are put to rest.
Allegations of anti-semitism within Labour have grown since Jeremy Corbyn was elected leader in 2015.
Scores of party members have been suspended, expelled or forced to resign for making anti-semitic statements since Corbyn became party leader, but he and his far-left supporters have been accused of a "complacent" approach to the problem.
Corbyn said today that he wants Jewish people to feel at home in the Labour party but added that this cannot happen "while anti-semitic attitudes still surface within Labour, and while trust between our party and the community is at such a low ebb".
The Labour leader said that driving anti-semitism out of the party for good is his top priority.
One part of that is working to ensure that all Labour party members show a higher degree of empathy with the perspective of the Jewish community, a community which endured a campaign of extermination across Europe just 75 years ago.
Corbyn said that the UK would be unimaginable without the contribution made by Jewish men and women and acknowledged that the party was too slow in processing disciplinary cases of anti-semitic abuse by members but that almost all of the high profile cases have been resolved.
"We are developing an education and training programme throughout the party," he said.
"Labour staff have seen examples of Holocaust denial, crude stereotypes of Jewish bankers, conspiracy theories blaming 9/11 on Israel, and even one individual who appeared to believe that Hitler had been misunderstood.
People holding those views have no place in the Labour party.
Code of conduct on anti-semitism 
Last month, Labour MP John Woodcock, a prominent critic of Corbyn, said he was quitting the party over the issue.
Matters came to a head in March when British Jewish leaders wrote a joint letter claiming "enough is enough", and protests were held outside UK parliament.
The letter claimed a "repeated institutional failure" within Labour to tackle the problem and accused Corbyn of siding with anti-semites "again and again".
In response, Labour drew up a new code of conduct on anti-semitism which states explicitly that "anti-semitism is racism" and it is "unacceptable".
However, it stops short of signing up in full to the definition drawn up by the International Holocaust Remembrance Alliance. Many British institutions use the full IHRA definition.
The omissions include:
Accusing Jewish people of being more loyal to Israel than their home country;
Claiming that Israel's existence as a state is a racist endeavour;
Requiring higher standards of behaviour from Israel than other nations; and
Comparing contemporary Israeli policies to those of the Nazis.
In his article today, Corbyn said that seven of the IHRA examples were incorporated word-for-word and believes the essence of the other four have also been captured.
"Our code is a good faith attempt to contextualise those examples and make them legally watertight for use as part of our disciplinary procedures, as well as to draw on additional instances of anti-semitism.
Corbyn added that the community should have been consulted more extensively at an earlier stage "which is why our executive decided last month to reopen the development of the code in consultation with Jewish community organisations".
The Labour leader claims that the actual differences are very small and really only amount to half of one example out of 11 which touches on free speech in relation to Israel.
I feel confident that this outstanding issue can be resolved through dialogue with community organisations, including the Jewish Labour Movement, during this month's consultation.
Israel-Palestine conflict
Corbyn said that there is a common responsibility to ensure that tensions in the Middle East never spill over into community relations in the UK.
"I fully understand and respect the strong affection and affinity most Jews in Britain feel for Israel, whatever their view of the current Israeli government," Corbyn wrote.
He concluded by saying that Labour supports a two-state solution to the Israel-Palestine conflict, which means the creation of a Palestinian state, alongside the state of Israel.
Our campaign for that should be conducted in a democratic, respectful and of course entirely peaceful manner.
With reporting by © – AFP, 2018