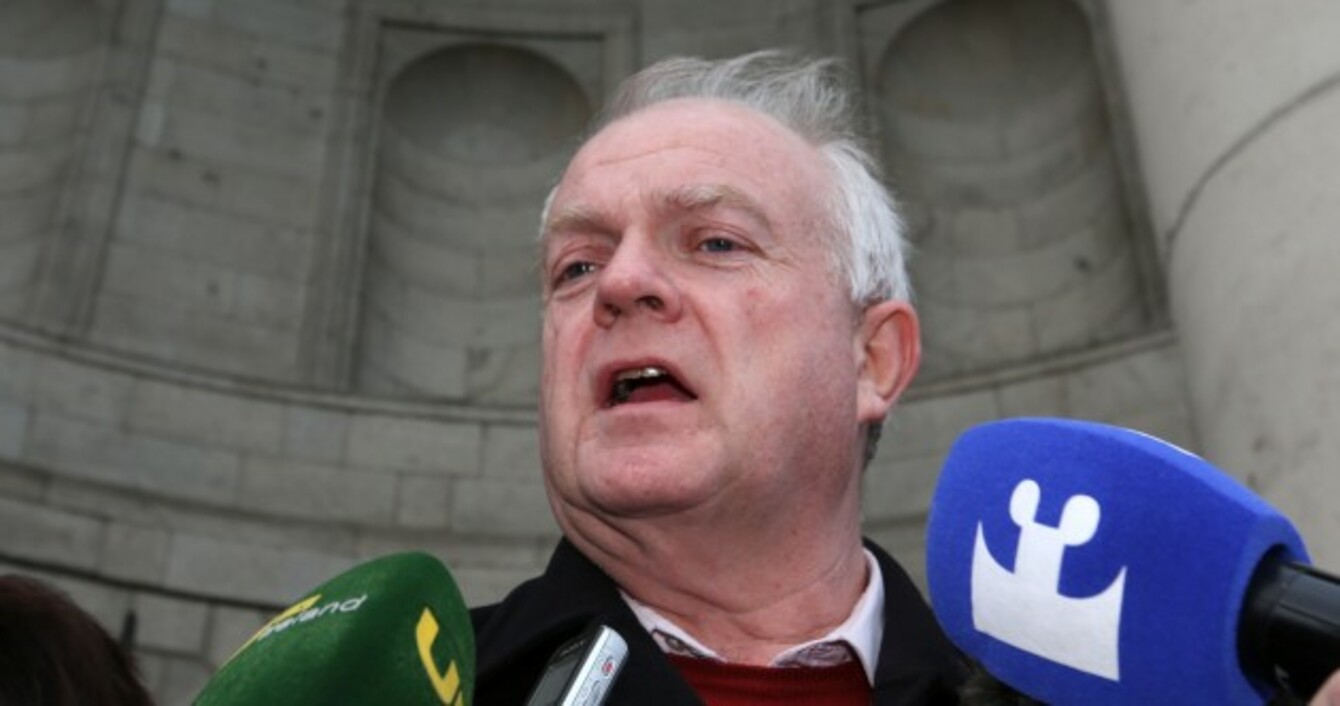 Image: Photocall Ireland
Image: Photocall Ireland
LAST NIGHT'S TONIGHT with Vincent Browne saw the TV3 presenter absolutely rip into the leader of the New Land League, Jerry Beades.
Beades, and others in the group, have been supporting solicitor Brian O'Donnell and his wife who barricaded themselves into their family's former Killiney mansion on Tuesday as receivers on behalf of Bank of Ireland sought to evict them. The bank sought repossession of the house due to a debt alleged to be over €70 million.
There have been criticisms this week of the New Land League for its involvement with this case. On the organisation's Facebook page, members of the public have been expressing their anger.
One asked: "…how can you compare the O'Donnells to other families in the same situation?" Another said they should "stop supporting the rich and look after the hardest hit in our society".
So let's take a look at how this all came about…
Who is Jerry Beades?
Beades was a close friend of and campaigner for former Taoiseach Bertie Ahern back in the day and was highly involved in the Fianna Fáil party, serving as a member of the national executive.
He caused a bit of trouble when he called on Brian Cowen to undertake a major reshuffle of his Cabinet to get rid of several sitting ministers and bring new candidates to the table.
In 2010, he was also involved in a spat with the then-Transport Minister Noel Dempsey who he threatened to reveal "very embarrassing" information about, The Herald reported at the time. He never did let the cat out of the bag, however.
He was a major critic of former Financial Regulator Patrick Neary over what he saw as lax rules for the banks. In 2006, he had set up an organisation call 'Friends of Banking Ireland' to draw attention to this.
A developer and businessman, Beades was pursued by Bank of Scotland for money loaned to him for property development and, in 2012, a judgement of €9.7 was awarded against him.
So how did the New Land League come about?
The organisation was set up in 2013 when a protest group marching to the former Anglo-Irish bank building in Dublin heard about an auction of distressed properties being held by Allsop.
Beades was being pursued at the time by Ulster Bank for €3.5 million arising from alleged unpaid loans.
After the auction was halted by protesters, Beades told TheJournal.ie why he was there:
Source: DaraghBrophy/YouTube
It was after this that the New Land League was born and it has been attempting to highlight issues people have with the banks, mainly around evictions. They managed to force the cancellation of a later auction at a hotel in Dublin when 100 protesters turned up.
#Open journalism No news is bad news Support The Journal

Your contributions will help us continue to deliver the stories that are important to you

Support us now
Alright, but why is Beades and the New Land League involved in this particular case?
At a press conference yesterday, Beades told the media that his organisation got involved in Gorse Hill because it put a spotlight on what is happening to thousands of people around the country.
It was put centre stage for everybody in the country to see. What happened last night is happening to 200-300 people in the country every week.
He said the O'Donnells were "like anyone else" would be in that situation and looked physically drained.
Beades last night also described the O'Donnell mansion as "bog standard". He told Vincent Browne:
Brian O'Donnell's home is his home and his children's home is their home. I can bring you to more palatial houses around the country where people in rural Ireland have houses of similar character.
After today's hearing in court, Beades made a statement about the O'Donnell's case:
Source: Video TheJournal.ie/YouTube
For tonight, it looks like Brian O'Donnell and his wife will remain in the "bog standard" Killiney mansion, with the ongoing support of Beades and his New Land League.