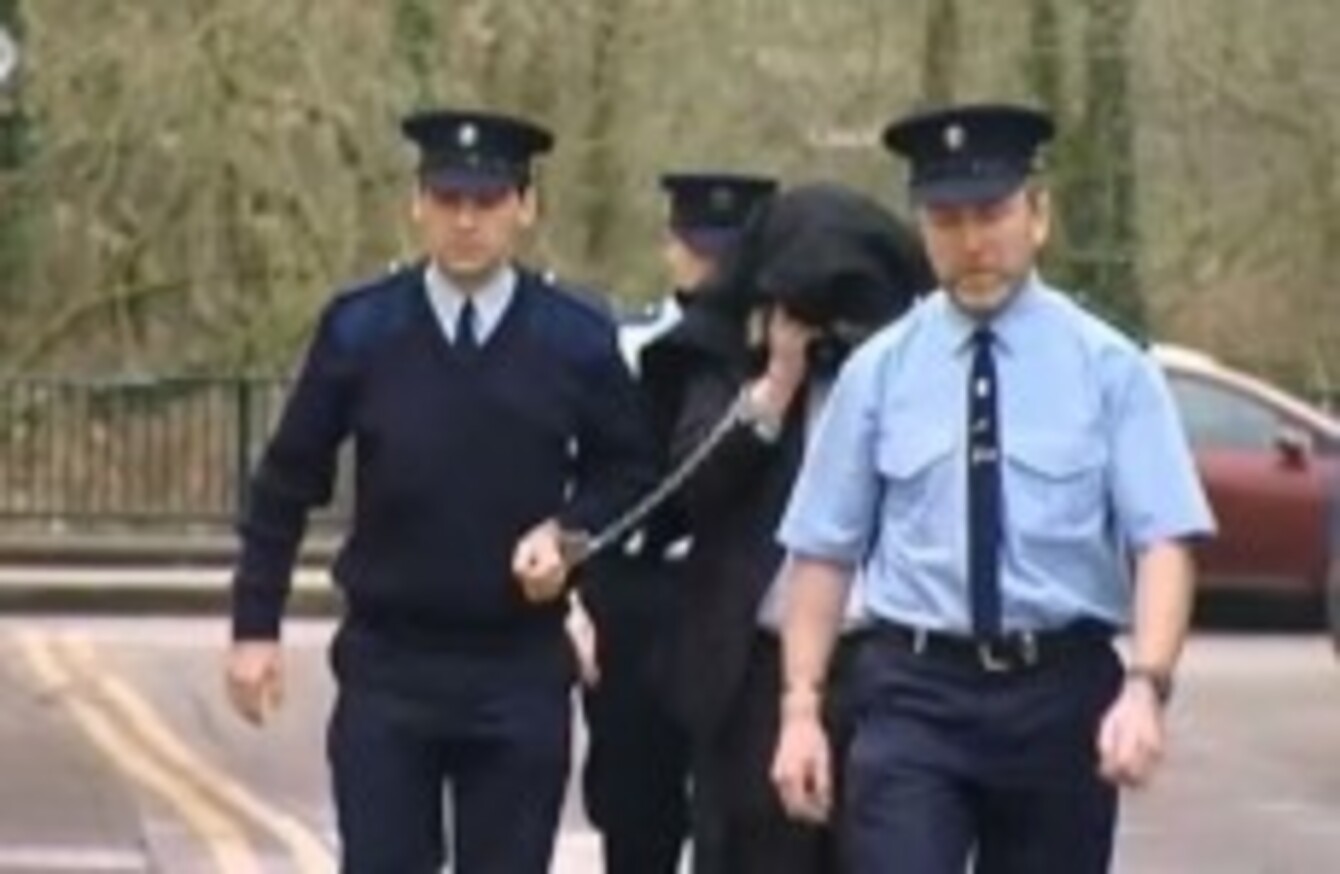 McGrath being led away from court during the murder case of Sylvia Roche Kelly.
Image: RTÉ screengrab
McGrath being led away from court during the murder case of Sylvia Roche Kelly.
Image: RTÉ screengrab
THE CASE OF Jerry McGrath, a 23-year-old man from Tipperary, is the tinder to the spark of Sergeant Maurice McCabe's allegations of major Garda mishandling of affairs in Cavan and beyond.
McGrath was convicted for murdering 33-year-old Sylvia Roche Kelly in Limerick in December 2007 – while on bail for other serious crimes.
Could Sylvia's death have been avoided? There is much to indicate that it could have been.
Earlier that year, in April 2007, McGrath had attacked taxi driver Mary Lynch after getting her to drive him from Kells, Co Meath to what he claimed was his sister's house in Cavan. He was released on bail.
Six months later, in October 2007, still on bail, McGrath was caught trying to abduct a five-year-old girl from a house in Tipperary, causing her injury. Again he was released on bail.
The final – and fatal escalation – of McGrath's violence came on the night he met Sylvia Roche-Kelly in a Limerick nightclub and took her back to his hotel room in the city, where he went into a rage, attacked and killed her. Her body was found naked, face down in a bath in the room on 8 December 2007.
The findings in Seán Guerin's report today on Garda management in McGrath's case, and other cases, was damning in a number of ways – even before the full commission of investigation has begun.
These are some facts that Guerin has established which show a breathtaking level of failure along the road which eventually led McGrath to murdering an innocent woman.
The Cavan assault: a case taken too lightly?
Two key points that would become seminal to McGrath's ability to carry out further crimes:
1. Charge: Despite causing serious injury to taxi driver Mary Lynch, and putting her in fear of her life, Jerry McGrath was charged with assault rather than the more serious charge of assault causing harm.
2. Bail: He was released on bail from Bailieboro Garda station – and repeatedly remanded on bail.
Guerin notes: "The Garda files do not indicate who made the decision to charge him with that offence, as opposed to assault causing harm… or who made the decision to release him on station bail."
A report from one Garda claims that McGrath was given further bail by a district court in Cavan on 17 May (two months after the initial bail from the station) on condition that he reside at his parents' address in Tipperary and not interfere with witnesses.
However, there is no document that Guerin could find which showed either the Virginia District Court proceedings or any bail bond entered on 17 May. Guerin says he was referred back to the station bail when he enquired where the conditions for McGrath's release came from. BUT station-ordered bail has no power to impose such conditions as listed above.
McGrath was further remanded on bail to 21 June 2007, then 18 October 2007, then 9 November 2007.
Five months passed before an investigation file was prepared on the alleged offence – Guerin couldn't figure out why it took all that time and why the only statements taken were of Mary Lynch and her husband, as well as individual gardai. This despite the testimony of Mary Lynch that when she managed to calm McGrath down and get him to allow her to drive him back into the town of Bailieboro, she stopped to pick up two further passengers.
The investigation file was commended by for looking "professional" but needed corrections and amendments – it was asked that the file be returned in 2 days; it was returned in 10 days. It was recommended that McGrath should actually be charged with assault causing harm, the more serious crime.
The abduction and injury of a little girl in Tipperary
While this file was going back and forth, Jerry McGrath had returned to his home county of Co Tipperary and building up to his next outburst. This time a five-year-old girl would be terrorised and hurt, and her family awoken in the middle of the night to a traumatic scene.
McGrath entered a house in Dundrum, Co Tipperary, after 3am, armed with a hurley. He went into the child's bedroom, squeezed her by the throat and was discovered by her mother, trying to make his way of the house with the girl. The girl's father held McGrath down until gardai arrived and arrested him.
Guerin notes that gardai in Tipperary treated the incident as a serious one, and that their investigation and interviewing in the case was extensive.
Communication back and forth to Cavan…
Gardai at Bailieboro were alerted to the details of the incident within days.
This incident – and the fact that McGrath said he lived mostly with friends, not his parents, as his bail conditions said – should have been significant for gardai in Cavan.
There is a note that Guerin saw which says that they checked the Garda central computer system – PULSE – about the Tipperary incident.
The initial entry said merely: "youth discovered in house arrested at scene, nothing taken or damaged".
This, as Guerin says, didn't begin to describe the severity of his deeds:
It need hardly be said that this narrative does not capture the gravity of the incident and would not have been sufficient to alert anyone reading the record to its true nature.
However, later, on 9 October 2007, the PULSE entry was updated to reflect that he had been seen trying to take the 5-year-old girl out of the house, holding her by the neck, that he may have had a hurley and so on.
The narrative was updated again on 9 October and twice more on 10 October.
The note from the Cavan sergeant saying that they had checked McGrath's file on PULSE showed that they checked it sometime between 12 and 14 October. At that point, the seriousness of the incident in Tipperary would have been clearly recorded on PULSE.
In a report later in August 2009, a detective sergeant in Tipperary said that, for his part, "When I initially checked with Cavan regarding their case (the Lynch assault) they informed me that this was a dispute over a taxi fare". Guerin says this is a "plainly inadequate description" of what happened to Mary Lynch.
Apart from the handwritten report of 14 October 2007 from the Cavan sergeant that he had checked PULSE, "there is no evidence in the files that gardai in Cavan made any enquiries with gardai in Tipperary as to the nature or gravity of the incident that had occurred there on 9 October", writes Guerin.
Meanwhile, the Cavan assault case investigation moves to DPP
The Cavan file went to the Director of Public Prosecutions. It made no reference to the Tipperary incident and recommended a summary disposal of the charge against McGrath for common assault.
The DPP did not accept that recommendation and did say the charge should be the more serious one of assault causing harm, and an added charge of making off without payment (skipping out on the taxi fare), and agreed to summary disposal on a plea of guilty only. Guerin notes that it is not known if a different direction would have been given by the DPP if the Tipperary incident had been made known in the prosecution file, but it is likely.
A garda was given charge of bringing the two fresh charges to Virginia District Court but was not given direction or guidance by the overseeing sergeant or superintendent.
Despite the new more serious charge against McGrath in the Cavan case, Guerin finds:
I have found no indication that gardai in Cavan considered the question of seeking a remand in custody or the imposition of any bail conditions in those circumstances on 3 December 2007.
#Open journalism No news is bad news Support The Journal

Your contributions will help us continue to deliver the stories that are important to you

Support us now
This was three days before he went on to kill Sylvia Roche-Kelly.
Meanwhile, in Tipperary…
A psychiatric report was not made available to prosecuting gardai in Tipperary and while a detective sergeant there gave evidence of his belief that McGrath could commit further serious offences on bail, he was not "of sufficient seniority" and bail was granted to McGrath.
Another point to note: McGrath's lack of compliance with bail conditions in Cashel Garda station does not appear to have attracted attention – and the relevant bail book cannot be located.
On the day after the murder in Limerick, McGrath he came home to Tipperary by taxi and stopped to sign the bail book in Cashel.
After signing on he got a bus from Waterford to London and on to Edinburgh in Scotland where he remained until his murder of Sylvia was discovered and he eventually was brought back to face trial.
Warning from his victim ignored
Mary Lynch spoke of how she was concerned at hearing that McGrath was released after his attack on her because she believed he "had something about women and was concerned that he would come back and attack me or some other woman".
She said she rang Bailieboro Garda Station about it but was never able to speak to an investigating garda. She later became aware of the incident in Tipperary and found this "extremely hard to believe bearing in mind that he was on bail for the attack on me".
When she learned of Sylvia Roche Kelly's murder two months later, "she knew straight away that the culprit was Jerry McGrath". No-one at Bailieboro Garda station would initially confirm to her that it was.
She was also told not to attend her own case in court in January 2008 as – she was told – wasn't going ahead. It did and she only found out when a garda rang her to tell her that "her man" had been sentenced to nine months. She was upset because she had wanted to be there.
"He's still here in the station if you want to see him," she claims she was told by a Garda inspector in January 2008. "She declined that unappealing invitation," notes Guerin drily in his report.
No formal victim impact statement recorded from Mary Lynch – and there was no mention of one garda's report on 16 December 2007 that she expressly wanted to make a victim impact statement.
She never did get her day in court.
What now?
It is as a result of these various omissions, inaction, misdirection and miscommunication that the former husband of Sylvia Roche-Kelly and McGrath's assault victim Mary Lynch launched complaints against the gardai and GSOC.
It is these complaints, it has been alleged by Sergeant Maurice McCabe, sparked an "urgent attempt to dispose of [the Mary Lynch] case as quickly as possible and at all costs".
What happened next – and who among the higher echelons of Garda management and beyond were involved, or knew and did nothing, and more importantly why - will be the line of questioning to watch at the upcoming inquiry.