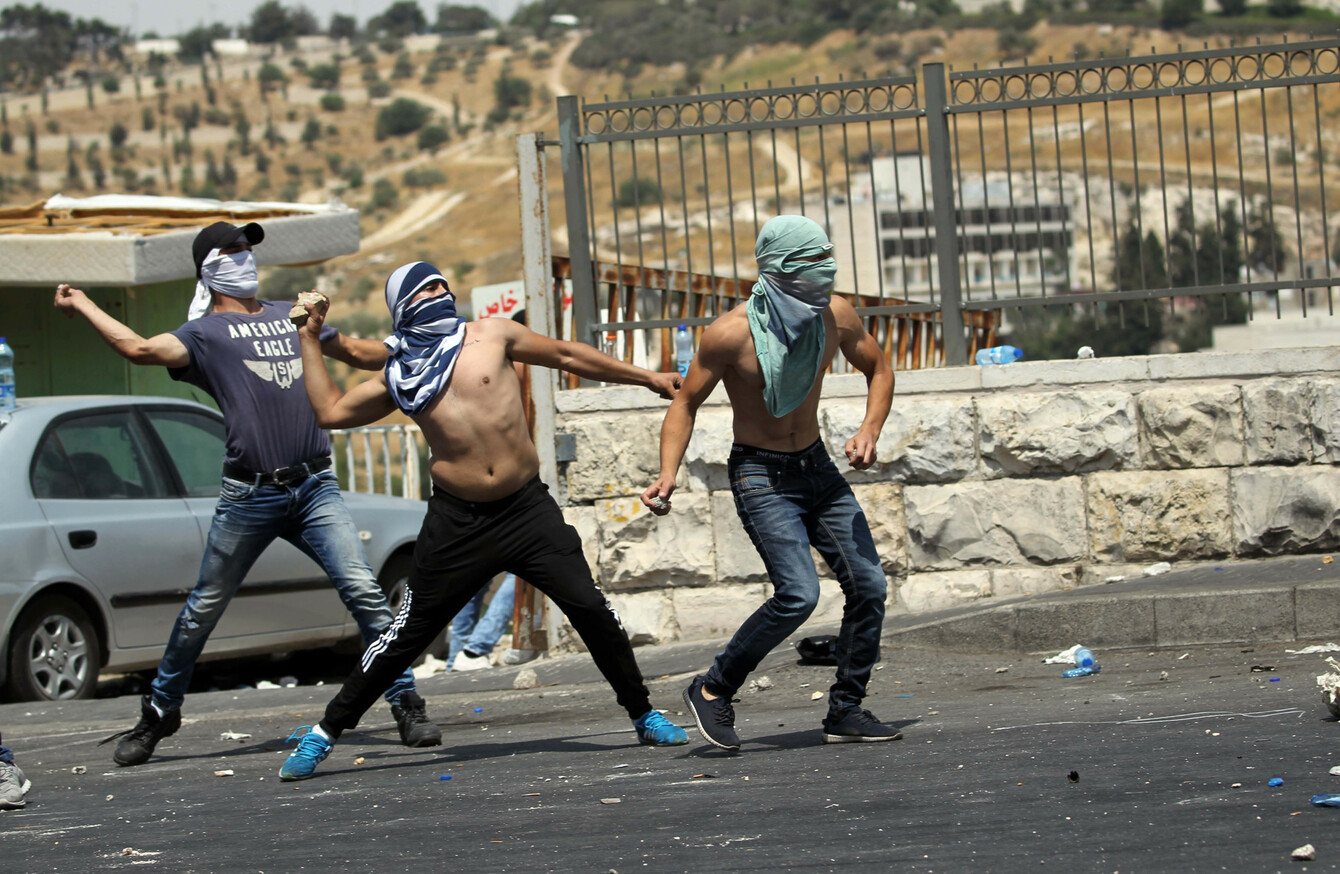 Palestinians clash with Israeli police in East Jerusalem.
Image: Xinhua News Agency/PA Images
Palestinians clash with Israeli police in East Jerusalem.
Image: Xinhua News Agency/PA Images
THREE ISRAELIS WERE stabbed to death and clashes left three Palestinians killed as tensions rose over new security measures at a highly sensitive Jerusalem holy site where police restricted access for Muslim prayers.
As Israeli and Palestinian leaders faced pressure to respond, Palestinian president Mahmud Abbas announced late today that he was freezing contacts with Israel over the holy site dispute.
The unrest came after Israeli ministers decided not to order the removal of metal detectors erected at entrances to the Haram al-Sharif compound, known to Jews as the Temple Mount, following an attack nearby a week ago that killed two policemen.
In anticipation of protests, Israeli police barred men under 50 from entering the Old City in annexed east Jerusalem for prayers, while all women were allowed in.
Police said later in the day that discretion could be applied in the use of the metal detectors instead of forcing everyone to go through them.
But Palestinian and religious leaders still called on worshippers not to enter until the devices were removed.
Hundreds held prayers in the streets near the gates of the Old City in protest. According to police, dozens of people entered the compound.
Crowds gathered outside Jerusalem's Old City found shops closed and streets around Damascus Gate — the entrance most heavily used by Palestinians — blocked.
Police later fired stun grenades and tear gas towards protesters outside the Old City, while Palestinians threw stones and other objects at security forces in some areas.
One Palestinian was shot dead by Israeli gunfire in the A-Tur neighbourhood of east Jerusalem, according to the Palestinian health ministry.
A second Palestinian was killed by gunfire in east Jerusalem, while a third was shot dead in Abu Dis in the occupied West Bank, the ministry said, without providing details.
Israel's army confirmed it was involved in clashes in Abu Dis.
In the evening, a Palestinian broke into a home in a Jewish settlement in the West Bank and stabbed four Israelis, killing three of them, the Israeli army said.
The assailant, believed to be 20, was shot in the incident and taken to hospital, but his condition was unclear.
The Palestinian Red Crescent reported that 450 people were wounded in Jerusalem and the West Bank throughout the day, including 170 from live or rubber bullets.
Medics reported another 40 wounded in the Gaza Strip.
Israeli police reported 29 arrests in Jerusalem and the West Bank, adding that five officers were lightly injured, coming under attack with stones and fireworks.