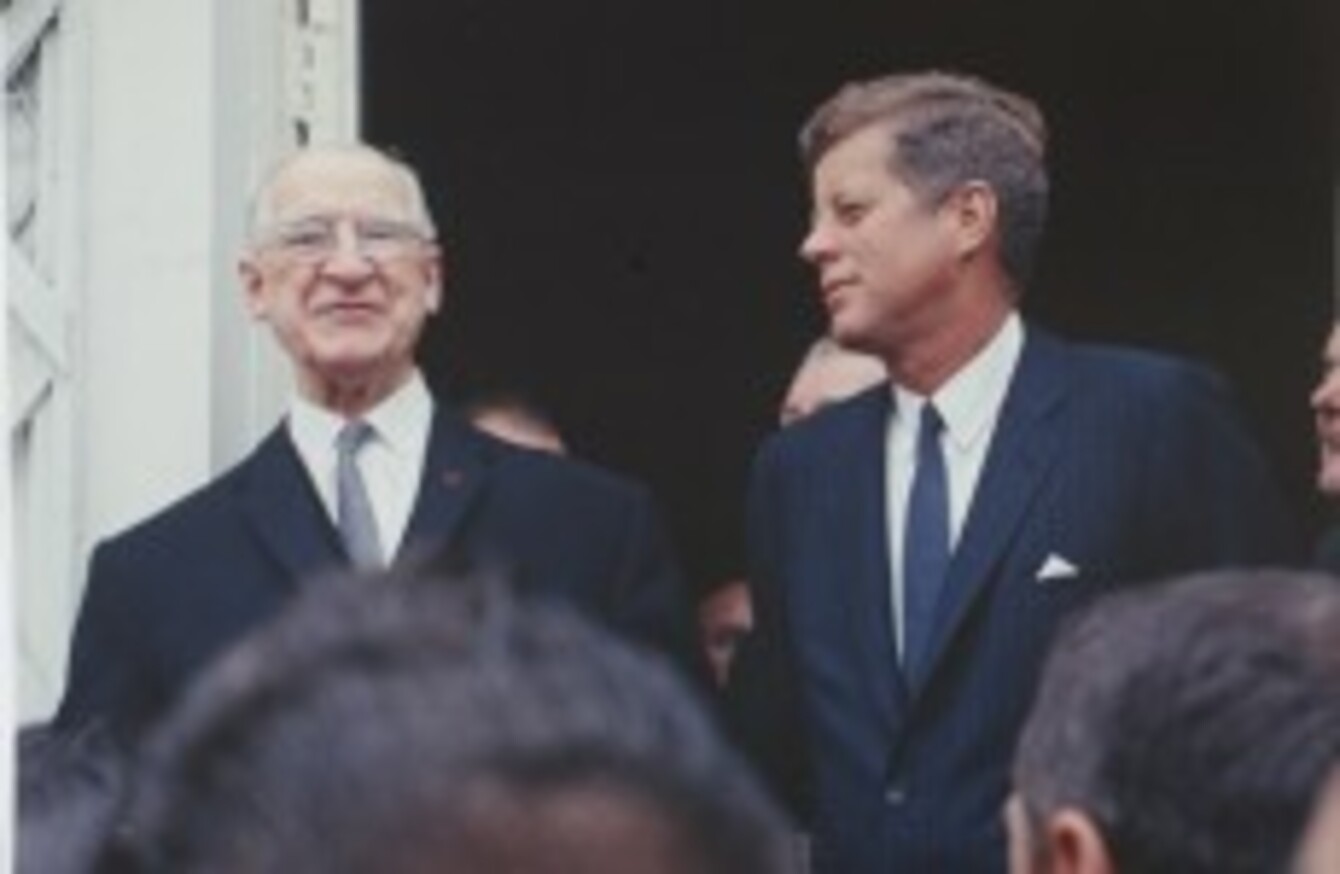 Eamon De Valera and John F Kennedy
Image: Noel Montayne/National Library of Ireland
Eamon De Valera and John F Kennedy
Image: Noel Montayne/National Library of Ireland
WHEN THE NATIONAL Library of Ireland put out a call for JFK memorabilia, they expected to get a lot of interest – but the stories they uncovered were perhaps even more special than they could have imagined.
From the visit leading to a marriage to the little boy who hung onto a paper flag for 50 years, each story gives a glimpse into the ordinary life of people during US President John F Kennedy's visit to Ireland in 1963.
The NLI has partnered with the US Embassy, the National Archives and the JFK Presidential Library and Museum in Boston to mark the 50th anniversary as part of a larger programme of events remembering this historic occasion.
Memories
Katherine McSharry of the National Library of Ireland said that the library received "some really interesting things and really interesting stories".
One involved a civil servant called Noel Montayne who attended a garden party during JFK's visit. He took some candid colour photographs, which show not only JFK himself – and Eamon De Valera – but the quirky cake made for his visit, which featured the president's visage.
There was also the story of a German exchange student staying in Trinity, called Susanne Dockrell. She took photographs of JFK's visit to the city centre, but because she couldn't leave Trinity during his visit, she got talking to a man she had met a couple of nights before, explained Katherine.
The two ended up getting married – and they can say that JFK brought them together.
Another person who brought in something unusual was Norman Hennessy from New Ross. "Quite a lot of the US officials seem to have been staying down there in advance of the visit," said McSharry. Certain families in New Ross were asked to put up the officials in their homes.
This man's family was one of them – and the guest brought something unusual with him: a phone line straight to the White House. The phone had to be fitted especially for the trip, and Hennessy told McSharry that he had wondered what would have happened if he had picked up the phone himself.
He brought with him the phone details, which show the White House logo.
Another item is a little paper flag that Robert Harrold waved during JFK's visit when he was just six years of age. "He has kept it ever since," said McSharry.
How you can submit your memorabilia
The NLI were were "really pleased" with the memorabilia which was brought in on the day, and people are still bringing in interesting items. If you have any JFK memorabilia of interest, or a story you would like to share, you are invited to submit them at JFKhomecoming.com.
"The thing that was most striking was that people had a range of different stories," recalled McSharry.
These are the kind of stories that you can't find anywhere else. They were not recorded, not written down. So if we don't do these kinds of activities, they will be lost.
All of the items were digitised and given back to the owners.
US President John F Kennedy visited Ireland for four days in 1963 – 26 to 29 June. The country buzzed with excitement, and literally half of Dublin gathered in the city centre to catch a glimpse of him, while 100,000 travelled to see him in Cork and Galway. He also visited his ancestral home in Wexford, bringing 18,000 visitors to the town that day.
An NLI exhibition on JFK's visit will run at No 2 Kildare Street from 21 June to 15 August. Submit your memories to JFKhomecoming.com

Crowd surrounding JFK

Eamon De Valera and JFK

Garden party for JFK

Cake for JFK

JFK visit

JFK visit

JFK visiting College Green