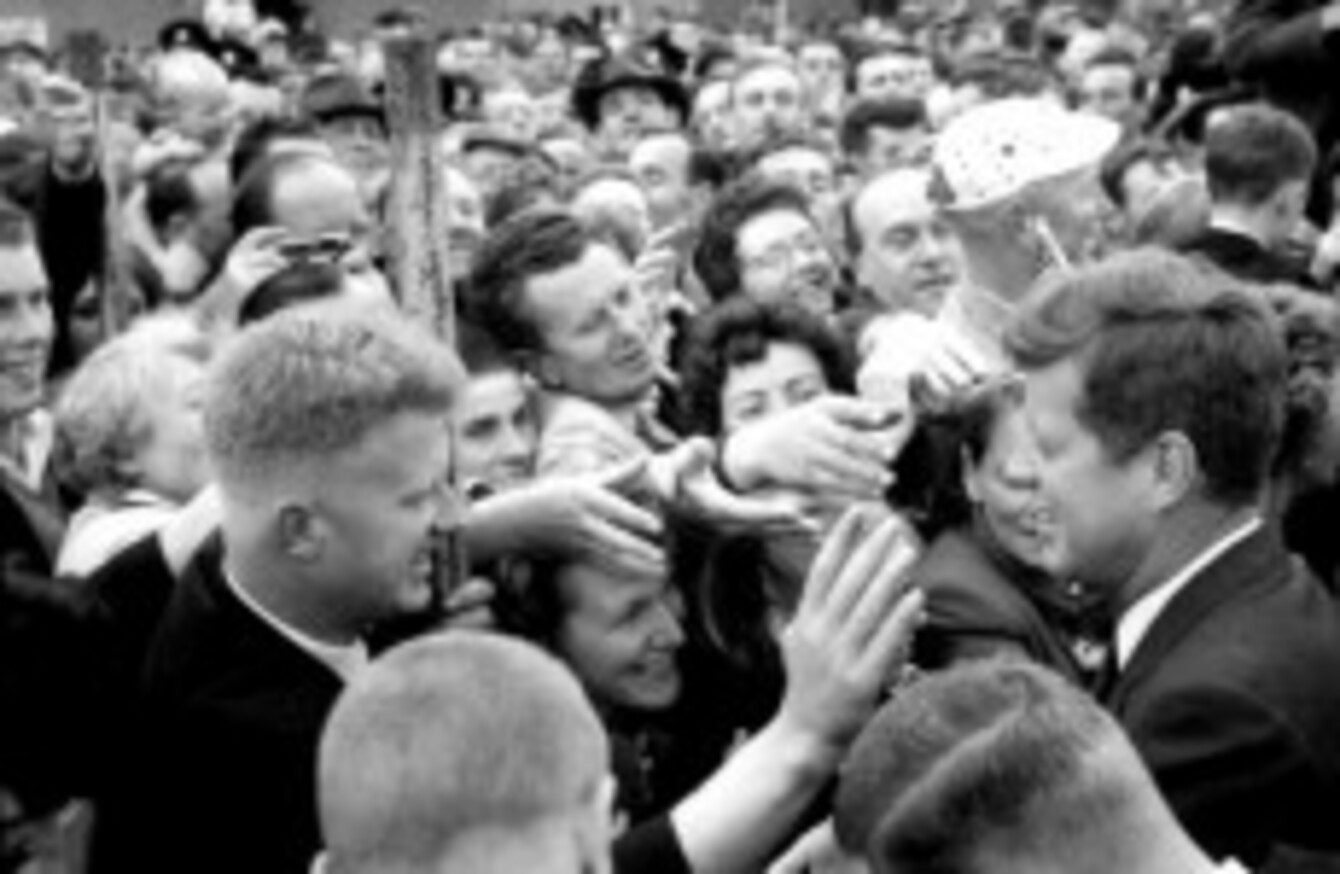 President John F Kennedy during his visit to New Ross, County Wexford
President John F Kennedy during his visit to New Ross, County Wexford
US SECRETARY OF State John Kerry says he remembers watching footage of President John F. Kennedy's visit to Ireland on a 'little black and white television' back in 1963.
America's top diplomat has been sharing his thoughts and observations on the JFK 50 celebrations in an article published today. He says the trip was "a remarkable reminder that the United States was a nation of immigrants focused on the future but deeply proud of its roots".
Thousands of people turned out last weekend in New Ross to mark the visit of America's first Catholic president half a century ago this week, for an event described by Taoiseach Enda Kenny as "the Gathering of The Gathering".
Various members of the Kennedy family attended the Wexford celebrations – including JFK's daughter Caroline, and his sister and former ambassador to Ireland Jean Kennedy Smith. Other events to mark the anniversary week are taking place at various locations around the country.
In his article, Secretary Kerry says he learned first hand about the deep bonds between Ireland and the US during the many years he spent serving as a Massachusetts senator alongside Ted Kennedy:
The legacy of John F. Kennedy is a shared heritage, for both the Irish and for Americans.  President Kennedy's vitality, vision, wit, courage and idealism are as relevant today as they were fifty years ago.  JFK remains a symbol of the success of the Irish Diaspora in the United States, and I was lucky to serve a state that boasted so many proud Irish Americans among its own.
JFK surveys the quayside at New Ross
Kerry also details President Kennedy's observations of the Ireland of 1963:
… he saw a country with a bright future in Europe.  He saw Ireland as a country that had given much to the world and had an important role to play.  During his visit, he highlighted our shared bond, saying, "Our two nations, divided by distance, have been united by history.  No people ever believed more deeply in the cause of Irish freedom than the people of the United States.  And no country contributed more to building my own than your sons and daughters."
And he says that if he were alive today, JFK would be proud of what both countries have achieved:
Today, President Kennedy's vision of what Ireland could be has come to pass in ways perhaps even he could not have imagined: Ireland today is a leader in the European Union:  a high-tech hub, a center for biomedical and pharmaceutical research, and a leader in clean technology.  Ireland faced down an economic crisis, took tough and necessary steps, and is now on the road to recovery. And yes, a hard fought and harder negotiated peace endures.

Make no doubt, challenges remain, but Ireland has changed profoundly over these past fifty years, and I am certain that together we will share a bright future.  If President Kennedy were here today, there can be no doubt that he would share in our great sense of satisfaction and pride in all that our two countries have accomplished – and all the more we can accomplish together. But for certain, he would look to his grandchildren and so many others' grandchildren to carry on for the future – because, as he said, "there is a new world to be won."