Image: Photocall Ireland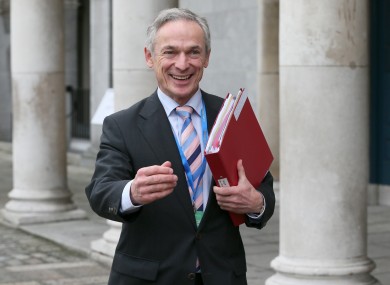 Image: Photocall Ireland
THERE HAS BEEN round welcome for reforms to the Joint Labour Committee system.
Jobs Minister Richard Bruton today announced changes to the committees, which help set wages for some 200,000  low-paid workers.
The reforms see the abolition of the committees that set the wages at Dublin hotels and for law clerks. It sees the reform of committees relating to hotels other than those in Cork and Dublin, contract cleaners, hairdressing and security.
Burton says that the orders will make Ireland more competitive.
"The orders I have signed will provide the framework within which employee representatives can come together voluntarily to negotiate terms and conditions for workers in their respective sectors.
"For vulnerable workers, the advantage of JLCs is that they see fair terms and conditions such as wage rates, sick pay etc. agreed and given effect."
Unions
Two of Ireland's biggest unions, Mandate and SIPTU welcomed the orders, which came on the back of Labour Relations Commission recommendations.
SIPTU Vice-President, Patricia King, said:
This is a good day for low paid workers. It follows the intensive lobbying, and engagement with the Government, by the trade union movement.
"We now expect that the CEO of the LRC will be requested to invite the parties to make their nominations to the JLCs."
She was echoed by Mandate's John Douglas.
"The re-establishment of the JLC's will ensure that thousands of low-paid vulnerable workers will be protected and will ensure that the concept of decent work is put back on the agenda."
Businesses
Business leaders Ibec, however, see the situation differently. They say the retention of the committees as a mistake.
Head of Industrial Relations at Ibec, Maeve McElwee said that the system was a relic.
"The JLC system should have been consigned to history. It was established in 1909, at a time when employment protection laws did not exist. We now have more than 40 pieces of legislation to protect workers and a national minimum wage. There is no justification for extra wage-setting rules in specific sectors."