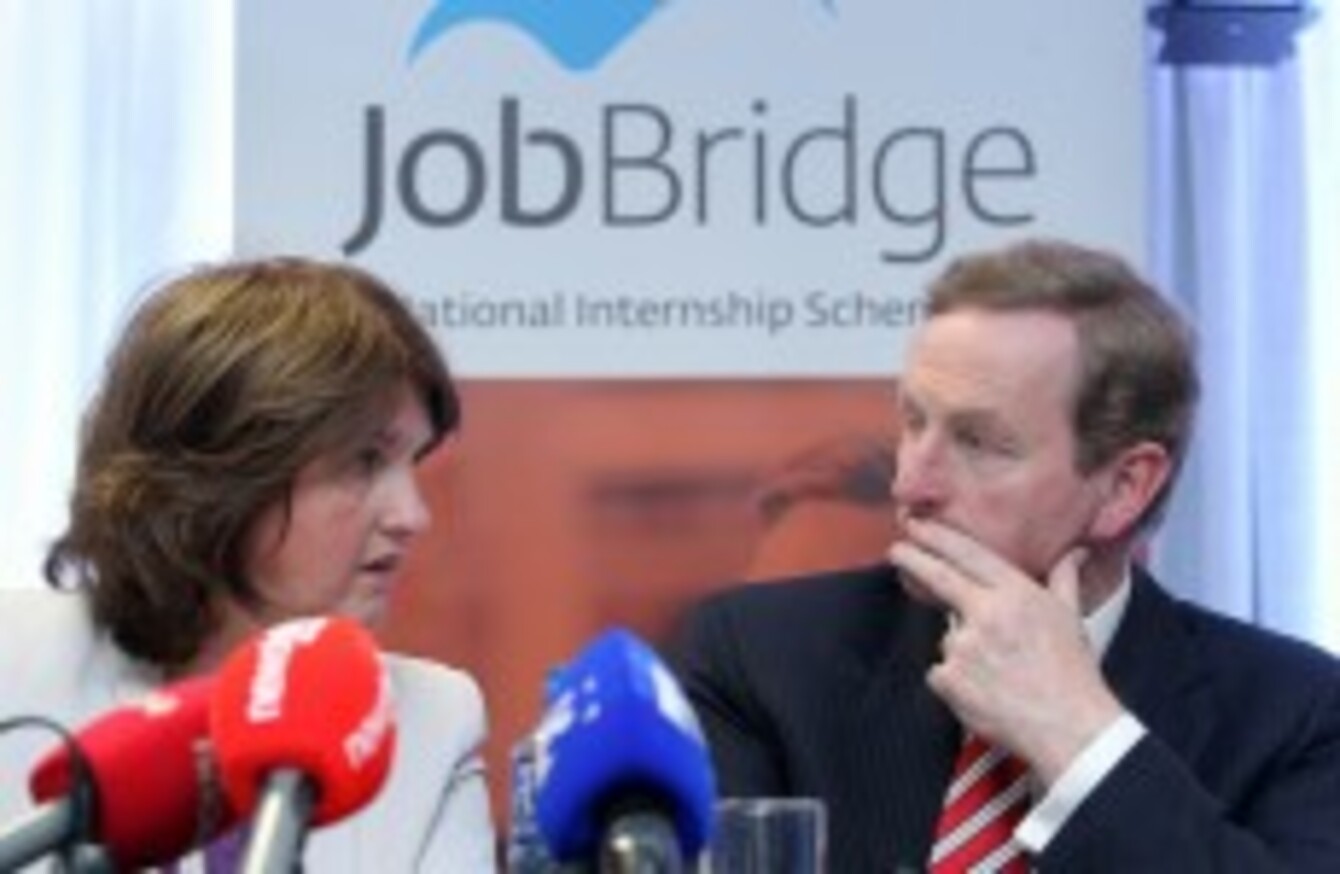 Joan Burton and Taoiseach Enda Kenny (File photo)
Image: Sam Boal/Photocall Ireland
Joan Burton and Taoiseach Enda Kenny (File photo)
Image: Sam Boal/Photocall Ireland
THE DEPARTMENT OF Social Protection has refused to name 68 per cent of companies involved in advertising over 9,000 jobs on the controversial JobBridge scheme as well as the names of 32 companies that were barred from the programme.
Minister Joan Burton's department maintains that to release such information would violate a request by these companies for their details not to be displayed on the JobBridge website and that it will result in a loss of privacy for these companies.
The JobBridge national internship scheme gives participants who are on social welfare an extra €50 a week for work carried out with certain employers.
In total 68 per cent of companies who used JobBridge to advertise a total of 9,217 individual posts and asked not to be named will remain anonymous despite efforts to make their details public by a Sinn Féín TD.
Aengus Ó Snodaigh, who tried to get the information via Freedom of Information having been refused it in the Dáil last November, said that a scheme involving private companies getting public money should be more transparent.
He said: "It effectively means that private organisations can receive public subsidies from the Department of Social Protection on their own terms and in a manner that is shrouded in secrecy."
JobBridge was launched by Burton in June 2011 but has been controversial and widely-criticised despite its success in getting three out of five of those who availed of it paid employment.
There have been several instances of the scheme being used by schools to fill teaching positions while the former Socialist MEP Paul Murphy has highlighted cases where companies have been temporarily banned  including the Munster Express newspaper.
In its response to Ó Snodaigh's FOI request, seen by TheJournal.ie, the Department said that forcing it to notify each of the companies who asked not to be named would involve "a substantial and unreasonable interference with or disruption of the work of the JobBridge unit and of the Department" given that it involves over 9,000 individual postings.
In refusing the name the 32 companies that were blacklisted because they had in some cases failed to mentor and develop the interns, the Department said there is "an overriding public interest" in keeping these details confidential.
This is due to the success of the scheme in addressing unemployment and the potential that naming organisations would encourage others to withdraw or not participate at all, the Department said.
Ó Snodaigh said he intends to appeal the FOI ruling to the Office of the Information Commissioner.