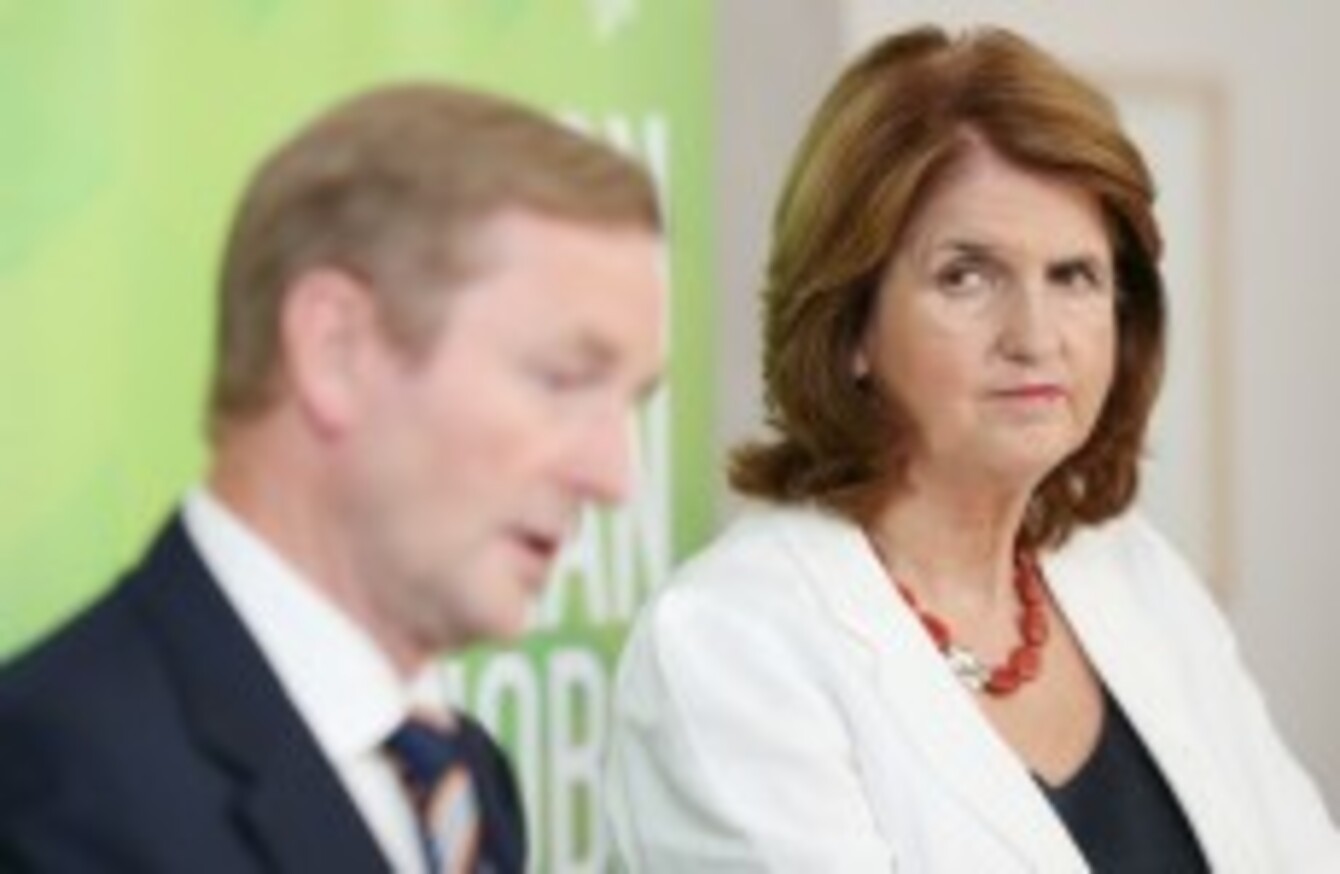 Tánaiste Joan Burton with Taoiseach Enda Kenny
Image: Sasko Lazarov/Photocall Ireland
Tánaiste Joan Burton with Taoiseach Enda Kenny
Image: Sasko Lazarov/Photocall Ireland
TÁNAISTE JOAN BURTON has said she is glad that Taoiseach Enda Kenny apologised over 'McNulty-gate'.
Last Friday, Kenny said he takes full responsibility for the nomination of John McNulty to the Seanad.
Accusations of 'stroke politics'
Fine Gael has been criticised and accused of 'stroke politics' over the handling of McNulty's nomination to the Seanad.
It emerged last week that McNulty had been nominated to the board of the Irish Museum of Modern Art (IMMA) just days before being picked as a FG nominee for the Seanad by-election.
Today, Minister Burton said that she welcomes the Taoiseach's statement "clarifying the circumstances in which he proposed Mr McNulty for the Seanad".
She said she is "glad" that he has spoken about the situation and apologised.
She said she had a "detailed" conversation with the Taoiseach today about the issue, "because what I am determined to see is that we have procedures and processes which are clear to everybody".

Memorandum
She also said that Minister Brendan Howlin had been requested by Burton and the Taoiseach to do some work on this, and will be bringing a memorandum to government on this issue soon.
Burton said she and Kenny discussed the work that is ongoing in the Department of Public Expenditure and Reform "in relation to identifying in particular the skill sets and the mix of people required to have a well-functioning State board".
Burton said that they spoke about how the procedures can be improved, and how she personally prefers to advertise positions in relation to State boards and to use the service of the Public Appointments Service.
She said it is "absolutely important we get the correct skillsets of people" for such boards.
She said that when appointing people to boards, "it's also necessary to identify the type of people required", so "in that case it might be necessary to go out and to ask particular people to be involved".
She also spoke of the importance of diversity on boards.
By-election support
Asked if she is supporting John McNulty in the by-election, Burton said:
I anticipate that the members of the Government parties will support a Government candidate for the vacancy… that has been the practice and I anticipate that is what will happen in this case.
She said that tradition has been that the party that has the vacancy would put forward a candidate and government parties would support that candidate.
Meanwhile, Sinn Féin leader Gerry Adams called on the Taoiseach to withdraw McNulty's name from the Seanad by-election.
He made the comments while speaking at an election rally for Martin Kenny, the Sinn Féin candidate in the Roscommon/South Leitrim by-election.
- additional reporting from Hugh O'Connell