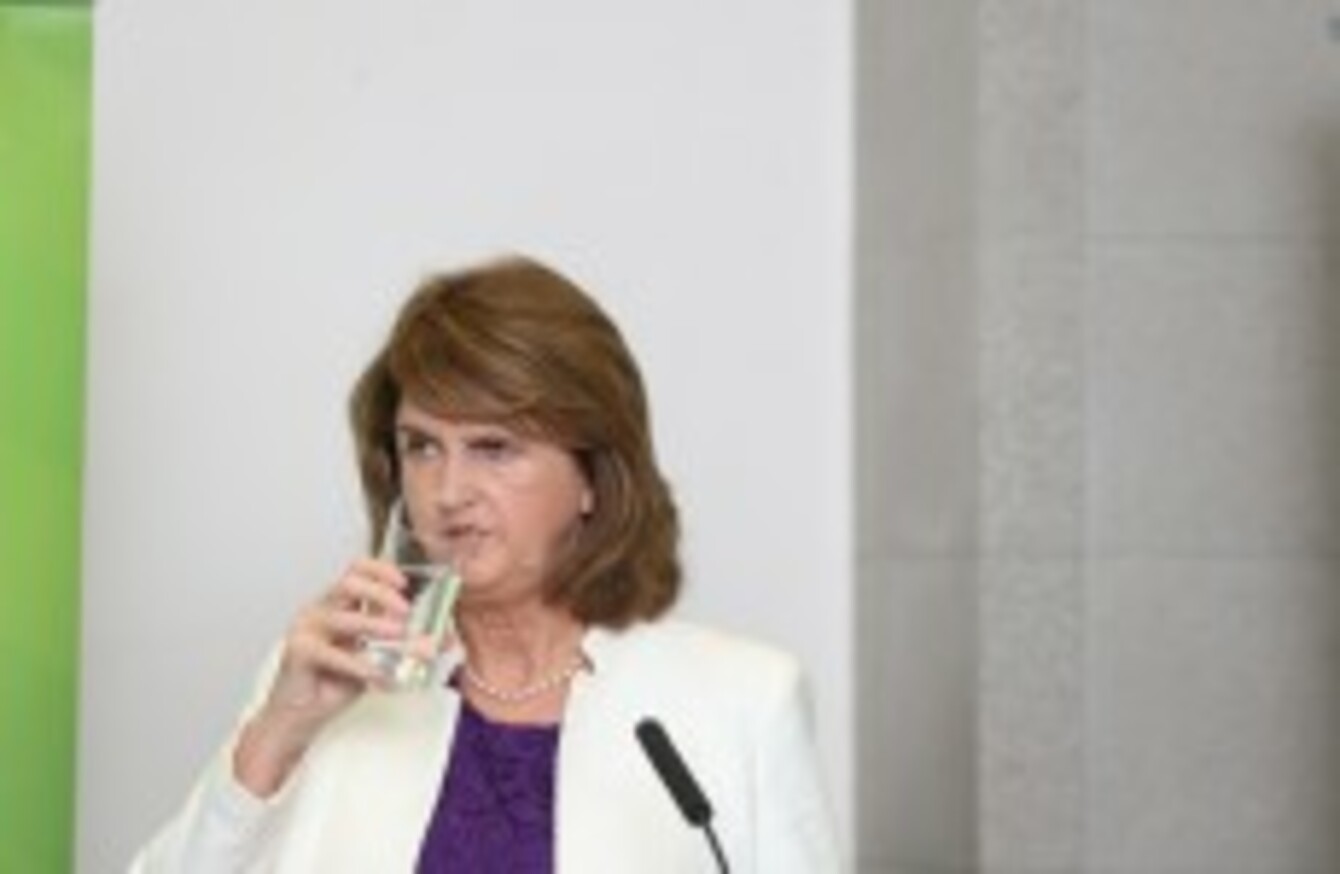 Image: Photocall Ireland
Image: Photocall Ireland
AMID CONTINUING GOVERNMENT disarray over the issue of water charges this week, Tánaiste and Labour leader Joan Burton has said in a speech this evening that she intends to see out the full term of the coalition.
Addressing delegates at a conference of the party's youth wing in Galway, she said it would be "too easy" to walk away from Government.
The party needs to be "bright and bold" in the run up to the next Dáil vote, she said, before stressing several times that there was only "69 weeks" to go until the country goes to the polls.
"There is so much more to do, and less and less time in which to do it.
We have sixty-nine weeks, at most, until the next general election.
"Sixty-nine weeks until we go back to the people, look them squarely in the eye, and ask them to pass judgement on our record as a party of government.
Elsewhere in her speech, the Social Protection Minister talked up some of Labour's recent achievements in Government, listing the €5 increase in Child Benefit announced in the Budget, and the partial restoration of the Chistmas Bonus for those on social welfare.
"So we have begun the construction of the social recovery, and I am confident that we can go much further over the remainder of this Government's term," Burton said.
However, there was no direct mention in her speech of the issue at the centre of the current divisions in Government.
Yesterday, both Burton and Taoiseach Enda Kenny insisted their working relationship was "very strong," and the Tánaiste insisted "solid progress" was being made on the subject of water charges.
Public anger
The display of solidarity came amid increasing speculation that the continuing drip-drip of controversy and ramping-up of public anger over water charges could lead to an early disintegration of the Fine Gael-Labour government.
In his most recent comments on the issue, the Taoiseach reitereated that he believed the next General Election would happen in "the spring of 2016″.
Meanwhile, former Labour Chief of Staff Fergus Finlay said this week that he wouldn't be surprised if there was an election before Christmas 2014 (although, in fairness, he later admitted he may have been exaggerating for effect).
Some opposition TDs are also readying themselves for a national poll far sooner than 2016 — even before the latest round of Irish Water controversies, many were speculating that it was likely to happen towards the end of 2015.