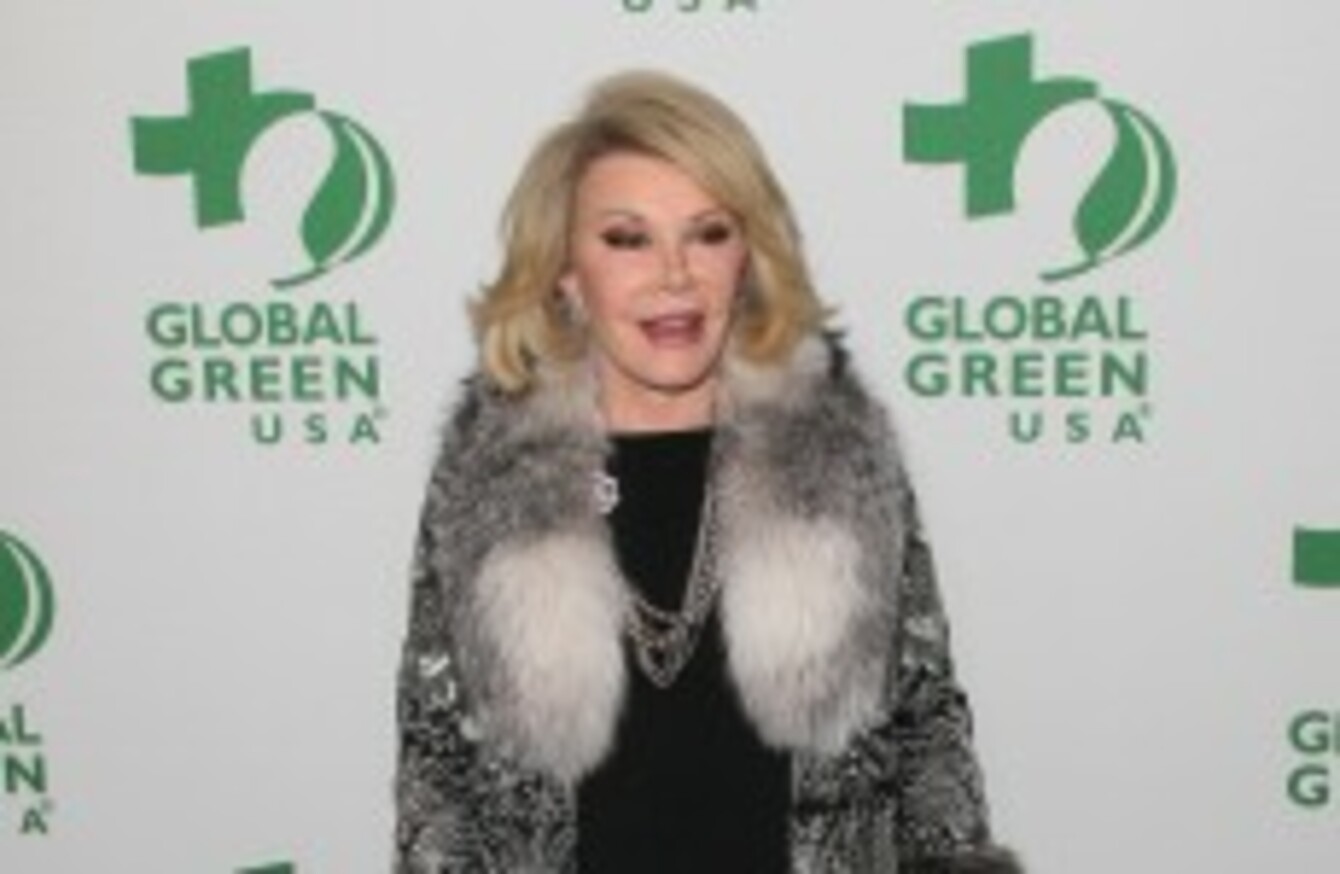 Image: AFF/EMPICS Entertainment
Image: AFF/EMPICS Entertainment
JOAN RIVERS, THE acerbic US stand-up comic renowned for her rapier wit, was rushed to hospital after suffering complications during a medical procedure, colleagues said.
US media said the 81-year-old Rivers stopped breathing while undergoing surgery on her vocal cords at a clinic in New York's Upper East Side and was taken to Mount Sinai Hospital.
A spokesman for the New York Fire Department told AFP that officers responded to an emergency call at 9:39 am (1339 GMT) after a woman suffered a possible cardiac arrest.
The patient was taken from 201 East 93rd Street, the address of Yorkville Endoscopy clinic, to Mount Sinai, he said.
The hospital confirmed Rivers had been admitted but gave no immediate details on the nature of her condition.
"Her family wants to thank everybody for their outpouring of love and support. We will provide an update on her condition as it becomes available," said spokesman Sid Dinsay.
The E! television channel on which Rivers hosts the show "Fashion Police" reported that she was in a stable condition after suffering "complications from throat surgery".
"Our own lovely living legend Joan Rivers is in stable condition at Mt Sinai hospital," tweeted E! journalist Ken Baker.
Celebrity news site TMZ earlier said that Rivers was in critical condition after she stopped breathing. Her daughter Melissa was reportedly en route to New York.
Rivers earlier this week filmed a special 90-minute episode of "Fashion Police" and has a string of appearances scheduled in the coming weeks, followed by a UK tour in October.
Born in Brooklyn and a long-time New York resident, Rivers has spared no one her razor-sharp wit and is considered one of the best at delivering a cutting one-liner with a well-timed zinger.
The E! network reported that the surgery was "a minor endoscopic procedure" performed under sedation to check her vocal cords.