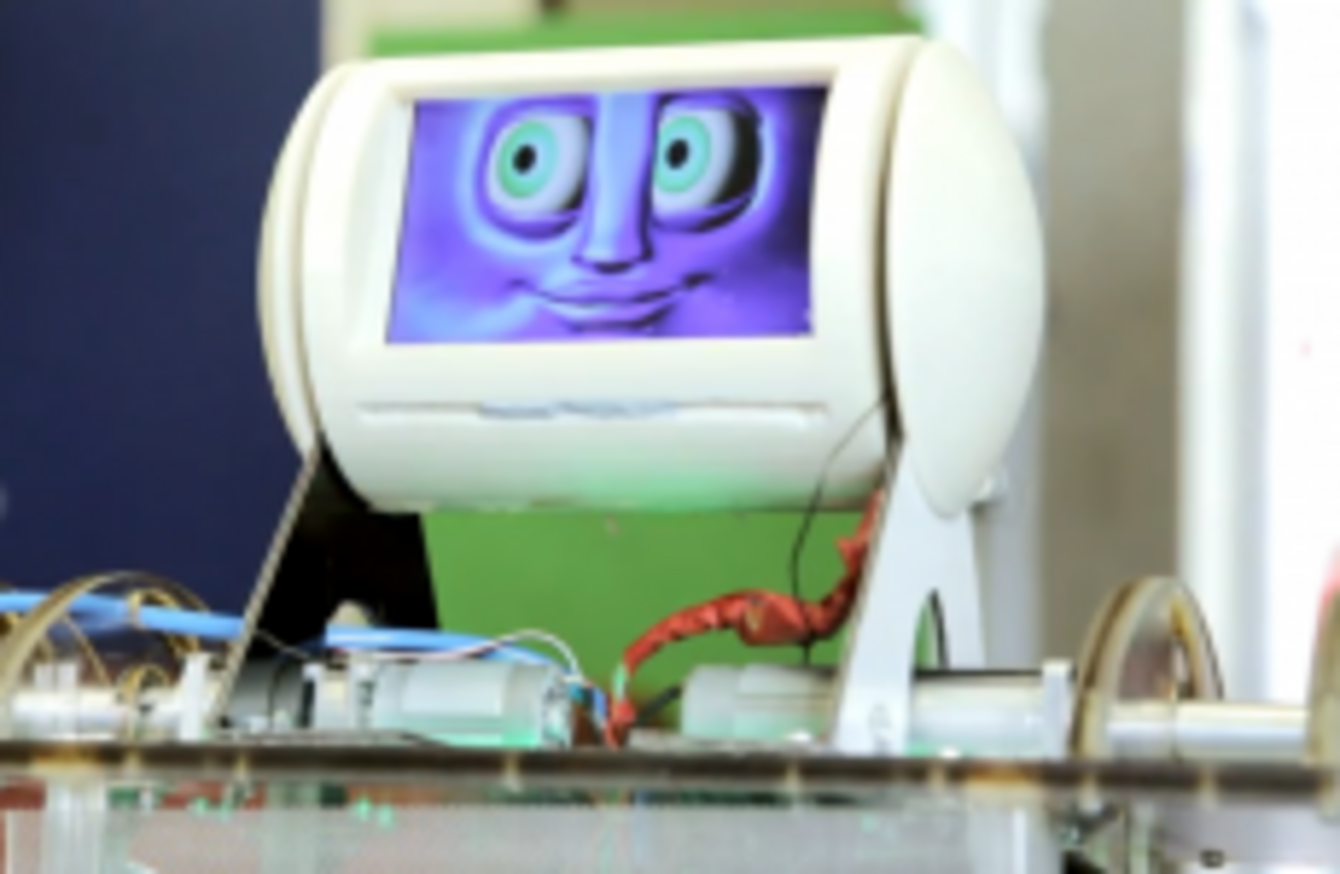 Image: Youtube/Screengrab
Image: Youtube/Screengrab
LESS THAN TWO years after she challenged the technology community to find a solution to many of her daily challenges, Joanne O'Riordan will meet her new robot.
Robbie, built by a team of engineers at Trinity College, blinks, smiles and frowns. Designed with all of Joanne's needs in mind, he can bend over and pick things up.
Well-known across Ireland, the 18-year-old Cork native was born with a rare condition known as Total Amelia which means she has no limbs.
In April 2012, she gave the keynote speech at a United Nations ITU conference in New York on women in technology and used the opportunity to put forward her challenge.
"Technology has opened up a world of possibilities," she said. "Through which I have excelled in both my education and social environment around me.
I can use my mobile phone, send texts, tweets, update my Facebook, play my PlayStation, Nintendo DS, iPad, iPod, and laptop; without Microsoft, Adobe and Apple in my life I would not be doing and achieving my full potential. In fact I think my life would be quite different to what it is now. Believe it or not I simply use my upper and bottom lip, chin, nose and hand to work most if not all these systems.
"It's my wish and challenge to you and to others out there to build me a robot," she told the conference. "The main thing the robot would be doing is picking up the objects I drop such as a pen, knife, fork, and or my phone."
Bebeto Matthews/AP/Press Association Images
On receipt of €50,000 funding from the ITU, Assistant Professor Kevin Kelly in the School of Engineering in Trinity, took up the job along with a team of young engineering students.
They have built a prototype humanoid robot with a head, arms, torso and single leg which uses two wheels to move around.
Professor Kelly and his team
"Anyone who saw Joanne's appearance on the Late Late Show in 2011 couldn't fail to be both impressed and inspired by her, and I was no different," explained Kelly. "However, it was her appearance at the UN conference that really compelled me to get involved. Firstly, by her presence alone she was inspiring young girls to consider technology or engineering as possible careers – something very dear to my heart, and that I've worked to encourage for many years now.
And secondly, the research in autonomous robots and gripping technology that we were engaged in at Trinity seemed an ideal match for what Joanne was asking for. I got in touch with Joanne and her family and we began discussing how we could help.
Secretary General of the United Nations specialised agency for information and communication technologies, Dr Hamadoun I. Touré is in Trinity today to meet Robbie the Robot.
Picking things up
Joanne's request seemed quite basic – she wanted the ability to pick things up.
"On the face of it, building a robot to pick up dropped items sounds like a straight forward idea – we take it for granted that we can easily do this ourselves," explained chief engineer Conor McGinn.
However, there are huge challenges when trying to this with a robot in a domestic environment. Primate evolution spanning 65 million years has got us where we are now whereas we had three months to build something!
The robot's head is made from 3D printed plastic, with an enclosed 8-inch LCD screen which shows its face.
The body consists of aluminium, carbon fibre and plastic, while 'inside' are lithium-polymer batteries, computers, motors, gearboxes, sensors and communication hardware that act as the 'brain', 'muscles' and 'nervous system' of the robot.
When Robbie is in his default kneeling position, he can interact easily with Joanne as her head is approximately the same height. This position also allows the robot to bend at the waist to pick up things without falling over.
Robbie can rise into a standing position where he is about the height and width of a 10-year-old child.
Small objects like phones or pencils can be picked up with an extensible arm, on the end of which is a 'hand' (a balloon filled with coffee granules – an idea borrowed from researchers in Cornell University).
The balloon can be inflated or deflated and this allows it to conform to and grip a wide range of object shapes, sizes and types.
"There have been late nights and long hours but at the heart of it has been the desire to help Joanne begin to realise her dream of having a robot that can assist her with some of the simple tasks that elude her but that could make the achievement of all the other things she does independently a lot easier for her," said Masters student Michael Cullinan.
This prototype is only the first step towards Joanne realising her dream of a robot and we hope that Joanne gets the financial support to continue this process and achieve her dream.
Professor Kelly noted that Robbie is just a prototype and there is a lot more work required. The design needs to be more elegant and the functionality more extensive for a start, he says.
See more of Robbie here: