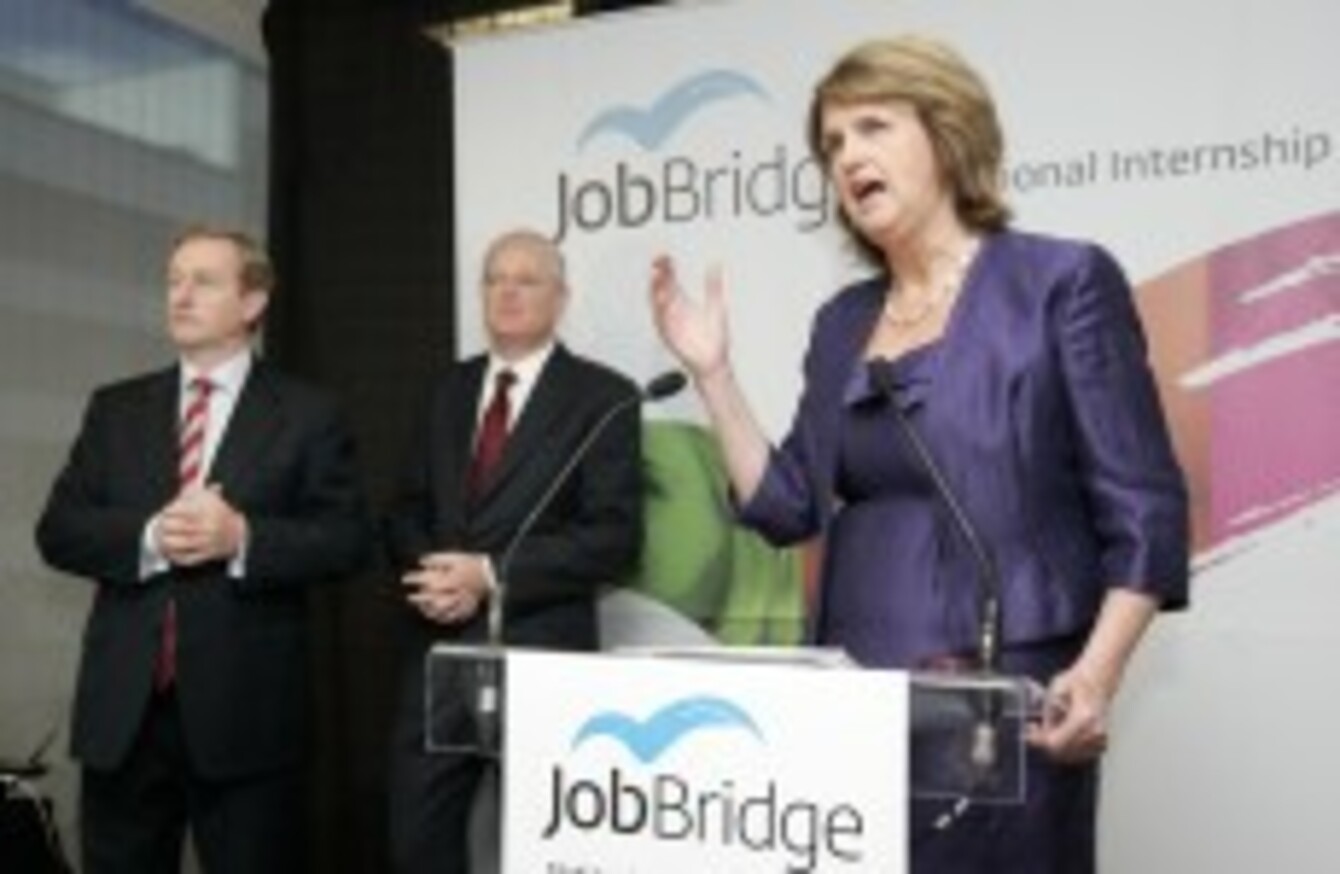 JobBridge was launched by the Government in 2011.
Image: Mark Stedman/Photocall Ireland
JobBridge was launched by the Government in 2011.
Image: Mark Stedman/Photocall Ireland
A WOMAN HAS been awarded €5,000 after she was not considered for a JobBridge internship because she was in receipt of the One Parent Family Payment (OPFP).
Noreen McQuaid brought her claim to the Director of the Equality Tribunal on 16 May 2012 under the Equal Status Acts, 2000 – 2013.
The Equality Officer, Valerie Murtagh, recently ruled in McQuaid's favour.
Murtagh found that she was "indirectly discriminated against" based on her family and civil status.
"I have taken into account the effect the discrimination had on the complainant and the stress of the incident on her," Murtagh said, when awarding the compensation.
McQuaid was in receipt of Jobseeker's Benefit and the associated credits since June 2011. On 15 October 2011, she noticed a local internship vacancy with the JobBridge scheme on the FÁS website that would have been suitable for her.
She submitted an application for the JobBridge placement before the deadline but was not considered as she was in receipt of OPFP. She acknowledged that she might not have been successful in her application but should have at least been considered for the internship.
Unfair
Tens of thousands of people are in receipt of the payment and McQuaid stated that was unfair and "paradoxical" to exclude so many people from JobBridge.
She told the Tribunal that as lone-parents are "an already economically vulnerable group, it is a shame that individuals such as herself, who were actively seeking work and aiming for economic independence were not afforded an equal opportunity to avail of the scheme which could make a real difference to them".
The Department of Social Protection argued that the eligibility criteria for the JobBridge scheme were not discriminatory, noting it does not come under any specific legislation and was introduced on a pilot basis.
Participants in the scheme must be in receipt of  Jobseekers' Benefit or Jobseekers' Allowance for 78 days out of the previous six months. They are offered an internship of six or nine months with a host organisation. If they take up the placement, they will keep their social welfare payment and will get an extra €50 per week.
In May 2012 Social Protection Minister Joan Burton extended the scheme and widened eligibility to include people on OPFP.