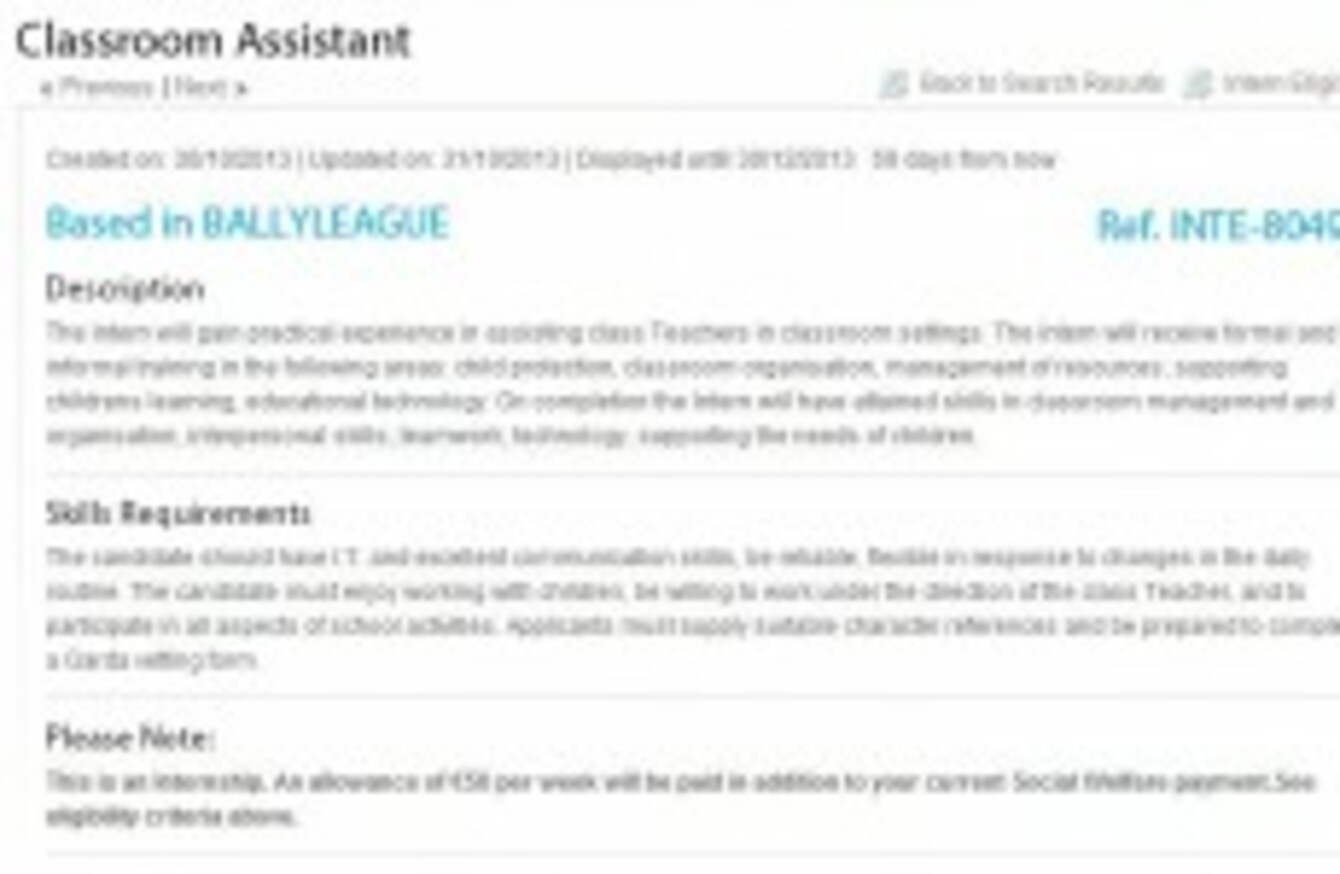 One of the current postings for a Classroom Assistant
Image: Screengrab
One of the current postings for a Classroom Assistant
Image: Screengrab
THE NATIONAL INTERNSHIP scheme, which pays applicants €50 on top of social welfare, has been used to fill over 50 teaching positions.
That means that a teacher who is on the highest allowable rate of Jobseeker's Benefit would earn €6.80 an hour, based on a 35-hour week.
Education Minister Ruairi Quinn revealed the figures on foot of a pair of parliamentary questions from Sinn Féin's Pearse Doherty and Fine Gael's Jim Daly.
Quinn's response said that the practice, which has previously been dubbed "exploitative", was allowed, as long as it didn't displace existing staff.
An internship in a school must not cause an existing member of staff to be displaced from the school or be used to fill an existing vacancy in the school and if a registered teacher is offered an internship he or she should be appropriately qualified for the role.
The response revealed that there had been:
32 primary school roles
6 teachers
4 classroom teacher roles
2 resource teachers
2 support teachers
2 assistant teachers
2 qualified teachers
1 Montessori teacher
1 preschool teacher
1 childcare worker
1 art tutor
3 teachers aides
2 teacher's assistants
Kerry led the way, with 11 interns filling the roles, with Donegal having eight and Tipperary six. Dublin, Cork and Galway had four, five and four respectively.
There have been 21,519 internships filled since the scheme was established and the hiring of educators looks unlikely to abate.
A look at the first page of the JobBridge website throws up as many as six education roles.