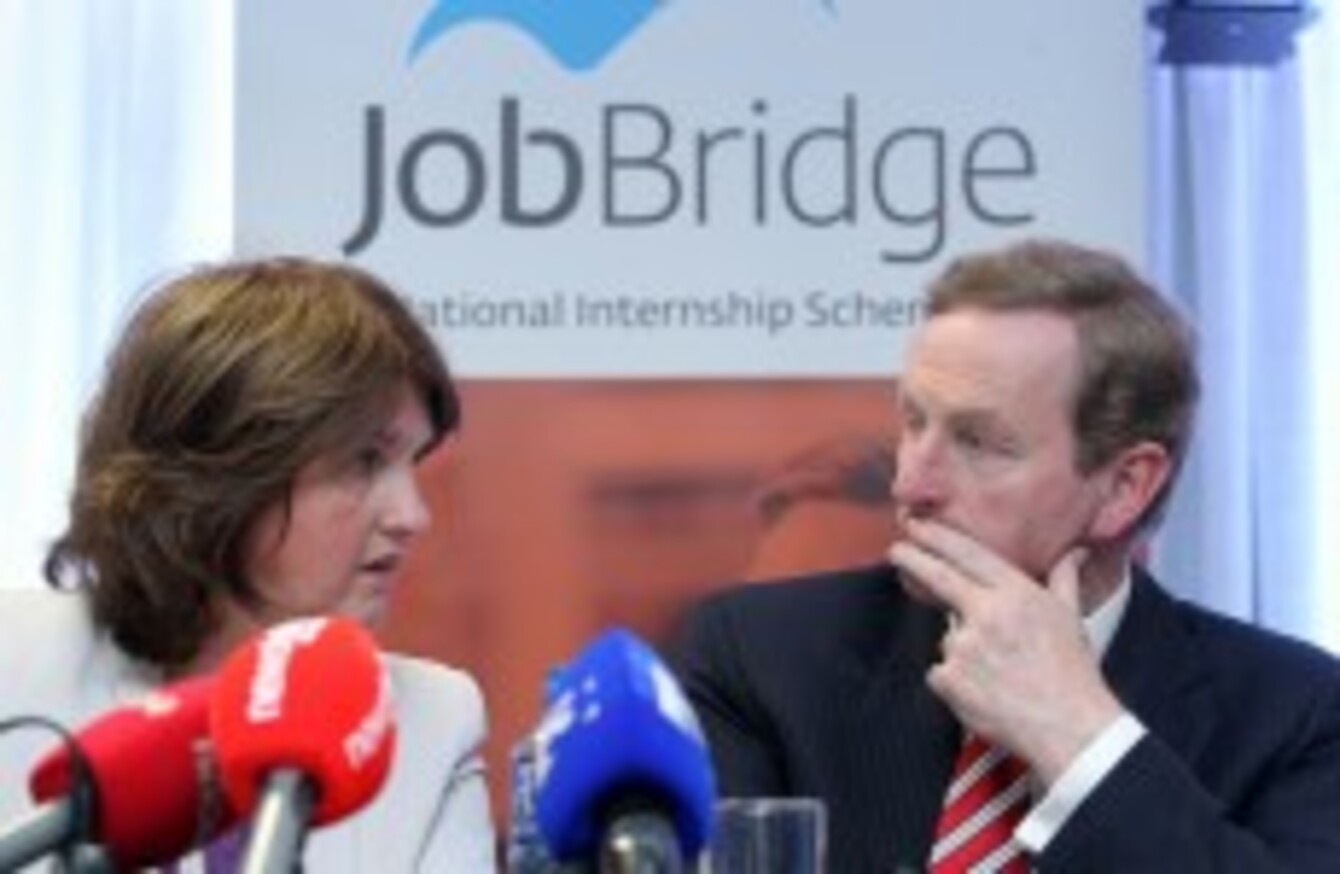 Taoiseach and Fine Gael leader Enda Kenny and the Labour Party Minister for Social Protection Minister Joan Burton launched a report into the Job Bridge Scheme
Image: Sam Boal/Photocall Ireland
Taoiseach and Fine Gael leader Enda Kenny and the Labour Party Minister for Social Protection Minister Joan Burton launched a report into the Job Bridge Scheme
Image: Sam Boal/Photocall Ireland
SINN FÉIN'S SOCIAL Protection spokesperson has made a call for the lifting of the public service hiring embargo.
Deputy Ó Snodaigh made the call as he commented on an advertised JobBridge vacancy within the IDA, criticising the IDA's use of JobBridge as "an abuse of the despair of job-seeking graduates".
The latest IDA intern position on JobBridge is for an executive assistant in their International Financial Services Division.
The public services embargo prevents the IDA hiring new staff. Deputy Ó Snodaigh accused the IDA of saying "we can't create a job for you, but we will use your free labour to create jobs for others."
"Creat[ing] proper jobs with proper pay and conditions should be the aim of this government, not yellow pack internships. Lift the public service embargo and fill the vacancies that require to be filled," said the TD.
In response to his criticism, the IDA said:
As Deputy Ó'Snodaigh would be aware, all public bodies, including IDA Ireland, fully participate in the Government's JobBridge programme, the aim of which is to assist in breaking the cycle where jobseekers are unable to get a job – without experience.
A spokesperson said that the IDA "provides valuable work experience, career development, and learning opportunities, for those on the JobBridge Programme, which they can include on their CVs for future job applications".
They added that the programme also gives these job seekers "the opportunity to apply and be considered for permanent roles outside of IDA, but also within the organisation, as and when such positions arise".
To suggest that IDA is abusing the programme or to think that there is no possibility of a full-time job at the end of an internship with the IDA is simply incorrect – Mr Ó'Snodaigh should check his facts before making such statements in future.
JobBridge was also criticised today by Patrick Nulty, who called it a "cynical exploitation of people seeking work".
He said he has raised with Minister Joan Burton the matter of a constituent who is receiving €100 a week through JobBridge by working with Fingal County Council, but he "received an inadequate response".