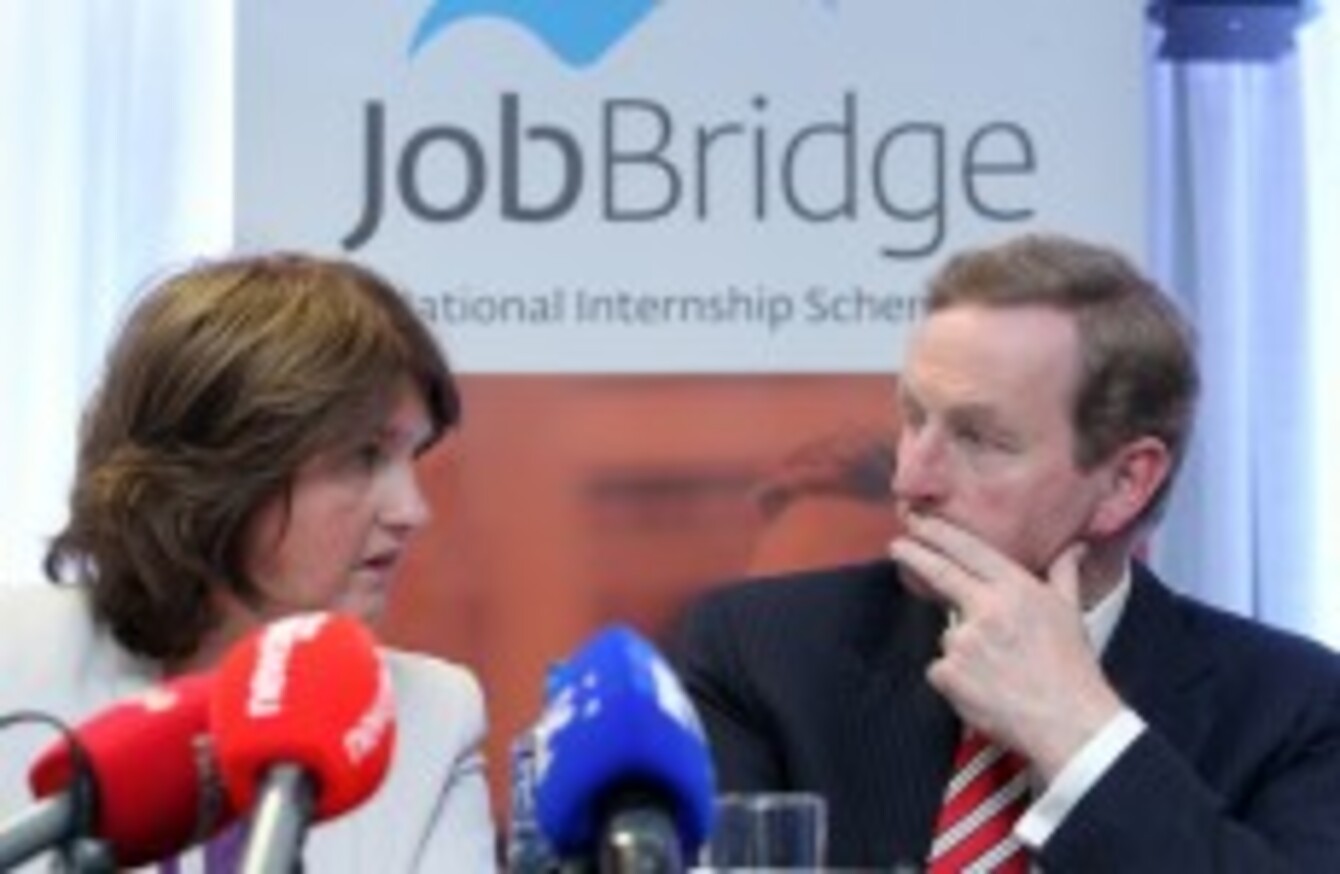 Image: Sam Boal/Photocall Ireland
Image: Sam Boal/Photocall Ireland
THE SYSTEM OF employment support schemes has been criticised as "restrictive" recently, in a report from the Citizens Information Board (CIB), a body that comes under the remit of the Department of Social Protection.
The report raised the issue of access to schemes for people who are not on jobseekers' payments, citing an example of a formerly self-employed man in Louth who has been refused jobseeer's allowance because of his spouse's means.
"He wanted to take up a JobBridge internship and feels it is unfair that an unemployed and experienced adult who cannot get work himself cannot access employment support schemes because he is not on the live register," it explained.
A part-time student, speaking to TheJournal.ie, has said he was unable to accept an internship in a company that wanted to offer him the position, because he was not eligible for the JobBrigde scheme as he is not in receipt of a social welfare payment.
They gave me an interview over the phone, asked if I was available for work and we went over all the details over the phone. I was told I had to be on the JobBridge programme and that I should go and apply for it so I was interviewed for it, filled in all the papers and when I told the guy that I was just out of employment and wasn't on the dole he said "oh you won't be eligible then.
The student said that the welfare officer "thought it was ridiculous too".
"It's very frustrating because it's hard enough to get an internship in the first place but getting one and then getting turned down because you're not on a scheme is a bit of a joke," he added.
Short-term unemployed
The CIB report also said that a number of Citizens Information Services have sent policy feedback regarding the requirement to have been receiving a welfare payment for a certain length of time.
Schemes like Community Employment require participants to have been in receipt of a jobseeker's payment for 12 months and even JobBridge internships can only be applied for once a person has been on welfare for three months.
Tony Donohoe of business and employers association IBEC told the Journal.ie that he does not see any reason why these schemes should be closed to the cohort of people who have just become unemployed.
"Essentially it's about early intervention, getting an understanding of an individual's needs and identifying the best option for them," he said.
He warned that the potential was there for people who are short-term unemployed to "very quickly become long-term unemployed" and they are then more difficult to get back into work, mainly because of issues around motivation and self-confidence.
#Open journalism No news is bad news Support The Journal

Your contributions will help us continue to deliver the stories that are important to you

Support us now
'Scarce resources'
Responding to the criticism in the CIB report, a spokesperson for the department said that its policy has a particular focus on those who are longterm unemployed or at risk of long-term unemployment.
"Many of those who became unemployed at the height of the jobs crisis in 2009 have found it particularly difficult to find employment," they said. "They are now a target priority group for job activation measures."
They added that many people who sign on will exit the live register within a short-time frame with 43 per cent of people leaving the register within three months of first signing on.
Given these high exit rates it is appropriate to apply a qualifying duration on the live register as a criterion to allocate scarce resources, including places on employment and training or educational schemes to those most in need of support.
The CIB report has recommended that the department review eligibility criteria for the schemes to "avoid situations in which people who would benefit from particular opportunities are not denied access to same."