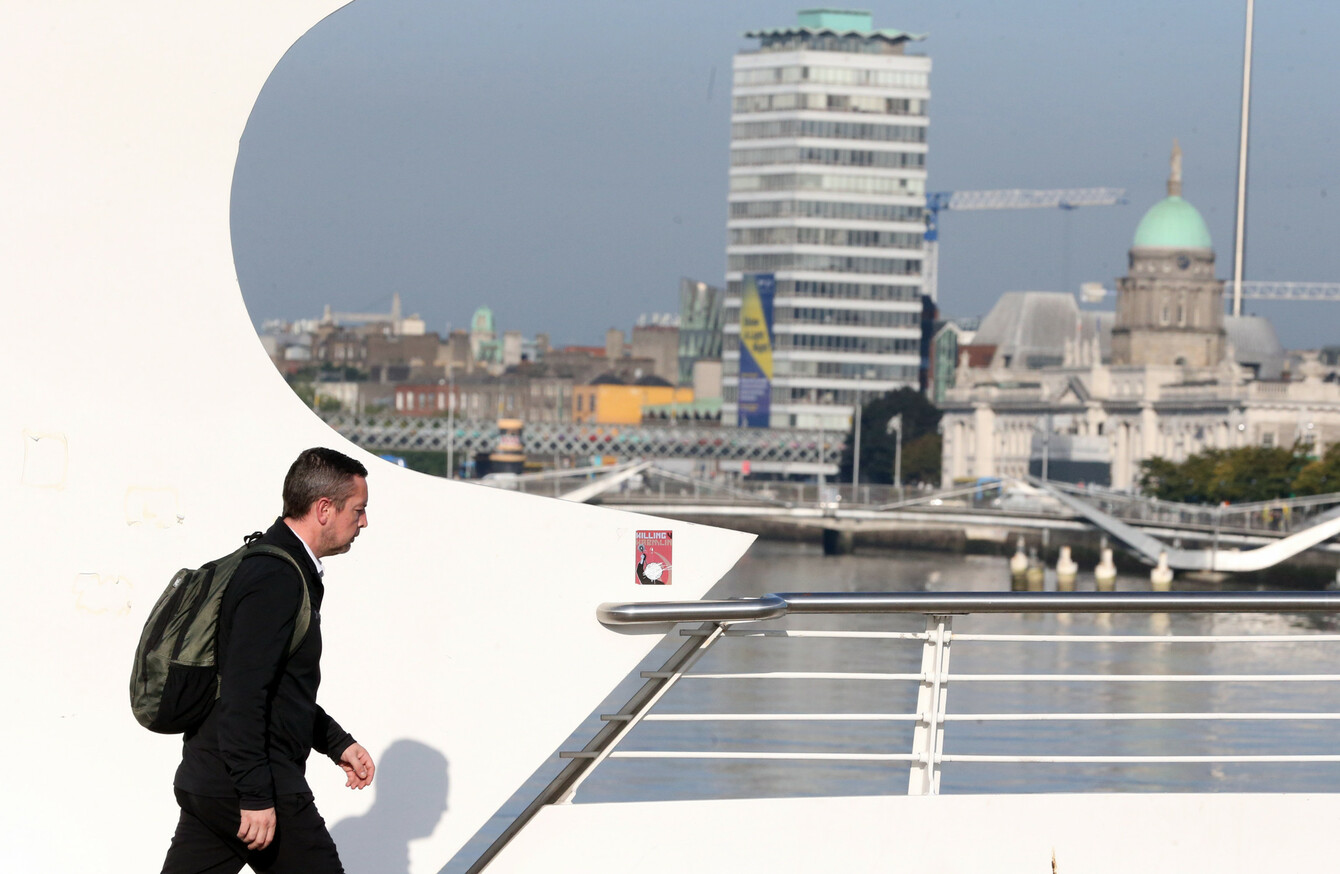 Image: Sasko Lazarov
Image: Sasko Lazarov
THE GOVERNMENT MUST bring forward plans to link unemployment benefits to previous pay levels and scrap the old flat-rate Jobseeker's Benefits system, the Irish Congress of Trade Unions (ICTU) has told politicians.
In a letter to ministers and TDs, seen by The Journal, ICTU general secretary Patricia King has urged politicians from all parties to get behind a new trade union-led campaign to strengthen Ireland's "threadbare social safety net".
It comes ahead of the next cut to the Pandemic Unemployment Payment (PUP), which comes into force from this week. Tomorrow, the €250 PUP rate will reduce to €203 per week — the standard jobseeker's rate.
People on the higher €350 payment have already been moved to the €300 band as of September. The income support, introduced at the outset of the pandemic last year, is set to be scrapped altogether in February 2022.
But King says the "relative generosity" of the €350 PUP payment compared to the standard jobseekers' rate of €203 has highlighted the fact that the benefit is currently "inadequate to secure a worker's normal living standards during temporary breaks in employment".
At the moment, anyone who loses their job and satisfies the means test for Jobseeker's Benefit gets paid at a flat rate of €203 per week, regardless of their previous earnings.
A person on the payment for a year would receive €10,556. ICTU has highlighted that for a single worker previously earning an annual salary of €27,000, this would be just 39% of their gross pay.
Workers earning above €27,000, meanwhile, would have an even smaller proportion of their pay replaced. 
Gross pay
In most other western European countries, welfare benefits are pay-related and based on a percentage of past earnings.
But by paying at a flat rate of €203, Ireland is an outlier among rich European Union member states, according to ICTU.
In Belgium, where benefits are linked to previous pay, a worker on the same pay scale would have over 90% of their gross pay replaced for the first two months of unemployment. This would fall to 79% after one year of being out of a job.
In the Netherlands, 71% of an unemployed worker's pay is replaced for two months, 68% after one year.
"The amount of a worker's wage replaced by social welfare in Ireland during periods of unemployment, illness, maternity and family leave is low – below the poverty line, and lower than in our EU peers where benefit payments are linked to previous earnings," King says in the letter.
The Pandemic Unemployment Payment had to be created overnight because our benefits are inadequate to secure a worker's normal living standards during temporary breaks in employment.
While the Programme for Government does contain a promise to a pay-related payment for unemployed workers, King says "the key design and operational features" of the new payment won't be finalised until the end of 2023.
In her letter to Oireachtas members, she writes, "The Irish Congress of Trade Unions is calling for this deadline to be brought forward and on you, and every other politician in all political parties and none, to support our campaign to strengthening the social safety net for workers in the aftermath of the pandemic."
Speaking to The Journal, Laura Bambrick, Head of Social Policy and Employment Affairs at ICTU, said the Irish flat rate system dates back to the period before independence. She also claimed that the system is in desperate need of reform.
"We inherited our social welfare system from the Brits because we were a colony," she explained.
So English speaking countries, — New Zealand, Australia, England and ourselves — we all have the same social welfare system. You get flat rates. That was the way it was designed back in 1908 when we got our first welfare payments, which was the old-age pension.
One of the main pillars of this system, Bambrick said, is the idea that "when you're sick or you're on maternity or paternity leave, or you lose your job, you just get a bare minimum amount of money to tide you over until you can go back to work".
It's a philosophy, she said, that dates back even further in Irish history to the Poor Law of the early 19th century.
"The idea of the Poor Law was that conditions in the poorhouse had to be so bad that you'd have to be absolutely destitute to want to bring your family in there. Why? Because it was being paid for by the ratepayers — the richer part of the community," Bambrick said.
"Europeans have a different mindset. They believe that what you're paying in Pay Related Social Insurance (PRSI) is actually a form of insurance. It kicks then in if you lose your ability to earn because you fall or because you lose your job or you become sick."
#Open journalism No news is bad news Support The Journal

Your contributions will help us continue to deliver the stories that are important to you

Support us now
Automatic safeguards
Bambrick said that the Covid-19 pandemic has people asking questions about what we should expect from the State in times of distress or difficulty.
"What do we need when we suddenly experience situations out of our control when we suddenly lose our jobs overnight or get sick?" she said.
A recent OECD study, highlighted by ICTU in its new information campaign, found that 70% of Irish people want the Government to do more to ensure people's financial security.
One of the critiques of linking the payment to previous pay is that higher earners receive a higher level of benefits than lower earners.
But there are automatic "safeguards" built into the European system of welfare, Bambrick argued.
"We do know that higher earners — with the types of jobs they're in — they experience less unemployment than lower earners, and when they do experience it, they're out of work for less time," she said.
However, employers in European countries also pay higher rates of PRSI, which is something ICTU wants the Government to look at as well, Bambrick said.
Sinn Féin spokesperson for social protection Claire Kerrane said it's "absolutely imperative" that the Government overhauls the unemployment payment system.
Speaking to The Journal, she said: "We have a situation at the moment where Jobseeker's Allowance rates of €203 is well below the poverty line.
"We also have reduced rates for young jobseekers, aged 18 to 24. So they get a maximum of €112.70 and obviously much less when they live at home — which a lot of us do — because the means tests are based on entire household income."
She added, "I don't think we need to wait until 2023. I think this work can be done a lot quicker. 
"I think if Covid has taught us anything, we learned that our social protection system is in need of urgent reform."