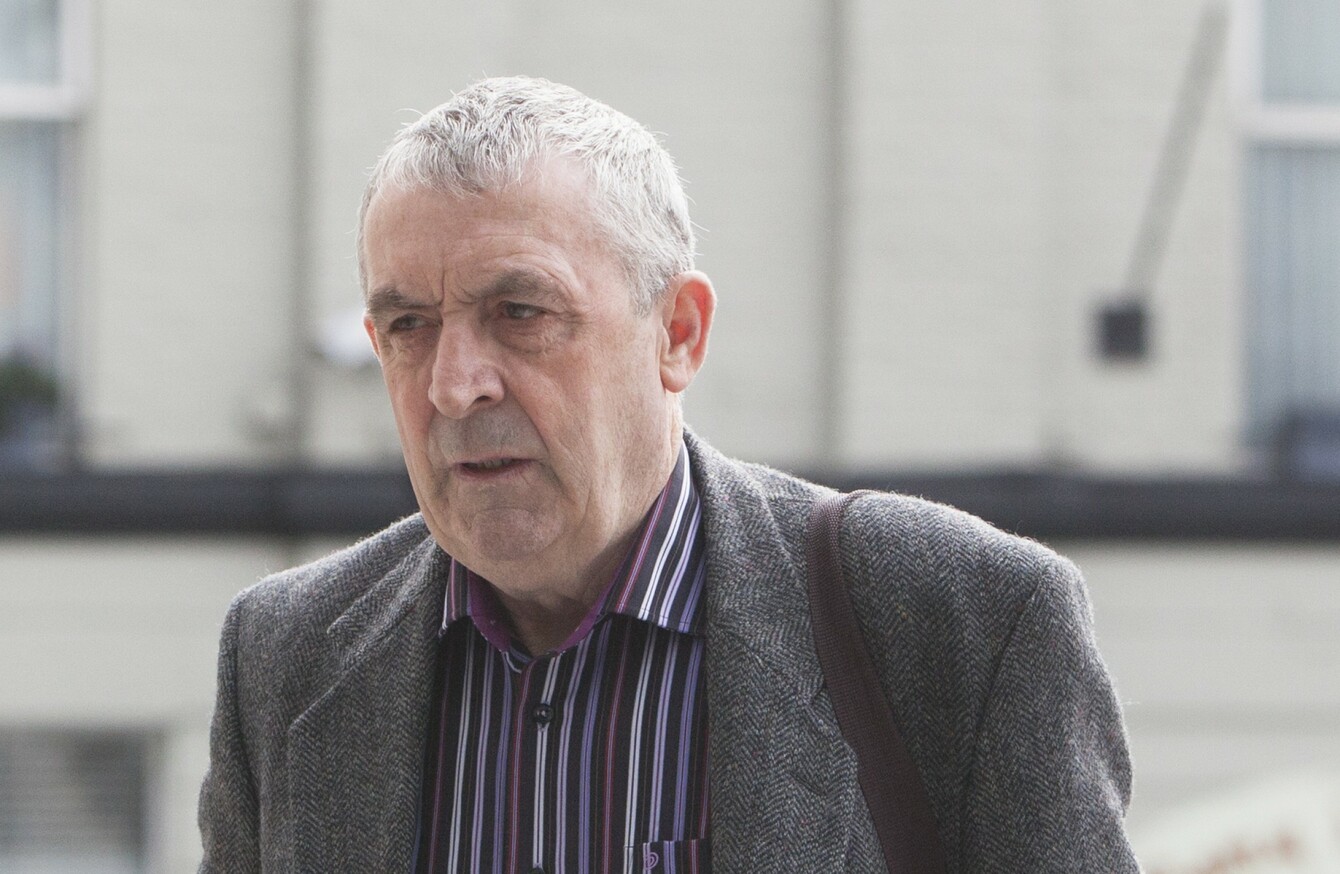 Counsel for Frank Donaghy said it would be an "injustice" for him to be convicted of false imprisonment in court today.
Image: Leah Farrell/Rollingnews.ie
Counsel for Frank Donaghy said it would be an "injustice" for him to be convicted of false imprisonment in court today.
Image: Leah Farrell/Rollingnews.ie
THE TRIAL OF six men accused of falsely imprisoning the former Tánaiste Joan Burton has heard that a peaceful protester is charged with an offence that could potentially result in a life sentence.
Solidarity TD Paul Murphy (34) and five other men have pleaded not guilty at Dublin Circuit Criminal Court to falsely imprisoning Burton and her adviser Karen O'Connell by restricting their personal liberty without consent at Fortunestown Road, Jobstown, Tallaght on 15 November, 2014.
In his closing arguments to the jury Padraig Dwyer SC, defending Frank Donaghy (71), who only got involved in the protest when he spotted the gathering after going to get petrol, said the man didn't deserve to be labelled a criminal for his actions that day.
Dwyer said it was unfair that his client had been sitting through a lengthy trial facing a charge of false imprisonment which could potentially result in a life sentence.
"It is completely unfair to say that he should take responsibility for anyone else's actions.
He just joined the protest because he felt he was standing up for himself, his wife, his child and the community and the reward he gets is to indict him with a crime which is up there with rape, murder and robbery.
"All he is doing is holding a banner walking up the road, with some old dears from Tallaght," Dwyer said, before he added that it was "an injustice that this would constitute a false imprisonment".
He added that Superintendent Daniel Flavin agreed during the trial that carrying a banner is "the essence of peaceful protest".
Dwyer told the jury that the charges laid against Donaghy were "ludicrous, unfair and wrong" and suggested that if he were to be charged with anything because of his behaviour that day it should be a public order offence that could be dealt with by his local district court.
"If your grandfather did as he did, he is just as likely to find himself in the same position as Frank Donaghy", Dwyer said, before he added that if the jury acquitted his client it would be "delivering justice for yourself, your family and future generations".
"It would be an injustice, contrary to our notions of liberty and democracy that he should be convicted of false imprisonment. He is just an ordinary man. It is absolutely disgraceful the way the State have treated him.
"He was a labourer, he bled, sweated and toiled. He is entitled in his retirement to sit down by a politician's car, within reason, and he is entitled to hold a banner and slow down the progression of a politician."
"Not enough to hang him with guilt"
Counsel for another accused Scott Masterson (34) said that it would be unfair to simply lump her client, who was peacefully protesting, into a situation with others who were "engaged in acts of violence and extraordinary abuse and insult".
Roisin Lacey SC, defending Masterson said her client's mere presence at the protest was "not enough to hang him with guilt".
She said it was a spontaneous, unplanned protest and it was "manifestly clear" that Masterson was not involved in organising people on the day.
"He was not encouraging others in violence, nor was he directing others present to do anything like that," Lacey continued, adding that Masterson was not commanding or influencing others.
She suggested that any woman, like herself or members of the jury would find it "abhorrent to be called a bitch, cunt or slut. But this was not Masterson".
"He was not armed as others who were armed with missiles. None of this can be laid at the door of Mr Masterson. He has nothing in his hand, not armed with anything to incite fear," Lacey said, before she added that it wasn't her client's motive to be there to be violent.
She said it was accepted during the trial that people at an event such as this protest at Jobstown could be there for different motives.
"There can be a hijacking of what is intended to be a peaceful protest. It is accepted that people could be there with ulterior motives" she said.
"Dawn raid"
Counsel also criticised the behaviour of the gardaí when she said her client was arrested during "a dawn raid" on his home while he was making school lunches for his four and nine-year-old daughters.
She said the girls, who were present at the time, were very distressed to witness their father being handcuffed.
"Why was he handcuffed?" Lacey asked the jury after referring to previous garda evidence that people are usually handcuffed for their own safety and that of others present.
#Open journalism No news is bad news Support The Journal

Your contributions will help us continue to deliver the stories that are important to you

Support us now
"Was he going to stab himself with the butter knife he was using to make the sandwiches. Was he a flight risk? Was he going to grab the lunch boxes and survive on cheese strings?" Lacey asked.
She said being treated like this in front of his children, Masterson was "unjustifiably treated as a violent criminal".
Lacey suggested that this behaviour of the gardaí towards her client was indicative of the force's actions throughout the case, "Is it cracking a nut with a sledge hammer? Is it all over the top?"
She said the peaceful protesters on the day didn't want this political treachery to go unchecked.
"We should be grateful to people like Mr Masterson, who have taken part in peaceful protest, to stand up for all our beliefs, peacefully and within the law," Lacey said.
Counsel suggested that when her client's daughters look back on the morning of their father's arrest they may be able to put aside their distress and see someone with political principles who was prepared to stand up.
"Is he to be condemned for that? I think not, and I urge you not to," Lacey said.
Paul Murphy of Kingswood Heights, Tallaght; Kieran Mahon of Bolbrook Grove, Tallaght; Michael Murphy of Whitechurch Way, Ballyboden, Dublin; Frank Donaghy of Alpine Rise, Tallaght; Michael Banks (46) of Brookview Green, Tallaght and Scott Masterson of Carrigmore Drive, Tallaght have all denied the charges.
The trial continues before Judge Melanie Greally.
Comments have been closed for legal reasons