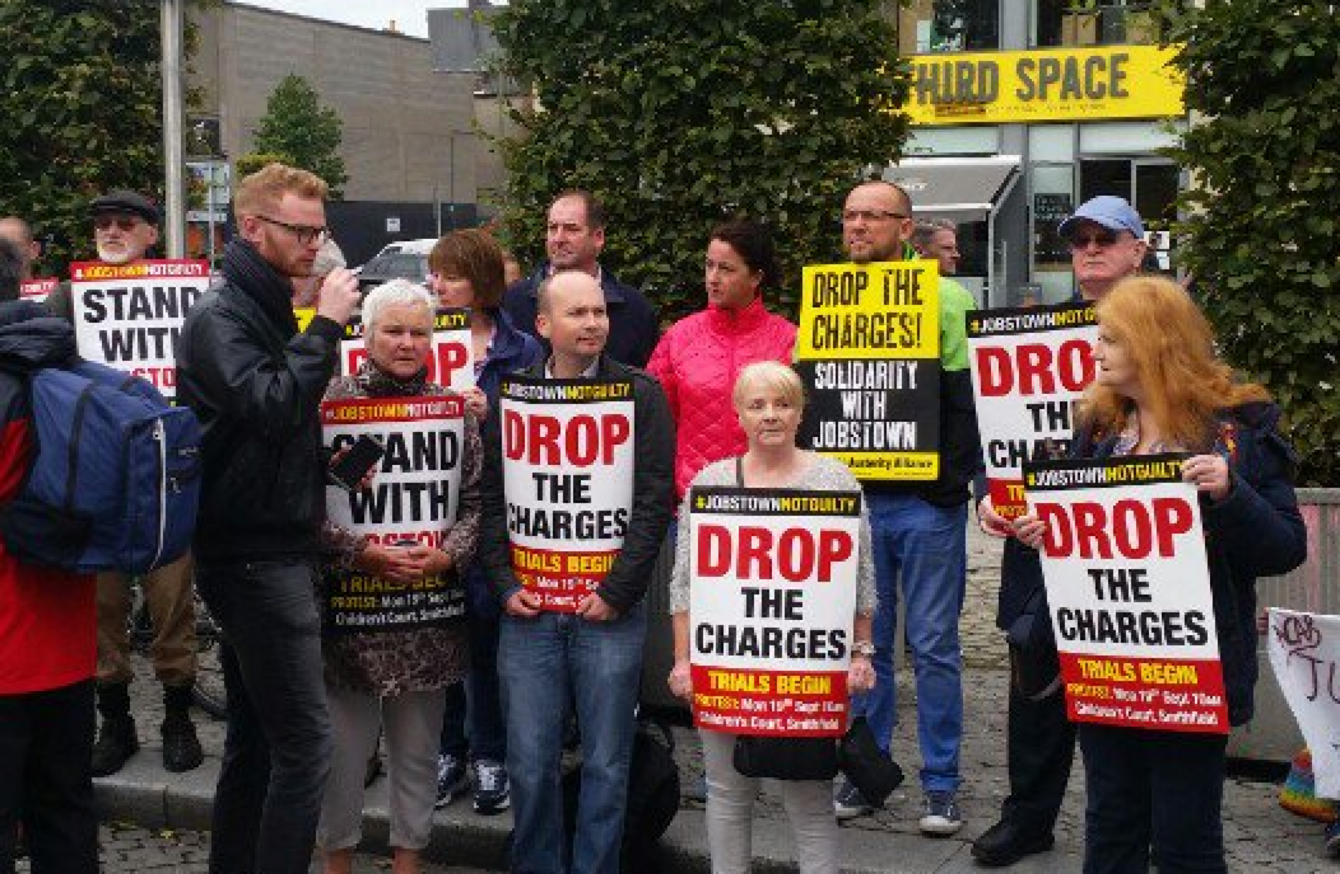 Protesters outside the Children's Court yesterday.
Image: Ciann Brennan/TheJournal.ie
Protesters outside the Children's Court yesterday.
Image: Ciann Brennan/TheJournal.ie
A SCHOOLBOY ACCUSED of false imprisonment of former Tanaiste Joan Burton during the Jobstown protest told arresting gardai he was sorry for taking part and for the stress he caused her.
The 17-year-old boy denies falsely imprisoning the former Labour leader and her advisor Karen O'Connell.
The two were allegedly trapped in two garda cars for three hours during the demonstration at the Fortunestown Road in Jobstown in Tallaght on 15 November, 2014.
The was aged 15 at the time and has been on trial all week at the Dublin Children's Court.
The State closed its case this evening.
The boy's barrister Giollaoisa O Lideadha SC has asked Judge John King to return a verdict of not guilty based on the prosecution evidence, the meaning of false imprisonment and the right to protest.
Judge King will consider written submission from the boy's lawyers and replies from prosecuting counsel Tony McGillicuddy BL. The case was adjourned until Friday to set dates for the resumption of the trial.
The hearing resumed for its third day on today when Judge John King was shown video footage of the protest.
The court also heard details of teen's arrest in February last year when he was detained at Tallaght Garda station to be questioned. His statement was read into the court's record.
Garda Damian Reilly said the boy was questioned in the presence of his mother and he declined to have a solicitor present. He was told he was being questioned in connection with a false imprisonment charge and he said he understood.
CCTV footage
CCTV footage and photos were shown to him and he identified himself. He admitted at some stages he had been holding a megaphone. It was put to him that he had appeared angry in footage but he did not think so.
He said the megaphone was not his but he "was holding it for a lady who was telling people to to stop launching stuff in the crowd". He said he people had been throwing eggs and other objects.
He identified himself in footage doing a "slow march" but added that he did not engage in a sit down protest.
"I believe I was influenced by others to say sit down and then slow march out of the area," he also told Garda Reilly. Asked who influenced him he replied "I cannot remember."
In the next question put, he was asked if he was under duress to sit down and he replied "No".
It was put to him that he could be seen instructing the crowd but he denied being a leader or organiser of the demonstration. He said he found out about it online.
Garda Reilly asked him if he was sorry and he replied "yes".
He was asked was that for participating and he said "basically yes".
He was then asked if he was sorry for participating or for causing criminality and the teenager answered: "for participating, and the stress I am learning I placed the Tanaiste under".
He also said he was sorry for wasting his mother's and garda time.
Garda Reilly agreed with the defence that the teen addressed the upset he caused to Joan Burton (67) and Karen O'Connell.
The court heard he had no prior criminal convictions or other charges pending and was getting good marks in school.
He did not have any family problems and did not hang around with many people, he also told the garda.
Earlier evidence
Garda Sergeant Michael Phelan gave evidence earlier.
#Open journalism No news is bad news Support The Journal

Your contributions will help us continue to deliver the stories that are important to you

Support us now
He said, there was constant jostling and pushing and gardaí were being shoved and pushed and had their caps knocked off.
During cross examination he was shown footage which showed the defendant moving along the footpath while filming.
Defence counsel Giollaiosa O Lideadha said he appeared for the most part to be moving backwards while filming. He said the pushing and shoving only happened because other people had come behind him and he could not continue moving back.
Phelan said he had to use force to remove the boy from blocking his way but he agreed with Mr O Lideadha that there were occasional periods of calm during the protest.
Detective Inspector Derek Maguire told Judge King the 17-year-old boy, who cannot be named because he is a minor, can be seen at various points in the footage.
At one stage he is holding a megaphone and at another he is standing in front of a Garda 4X4, which Joan Burton was in, as the public order unit tried to clear the crowd. He agreed that another man was the first to sit down in front of that vehicle.
He said the defendant appears to be clapping in another part of the footage and is gesturing to the crowd with arm movements.
In cross-examination, Det Inspector Maguire said he did not mention the teenage defendant in his original statement as there were hundreds of people around at the time.
He agreed that in parts of the footage some protesters were calling on the crowd not to throw things.
The court also heard the teenage defendant may have said into the megaphone at one stage "joany in your ivory tower – this is called people power".
Comments have been disabled as a court case is ongoing