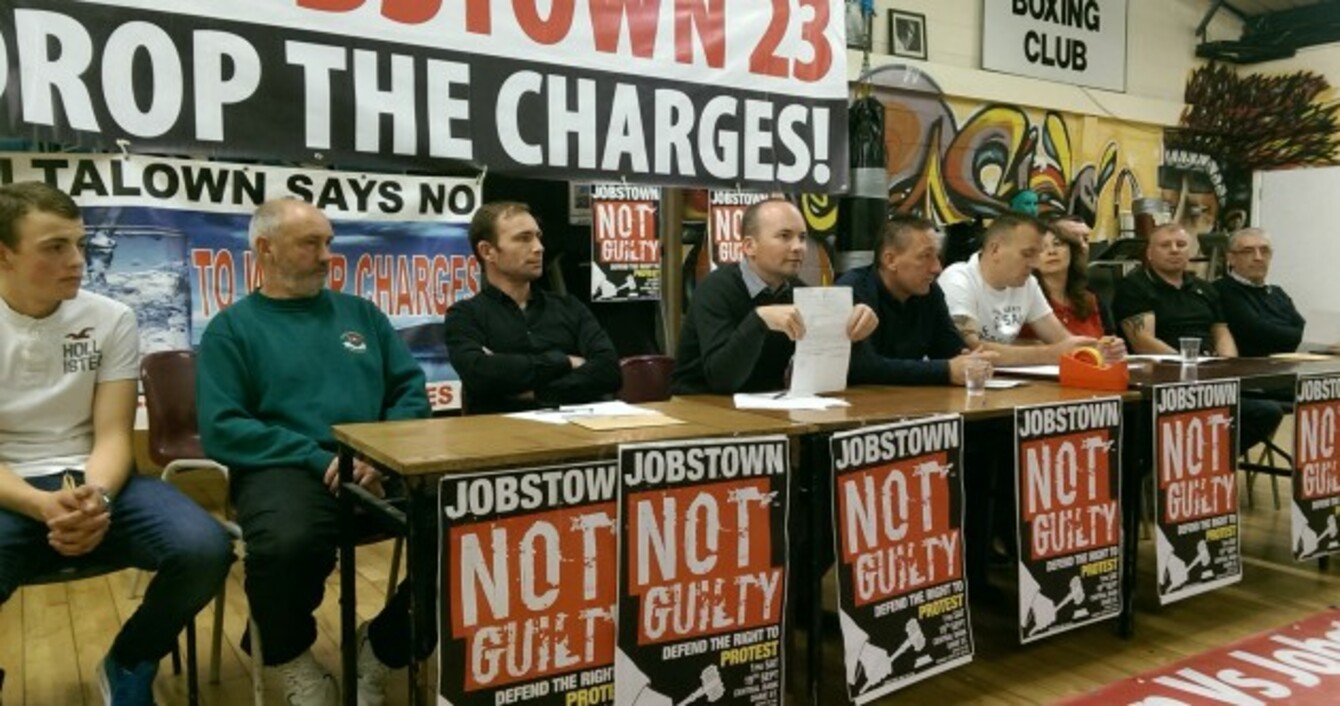 Paul Murphy displays his summons.
Image: Paul Hosford/TheJournal.ie
Paul Murphy displays his summons.
Image: Paul Hosford/TheJournal.ie
GIVEN THE CHOSEN location for the press conference – a boxing club – perhaps it was no surprise that many of those hit with court summonses over the incident that's now known simply as 'Jobstown' were in a combative mood.
Nine of the fifteen people served so far turned out for the event today.
Alongside TD Paul Murphy and councillor Kieran Mahon, one woman sat with six other men.
A number of juveniles will also face the Children's Court for their alleged part in last November's protest.
All face charges of falsely imprisoning Tánaiste Joan Burton and her assistant at the now-infamous water charges protest.
Some will also face charges of violent disorder and criminal damage.
Paul Kiernan, who said the water protests had made him "find his voice" spoke most vociferously about how those accused, who will face court at the end of next month, were feeling.
"This government is a farce, a disgrace and fascist tyrants. This country is in bits and now they're victimising the ones who were standing up for it.
Our backs are against the wall, so we're coming out fighting.
Kiernan called their 'Jobstown Not Guilty' campaign a "political, legal and community response" to the charges.
Among all who spoke today, there was a view that the charges had more to do with political convictions than criminal ones.
"This is the State trying to suppress protest," South Dublin councillor Kieran Mahon said.
But we will stand up and defend ourselves.
Murphy – who faces losing his job as a TD if convicted and sentenced to more than six months – said that those facing charges had the support of locals.
That in itself is evident on the lampposts in this part of west Tallaght. One sign warns Irish Water that there is "one way in, no way out".
"This was people engaged in a very basic form of protest. If people are convicted, that is unprecedented."
Murphy has long maintained that the arrests of those involved in the protest, which saw Burton kept in her car for two hours, are the result of political policing.
While the water charges campaign has benefited from the coverage of the arrests (one speaker today said there had been a lull in numbers at protests before the gardaí took action) Murphy said that the arrests and charges set a precedent for chilling participation in protest.
If these kind of protests can lead to the defeat of something like water charges, that challenges the establishment.
"So these arrests might have the effect of turning people against protesting, so there is a logic to [the arrests].
"Even if a line was overstepped [on the day of the protest], people should ask, do these people deserve to go to jail for years?"
Banks said he was going to continue protesting, starting with a march from the Central Bank to the Criminal Courts of Justice on Parkgate Street at 1pm on Saturday and Kiernan said that those accused would all plead not guilty.
We're (the people of Ireland) on the edge of a cliff. We're not going to take it anymore.
"Protests like Jobstown should have been happening years ago."
Originally published 5.05pm