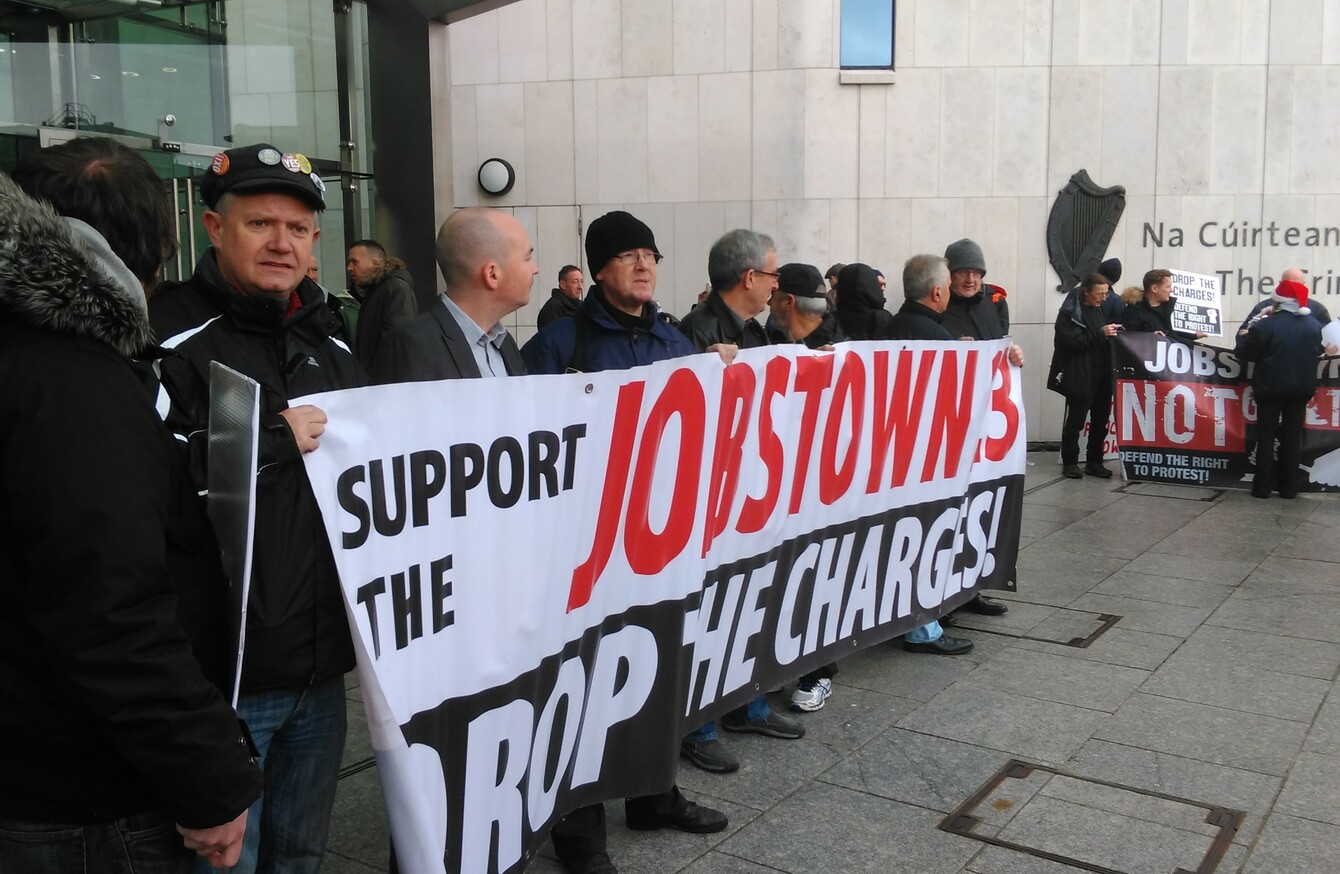 Paul Murphy and Jobstown protesters
Image: Paul Hosford/TheJournal.ie
Paul Murphy and Jobstown protesters
Image: Paul Hosford/TheJournal.ie
ANTI-AUSTERITY ALLIANCE TD Paul Murphy insists the court case which sees him accused of false imprisonment is "very serious".
Murphy is one of 18 people due in court this afternoon on charges connected to the Jobstown demonstration last year during which Tánaiste Joan Burton was allegedly trapped in her car for over two hours.
Murphy and 15 were in court today in connection with falsely imprisoning the Tánaiste.
Two others face violent conduct charges.
They were all released by Judge Michael Walsh on €100 bail and told to be back in court on 22 January, when the case will begin its hearings in the Circuit Court.
Speaking outside the Criminal Courts of Justice, Murphy said:
"We know this is serious. These charges are very serious. we could be looking at months or even years in prison."
Murphy called the charges "ludicrous" and said one juvenile will "have it hanging over him while he prepares for the Leaving Cert".
Speaking after the hearing in the Criminal Courts of Justice in Parkgate Street today, Murphy said that with the case proceeding, there was not much he could say.
He did, however, say that a statement from Joan Burton was in the book of evidence.
What's clear is that the books of evidence are substantial. The case has gone to the Circuit Court, so the seriousness of the charges are clear to people.
"The judge mentioned a number of times that the maximum sentence is life in prison.
"Everyone involved will go away and study the books of evidence with our legal teams and prepare, certainly in my case, to plead not guilty.
"There are statements there from Joan Burton, some of the gardaí and the garda interviews. This is the start of the evidence against us."
Those accused all received their books of evidence today and have their cases transferred from the District Court to the Circuit Court where a conviction for false imprisonment has a maximum sentence of life in prison.
The transfer to the Circuit Court would also mean a jury trial.
The Labour leader and her adviser Karen O'Connell were leaving a local graduation ceremony on 15 November 2014 when it is claimed their vehicle was blocked by protesters.
The suspects are charged with criminal offences including false imprisonment.
Murphy was one of 32 men and women served with court summons last month in connection with three separate protests in Dublin.
Comments are disabled on this article for legal reasons.
With reporting from Catherine Healy