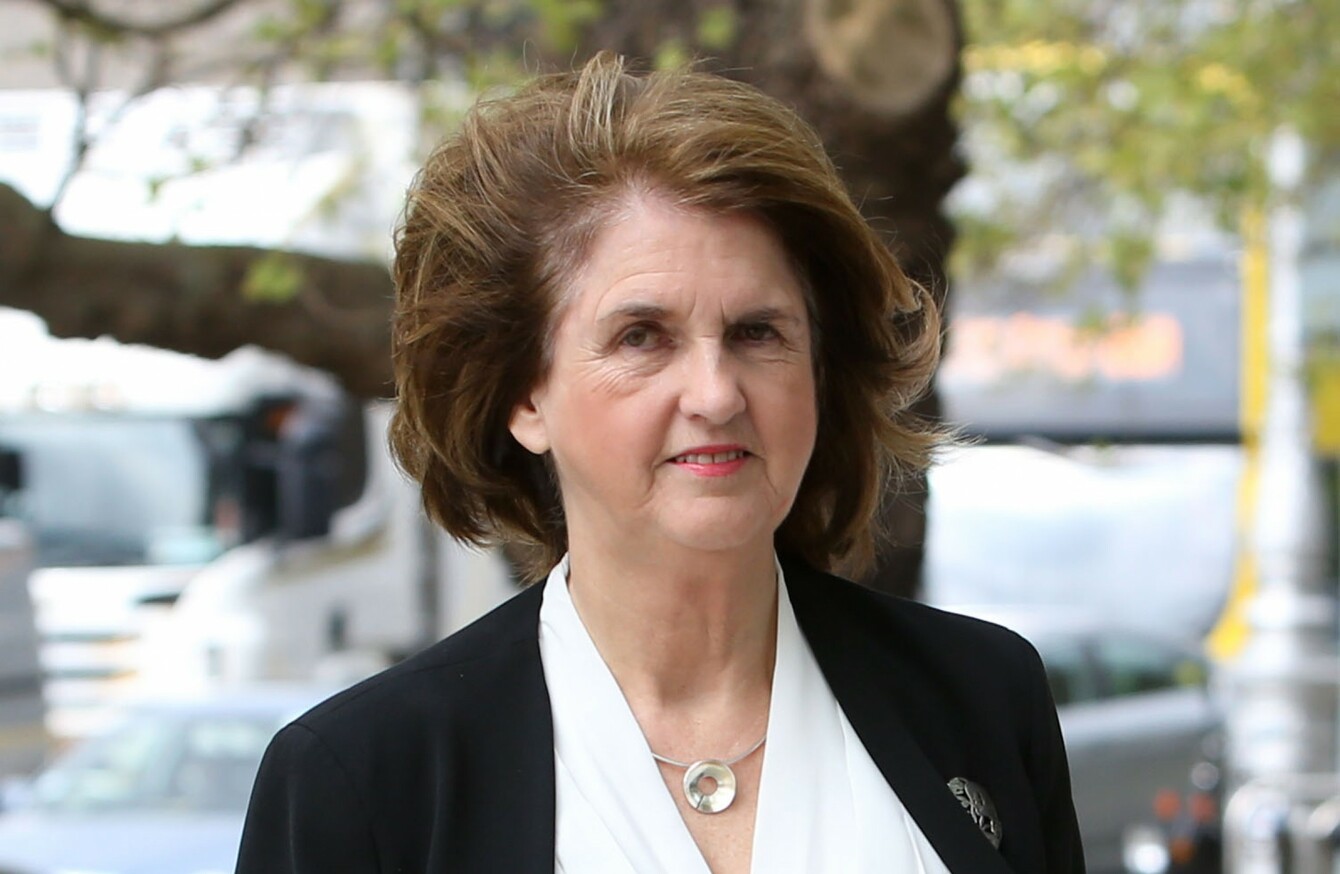 Joan Burton TD
Image: Sam Boal/RollingNews.ie
Joan Burton TD
Image: Sam Boal/RollingNews.ie
A GARDA AT the trial of seven men charged with falsely imprisoning former Tánasite Joan Burton and her aide said she genuinely felt she was going to be "crushed" by a crowd of water protestors in Tallaght two and a half years ago.
Garda Marion Power was giving evidence at the trial of Solidarity TD Paul Murphy and six other men, all of whom deny the offences alleged to have taken place in Jobstown on 15 November 2014.
Murphy (34), together with South Dublin Councillors Kieran Mahon (39) and Michael Murphy (53) and four other men, are charged with falsely imprisoning Burton and her adviser Karen O'Connell by restricting their personal liberty without their consent at Fortunestown Road, Jobstown, Tallaght.
Power told Dublin Circuit Criminal Court she had her arm around Bruton to shield her from the crowd as the former Tánaiste and her assistant Karen O'Connell were escorted through a "human cordon" of gardaí from an unmarked garda car to a jeep.
"I heard a man say, 'Let's just petrol bomb them all out of here'," Power told Sean Gillane SC, prosecuting. "A large group of people were shouting abuse, banging on the car, pushing bars in on the car."
"The protesters were pushing in on top of us, spitting on us. I felt like I was being crushed. Joan said she'd lost her shoe; I told her we had to keep moving to maintain our safety, I genuinely thought we were going to be crushed," Power said.
She said she was standing at the front passenger side of the jeep where there were two men "continuously forcing themselves in on top of me", one of whom kept rubbing his body against her and punching the window of the jeep until it cracked.
Power said there was "constant abuse and horrendous language the whole time".
She accepted that the man who broke the jeep windscreen was not one of the accused, and said this man continuously put his foot behind the wheel of the jeep and alleged that his foot had been run over and shouted for an ambulance.
Under cross-examination, Power did not accept that the man's foot had indeed been injured and was subsequently placed in a cast.
"If he was injured, it didn't happen on that date. I know exactly the character of that man, I had to deal with him," she said.
'Will we keep her here all night?'
Superintendent Daniel Flavin told the court he decided in the interests of safety to transfer Burton and O'Connell from an unmarked garda car to a jeep.
"It was 1.30, a winter's evening. I felt I was going to have darkness about half five, I didn't want a siege situation," he said, describing a "very hostile, tense environment" with a lot of pushing of gardaí and abusive comments.
Flavin said he recognised Deputy Murphy on the loudhailer addressing the crowd and heard him saying, "Will we let her go, or will we keep her here all night?"
The superintendent said he told Murphy that whatever his political motives were, this had gone on long enough and that there were two women trapped in the car who were entitled to go.
#Open journalism No news is bad news Support The Journal

Your contributions will help us continue to deliver the stories that are important to you

Support us now
"Mr Murphy said he had no control over the protesters," Flavin said.
He said matters became more difficult after the TD asked the crowd would they "keep her there all night" because the response was "in effect, to keep her here".
Flavin also pointed out that not all of the protesters were involved in blocking the garda car or the jeep and that some members of the public in fact tried to help gardaí to move people who were sitting down.
He said some protesters held up placards so that coins that were being thrown would not hit gardaí.
Superintendent Flavin told the court that Murphy said: "'If you remove the Public Order Unit, I'll allow the jeep to move,' or words to that effect," so he pulled the Public Order Unit back and the jeep duly started to make progress along the road.
Paul Murphy of Kingswood Heights, Tallaght; Kieran Mahon of Bolbrook Grove, Tallaght; Michael Murphy of Whitechurch Way, Ballyboden, Dublin; Frank Donaghy (71) of Alpine Rise, Tallaght; Ken Purcell (50) of Kiltalown Green; Michael Banks (46) of Brookview Green, Tallaght and Scott Masterson (34) of Carrigmore Drive, Tallaght have all denied the charges.
The trial continues before Judge Melanie Greally and a jury of seven men and five women.
Comments are closed as legal proceedings are ongoing.