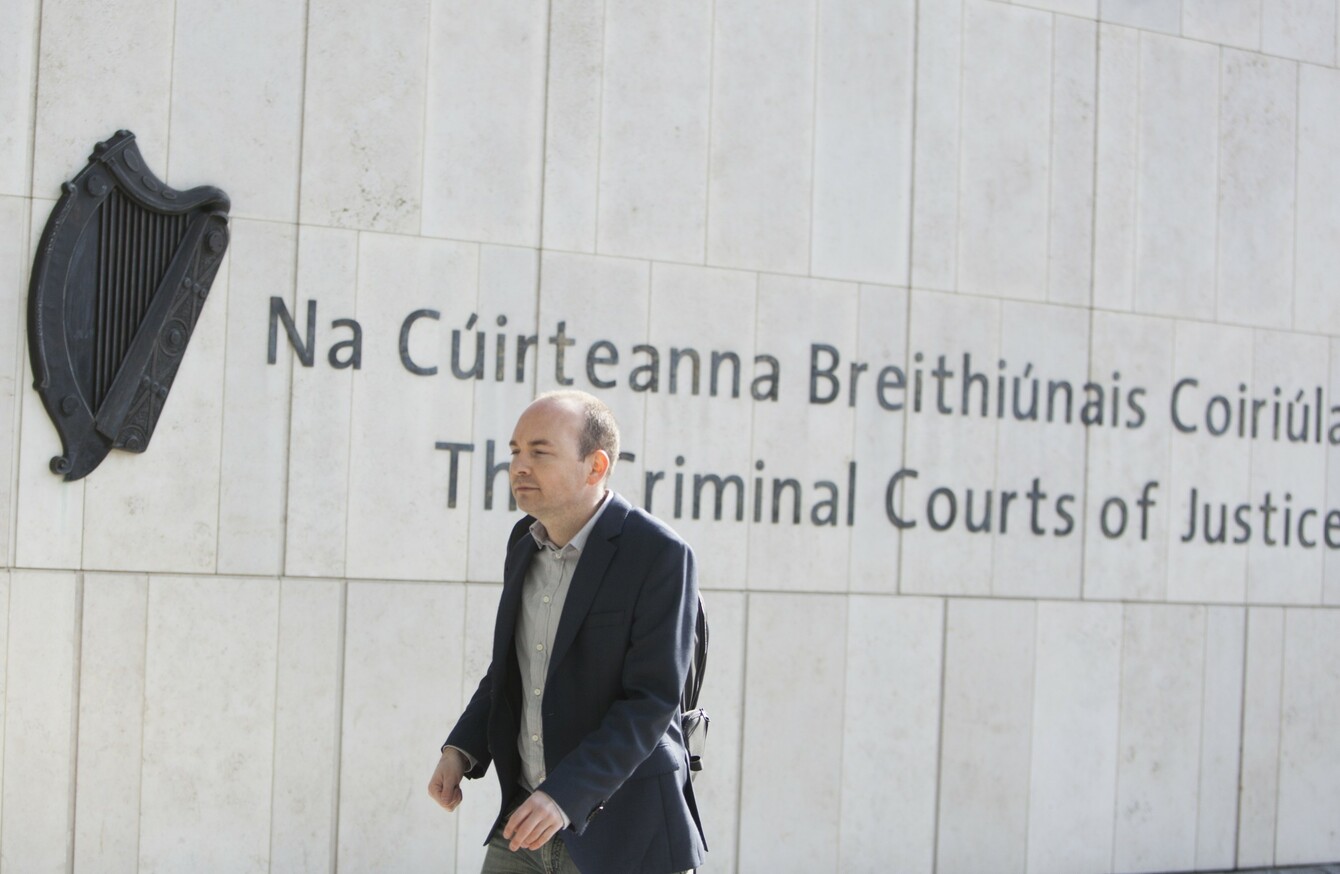 Paul Murphy arriving to the Central Criminal Courts of Justice in Dublin.
Image: Leah Farrell/Rollingnews.ie
Paul Murphy arriving to the Central Criminal Courts of Justice in Dublin.
Image: Leah Farrell/Rollingnews.ie
A GARDA HAS told the trial of seven men charged with falsely imprisoning TD Joan Burton that she made an error in her official statement when she omitted to say that rocks were thrown during the protest in Jobstown in November.
Solidarity TD Paul Murphy (34) along with South Dublin Councillors Michael Murphy (53) and Kieran Mahon (39) and four other men have pleaded not guilty to falsely imprisoning Burton and her advisor Karen O'Connell by restricting their personal liberty without their consent at Fortunestown Road, Jobstown, Tallaght on 15 November, 2014.
On day seven of the trial at Dublin Circuit Criminal Court garda Michelle McGuinness told the jury that she was sitting in the unmarked Garda car with Burton and O'Connell.
During cross-examination by Michael O'Higgins SC, defending Ken Purcell, she said that rocks were among some of the "missiles" being thrown at the car.
Counsel noted that she did not mention rocks in her statement and asked "How could you forget that a rock was thrown?"
Garda McGuinness replied: "It was an error. It should have been in my statement." O'Higgins put it to her that the reason rocks were not in her statement was because "it didn't happen".
"If a rock had been thrown it would have been in your statement and the reason it is not is because it didn't happen," he said. The witness replied, "That's not correct".
Another garda witness, Inspector Derek Maguire, told Sean Gillane SC, prosecuting, that he heard Paul Murphy saying into a loudhailer "We're gonna hold a democratic vote – will we let her go or hold onto her for the night?". This witness will be cross-examined later in the week.
"Getting out of hand"
Earlier, garda McGuinness told Mr Gillane that she and her partner, garda Tony Cooke, received an instruction over the radio to travel to Jobstown as a protest "was getting out of hand".
"When we arrived at the gates of the church there were 30 or so protesters with placards and banners, blocking the entrance. I recognised Paul Murphy. The protesters were calling us rats, traitors and shouting 'shame on you'."
Garda McGuinness, who admitted she had "no training in the handling of protests" said that the crowd moved to one side when asked and the unmarked car was parked, nose to the wall, in the church grounds.
She described how one man had a megaphone and was shouting "stay, stay, stay, it's your right".
After discussing the situation with other gardaí in the church, garda McGuinness and garda Cooke moved Burton and O'Connell towards the car.
"The atmosphere at the time was very hostile. The crowd were shouting 'there she is, there she is' and were trying to grab her as I helped her into the car," she told Gillane.
Garda McGuinness described how the car was then completely surrounded by 50 or 60 protesters.
"The banners were blocking all daylight from entering the car, they were trying to turn it over, they were rocking the car back and forth. One man tried to pull off the wing mirrors, another man attempted to deflate the tyres. A water meter was flung at the car," she told the court.
She described the situation as "extremely volatile" and said men and women were shouting at Burton "You're a fucking disgrace".
Garda McGuinness told Gillane that five males attempted to move the car towards the wall and said Paul Murphy was one of these men. She said these five men then sat down at the rear of the vehicle, preventing it from moving.
"I was afraid the windows would be smashed in, we were trapped there for an hour," she said.
When describing how gardaí moved Burton and O'Connell to the Garda Jeep, garda McGuinness said "People were trying to hit Joan and to grab her. It was extremely hostile".
Under cross-examination by Sean Guerin SC, defending Paul Murphy, garda McGuinness conceded that the unmarked car was revved sufficiently loudly for it to be audible in some of the videos of the protest posted online.
"I put it to you that the five males were not trying to push the car against the wall. Instead they were trying to resist the car being revved at them," Guerin said.
Garda McGuinness agreed with Guerin that there was no discussion among gardaí as to what would happen if protesters tried to impede Burton's car from leaving.
"Very hostile"
In further evidence Inspector Derek Maguire described the atmosphere at the protest as "very hostile and aggressive."
Inspector Maguire said that when he observed five males sitting behind the unmarked car he called for urgent assistance.
He said he directed all protesters to leave the area under Section 38 of the Public Order Act. "This was not heeded," he said.
He described how gardaí formed a human cordon at the time when Burton and O'Connell were being moved to the Garda Jeep. He said the protesters surged and that gardaí were getting punched.
"But the tension heightened, the protesters surged, a lot of members were being punched and it was becoming more and more difficult to advance," he said.
Inspector Maguire told Gillane that when the Public Order Unit arrived it had no effect on lessening the situation.
"Paul Murphy said to me that if we got the Public Order Unit to move back they would let Burton go," he said.
Inspector Maguire said that he expected the crowd to disperse once the Public Order Unit pulled back, but instead they stayed in the vicinity of the Garda Jeep.
Paul Murphy of Kingswood Heights, Tallaght, Kieran Mahon of Holbrook Grove, Tallaght, Michael Murphy of Whitechurch Way, Ballyboden, Dublin, Frank Donaghy (71) of Alpine Rise, Tallaght, Ken Purcell (50) of Kiltalown Green, Tallaght, Michael Banks (46) of Brookview Green, Tallaght and Scott Masterson (34) of Carrigmore Drive, Tallaght have denied the charges.
The trial continues in front of Judge Melanie Greally and a jury.
Comments have been closed as this case is before the courts.
Note: The original version of this article inaccurately recorded what Garda McGuinness said when asked about the reference to rocks in her statement. This has been updated to accurately reflect what she said in court.