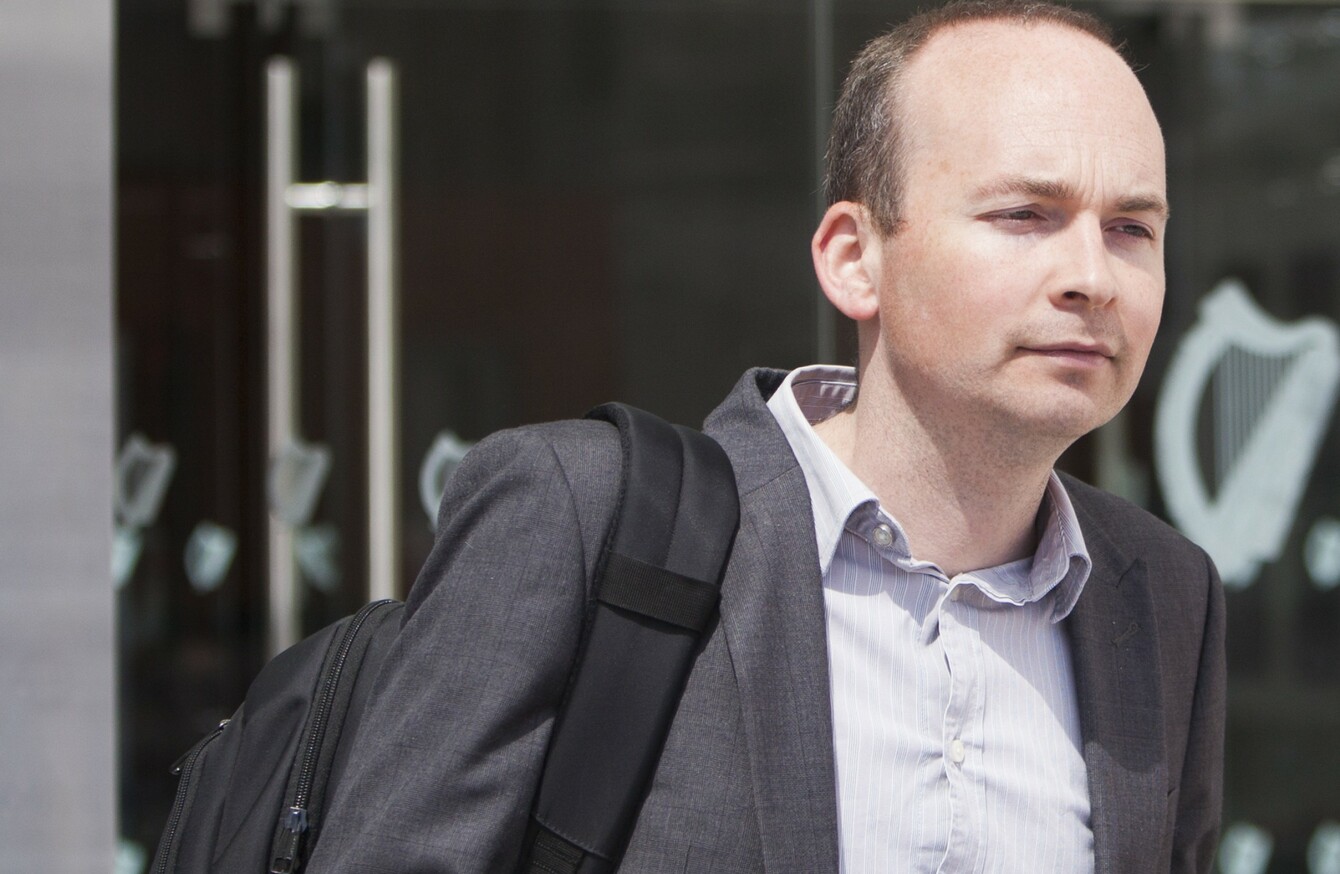 Paul Murphy.
Image: Leah Farrell
Paul Murphy.
Image: Leah Farrell
THE JURY IN the trial of Solidarity TD Paul Murphy, who is accused of falsely imprisoning former Tánaiste Joan Burton, has been told their verdict will "fix the limits of our freedom to hold our elected leaders to account".
The submission was made by defence barrister Sean Guerin SC on day 33 of the Dublin Circuit Criminal Court trial today where closing speeches got underway.
Paul Murphy (34) and five other men have pleaded not guilty to falsely imprisoning Joan Burton and her adviser Karen O'Connell by restricting their personal liberty without their consent at Fortunestown Road, Jobstown, Tallaght on 15 November, 2014.
The charges against a seventh accused, Ken Purcell (50), of Kiltalown Green, Tallaght, were dropped last week.
The two women were attending a graduation ceremony at An Cosán adult education centre when demonstrations broke out around them. The jury has heard they were detained in vehicles for three hours.
Entitled to views
In his closing speech, prosecution barrister Sean Gillane SC, told the jury that the essential question in the case was "not political" and that their political views should have no bearing on the case.
"You're entitled to those views but those views have to be left outside the jury room," he said.
Outlining the nature of the charges against the accused men, he said that when you seek to restrain the liberty of a person, the restraint has to be "total".
"It's not good enough for me to establish some class of obstruction or inconvenience," he said. Violence does not need to be a factor, he added.
Outlining the case against each of the men, he said they worked together with a "shared intention" that day to totally restrict the liberty of Joan Burton and Karen O'Connell, who were "trapped" in the cars.
He said Paul Murphy was one of those who surrounded both cars carrying Burton and that he gestured at others to do so.
Gillane said there was no doubt about the right to peaceful protest, which he said was "embedded in the Constitution" but he said there were "obvious limitations" to that right.
"I can protest about water (charges) or anything else but I can't do it in your kitchen," he said.
He rejected the proposition that what happened to Burton and O'Connell was inevitable because people were angry about water meters or water charges.
"There's nothing inevitable about it," he said. "Adults must be responsible for their actions. Being angry about something doesn't change that…
"What we require of people is that they control that anger instead of indulging it. If you indulge it, you're responsible for it."
He said "political context or motivation" simply doesn't allow for the restraint of the liberty of other people.
He said Ireland has a Constitution, which includes the right to protest, but which also includes the right to be free.
We don't allow a judge, gardaí, the army, the "men in white coats" to restrict other people's liberty, he said.
"We don't allow any of those organs of the State to do that to other people. Why would we allow Paul Murphy to do it? Or Michael Murphy or Scott Masterson or any of the accused?"
Democracy
Gillane said Paul Murphy was instrumental in holding a vote on Fortunestown Road that day, in which he was heard asking the crowd whether to "keep her here or let her go".
"He was absolutely instrumental in that process about what was to be done with another human being," Gillane said, adding Paul Murphy also told the crowd the outcome didn't matter and he would do whatever was decided.
"I suggest it's not democracy or anything like it. It's a betrayal of democracy, an inversion of democracy."
He referred to an interview Paul Murphy later gave to RTÉ in which he said "we detained her". "Paul Murphy was involved in restraining her (Joan Burton) and he well knew it," Gillane said.
He said the appropriate verdict for the jury to return was one of guilty on each of the charges on the indictment.
Closing speech
In his closing speech, Sean Guerin SC, representing Paul Murphy, said his client was the most recognisable person present on the day but that at no stage did anyone witness him engaging in violent or abusive behaviour, or encouraging anyone to engage in violent behaviour.
He said his client was instead seen "advocating or encouraging the passage of Ms Burton from Jobstown, albeit a delayed passage".
He said Paul Murphy participated in an event that was at times "chaotic and disorganised because it was spontaneous" and which was "marred at times" by the violent behaviour of others "to whom he lent no support and gave no encouragement".
"Their protest was a political one," he said.
He said gardaí were concerned about violent disorder from the beginning, when they decided that Burton and O'Connell should be brought to the first car.
It was this "fear of violence" which could only be the basis of any charge of false imprisonment, he said, adding Paul Murphy was not charged with violent disorder.
"That was the cause of their being kept in the vehicle and not the peaceful acts of protest engaged in by Paul Murphy," he said.
In relation to the vote on Fortunestown Road, Guerin said that Paul Murphy had no moral obligation to address the crowd, but that he did so at the request of the senior officer on the scene.
By addressing the vote, Paul Murphy showed "political leadership and responsibility", Guerin said. "It is the essence of democracy," he said.
#Open journalism No news is bad news Support The Journal

Your contributions will help us continue to deliver the stories that are important to you

Support us now
It was "craven and discreditable" of the prosecution to then criticise Paul Murphy for doing so, he added.
Gardaí taking the stand
Guerin said that gardaí did not find the video clip of the vote, which was posted on Facebook, although he said he was not criticising them for that failure.
He said "one guard after another" then took the stand and alleged Paul Murphy had said the "sinister and frightening" suggestion that Burton be kept there for the night. "That did not come from Paul Murphy," Guerin said.
He said the footage showed another woman who was never charged say Joan Burton should be kept there, Guerin said. And he queried how it was that gardaí who were present at the scene missed this.
Guerin said Paul Murphy was entitled to expect the political authorities of this State to be capable of recording events of importance. Instead, he said the garda accounts of the vote on Fortunestown Road were "inaccurate, incomplete or misleading".
He said the woman who said Joan Burton should be kept at the scene was never charged, while Paul Murphy, who advocated to move Burton out of the area – "albeit with some inconvenience" – was now facing a charge punishable with a sentence of life imprisonment.
"In what disordered view of the world does that make any sense at all?" Guerin said.
He said: "What has happened in this case is that the authorities have sought to use the acts of violence or threats of violence of other people to discredit him, to discredit his political associates, to discredit the (community) he leads and discredit the people he represents."
He said Paul Murphy was not being prosecuted for what he did or said, nor for what others said or did.
"It's hard to avoid the conclusion that he is here being prosecuted instead for what he believes and for who he represents," he said.
He referred to Daniel O'Connell being charged with conspiracy in 1844 and said it showed that "violence unrelated to a political complaint can be used to discredit politicians with a political message that is inconvenient to the establishment".
"It is his freedom that is at stake in this case," he said. "It's his rights that are in jeopardy."
jobstowGuerin said the case affects all of us and "on behalf of other citizens", he urged the jury to quickly return a unanimous vote of not guilty.
"By your verdict, you will not only decide (Paul) Murphy's future, you will fix the limits of our freedom to hold our elected leaders to account," he said.
"This is not just a legal issue. You're being asked to fix the limits of our political rights."
The trial continues before Judge Melanie Greally and a jury.
Paul Murphy (34) of Kingswood Heights, Tallaght; Kieran Mahon (39) of Bolbrook Grove, Tallaght; Michael Murphy (53) of Whitechurch Way, Ballyboden, Dublin; Michael Banks (46) of Brookview Green; Scott Masterson (34) of Carrigmore Drive, Tallaght and Frank Donaghy (71) of Alpine Rise, Tallaght have all denied the charges.
Comments are closed as this case is before the courts.