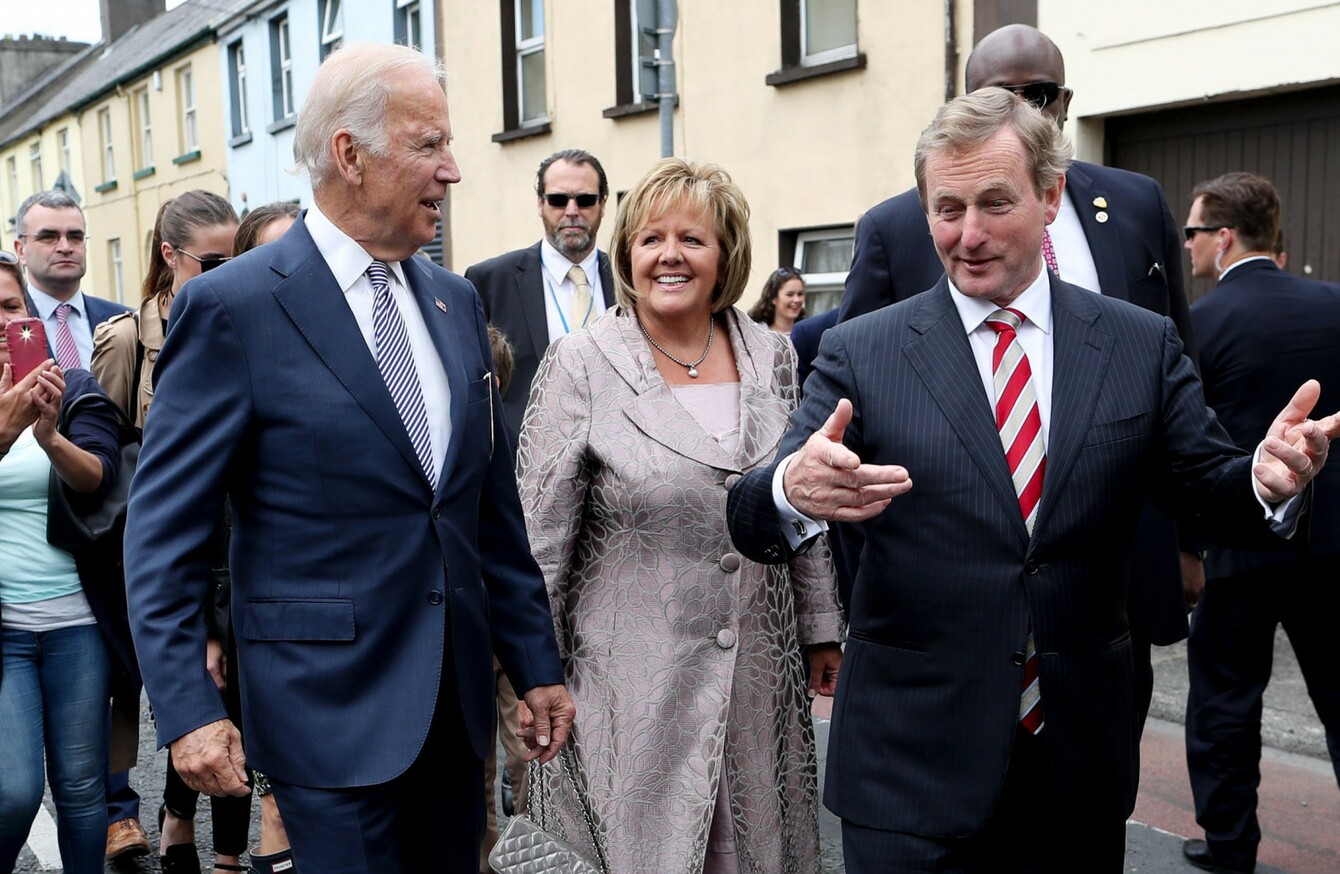 Image: Department of Foreign Affairs
Image: Department of Foreign Affairs
A ROW HAS broken out between garda representatives and management over payments members of the force were due to receive for working overtime in Co Mayo during the visit of US Vice President Joe Biden in June.
Gardaí claim management has attempted to pay some officers less than others for the same work during the trip, and that a commitment given by a very senior officer in the days before the visit was reneged on.
Biden visited his ancestral home near Ballina on 22 June and additional gardaí from the Western region were rostered on to cover the event. However, just four days before his planned arrival in Mayo, management decided to call in extra resources from other garda divisions to ensure full policing cover.
GRA representative for Cavan/Monaghan, James Morrisroe, told TheJournal.ie that a senior officer informed him ahead of Biden's Mayo visit that the members called in last-minute would be paid for any shifts worked, plus what is known within the force as 'a tour on either side'.
This essentially allows for travel time on both the 21 and 23 June, and for being on standby the day before the visit. In this case, members understood they would be paid, in total, for 30 hours of work.
The senior garda also confirmed to the GRA that members from the Western region, who had been drafted in at an earlier stage, would be paid a mileage allowance for the use of their own cars, which would leave them with higher payments than those called in last-minute.
Though he said he was unhappy that members from his division were "being treated differently to those from the Western region", he accepted the assurance that they would be paid for a full 30 hours.
However, when members from his division – and others who had been asked to work at short notice – tried to claim their overtime, they were told they were not entitled to payment for a 'tour on either side'.
The row has raged on for weeks, and has involved the finance department in garda headquarters, which also refused to honour the original commitment given by the senior officer.
"It's simply not good enough to get assurances at very short notice from senior management and then for these assurances to be reneged upon after the event," Morrisroe said.
The members completed this duty in good faith at very short notice and great inconvenience to themselves and indeed were complemented by none other than the US ambassador to Ireland, Mr Kevin O'Malley for their professionalism and diligence.
"I wonder how the ambassador would feel if he knew that assurances given by senior management in relation to the payment of members of An Garda Síochána for policing the event are now being reneged on," he added.
With a visit to Ireland by Pope Francis planned in 2018, Morrisroe questioned, "How many will volunteer for that? Because my members say they won't be doing that again."
Another GRA representative Ray Wims, whose Sligo/Leitrim members were also affected by the controversy, commented that some employees of the State "seem to be more equal than others".
"It was just dealt with on an ad-hoc basis in different regions."
#Open journalism No news is bad news Support The Journal

Your contributions will help us continue to deliver the stories that are important to you

Support us now
Some of his members also worked in Donegal for the royal visit, again at short notice. It took 14 weeks for them to receive payment for this overtime.
Many of those affected have given up the fight, accepting a lower payment than the one originally agreed upon. However a small number are determined to get what they believe they are owed and are now considering seeking legal advice.
Aidan Whelan, who represents gardaí in the Wicklow division, said his members are "at their wits' end, it's getting so close to Christmas".
It's around €1,000 they are waiting on. That's double or triple some members' weekly take-home pay and they gave up all their rest days that week to perform this duty, working 16 hours on the day of the visit.
He said many members would have decided not to go at all if they knew they would not be "properly remunerated".
"And it would have been an embarrassment on the State to have Joe Biden coming and for us not to have enough police to police the event."
Garda management declined to comment on the row.