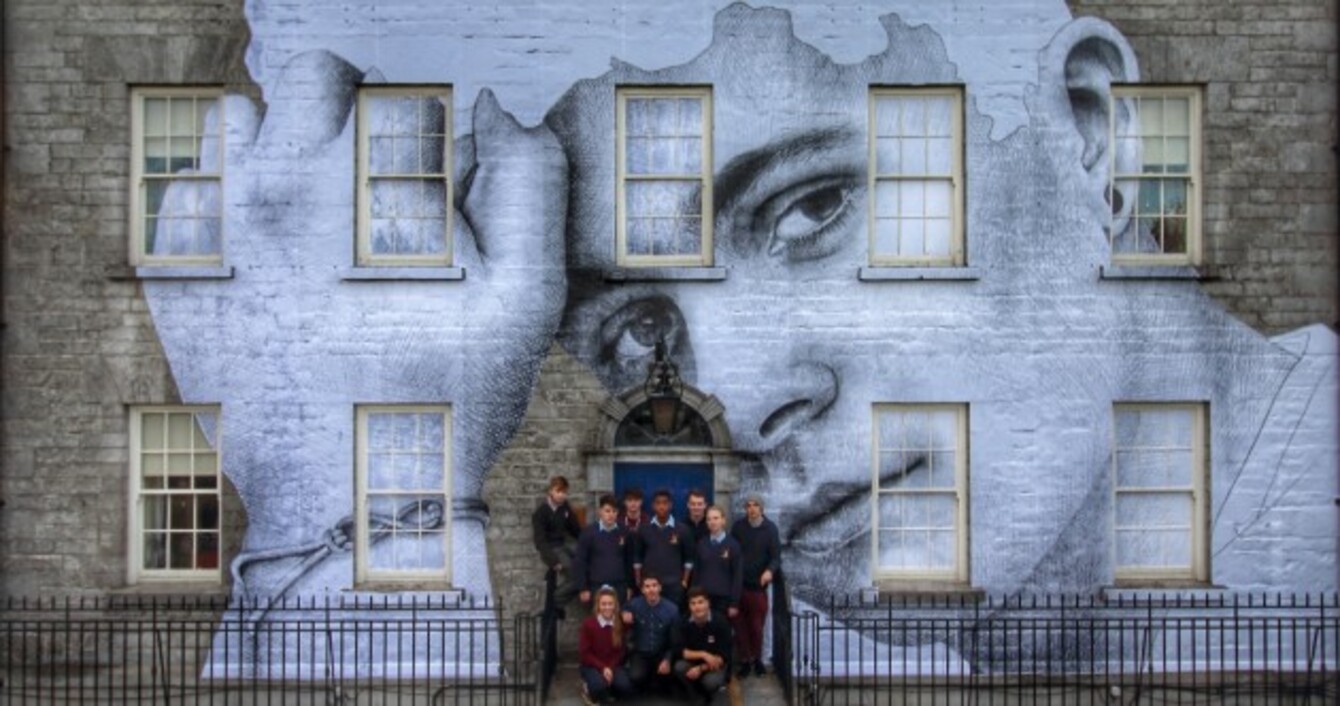 ARTIST JOE CASLIN, whose same-sex marriage mural turned heads when it was installed on Dublin's George's St earlier this year, is back with another powerful artwork.
For the next few weeks, people in Tullamore can see his latest large-scale street art piece displayed on the town hall.
Caslin works as an art teacher locally, and 11 students in total from Tullamore College,
Sacred Heart Tullamore and Coláiste Colm Tullamore worked with him on installing the project. One of the students is the boy whose portrait is featured in the artwork.
Our Nation's Sons
It's part of Caslin's ongoing series Our Nation's Sons, which tackles the subjects of mental health, depression, suicide, and the role of men in Irish society. This latest piece was commissioned by Offaly Arts and Foundation 15, and happily coincided with Culture Night, for which Caslin was an ambassador.
Junction 15 is an arts festival that uses vacant spaces around the town, so Caslin's work – which often uses older or vacant buildings – fits in well with the theme. 
Caslin has been living in Tullamore for the past seven years, and when TheJournal.ie spoke to him he even bumped into locals who told him they'd seen the painting. His work, with its large scale paper prints, is instantly recognisable. 
"Doing something in the town I've been living in… it's not daunting, but I wanted to come back and do something that was dignified and something that is pretty good," said Caslin.
He was delighted to have the students on board. "The kids gave up a lot of their own time," he said, describing them as "ambassadors" in getting the story out there.
He sees it as powerful that the students get to work on such a project.
Kids, if they are given the right opportunity, they can make something poignant and beautiful in the town. They are the champions in the conversation.
Caslin said the "the whole town has rallied around" the project, with the result that some people have been sharing their own stories that touch on topics explored in Our Nation's Sons.
It's really amazing, the stories coming out there all being provoked by the art being installed. In a way that's the exact purpose of the drawing.
Why this art?
The artwork is meant to draw questions – who is the boy in the image? Is he famous? If not, is he just a 'normal kid'?
"Why should a normal kid go on the wall?," said Caslin. "Who could that kid represent, could it be my brother… whoever could that be? Then it becomes more important, they get to tell their part of the story in the drawing, it becomes more of an interesting thing."
It's important to him that the boy featured is from the town, and Caslin doesn't try to have ultimate ownership over the work.
It's a story about the students putting up the work. It's not really mine in a way, it's theirs. I'm the vehicle or the conduit, and it's their story. They are the ones that are vitally important in this.
Caslin's profile rocketed after his same-sex marriage mural in Dublin drew praise from some quarters, and ire from others.
He's been working on Our Nation's Sons for five years, and said that it wasn't a huge leap from that to promoting marriage equality. When he looked at the issue, he saw a "whole section of society made small – they're not really given a space in the community".
When the referendum passed, said Caslin, it sent a new message: "OK, we respect you, you have a position in our society."
Moving forward
Caslin's next project looks at the 1916 Rising, not just concentrating on the past, but looking at its relationship to the Ireland of today.
He believes in motivating young people, and surrounding them with positivity. Being a teacher is essential from a money point of view – funding for social projects isn't easy to get, he said – but also because he clearly enjoys the job.
"I love teaching; I get to go in and spend my time with people that I really look up to, and there's so many kids I work with every day that I admire. It's a great place to be, you learn so much from them."