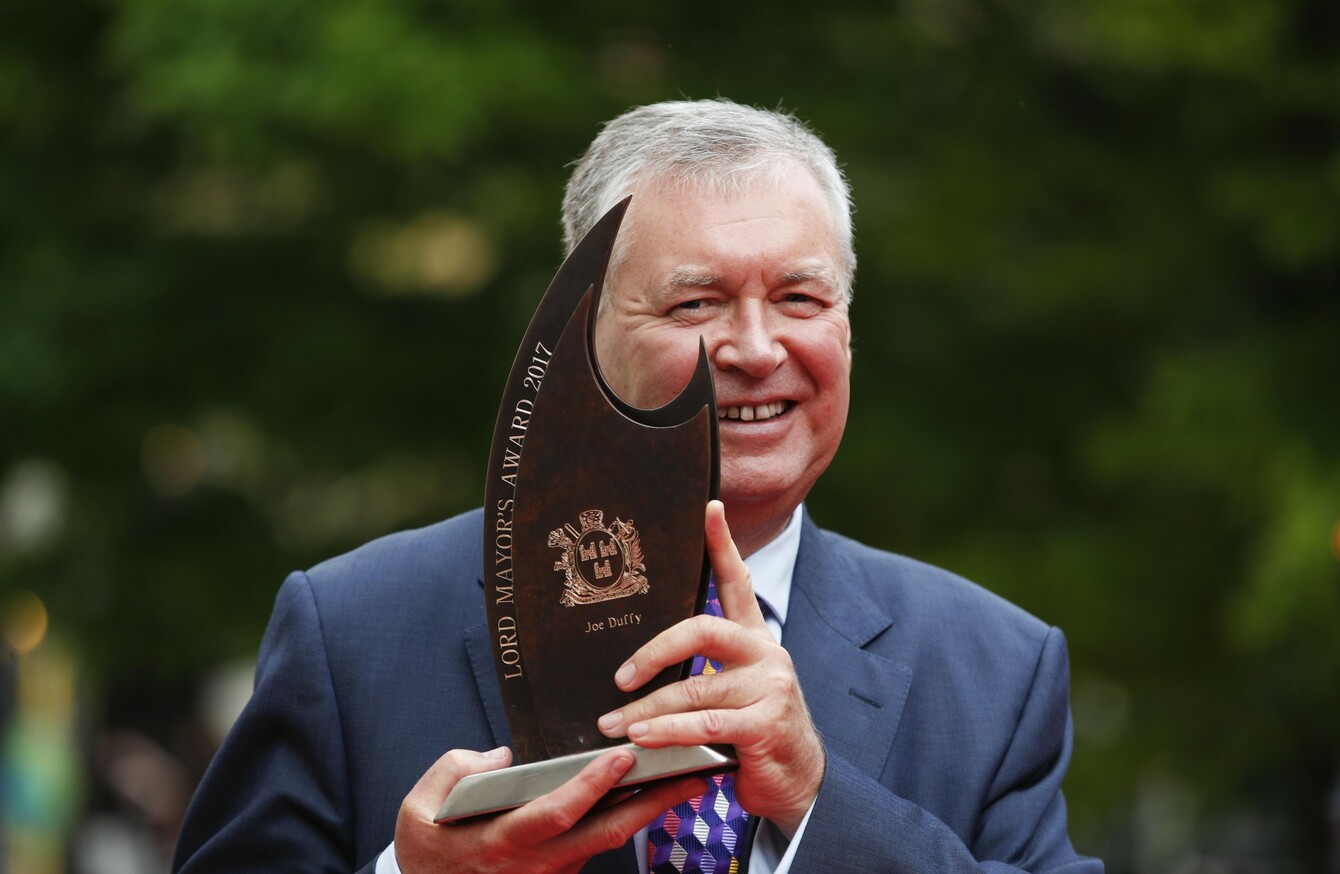 Joe Duffy with his award.
Image: Conor McCabe Photography Ltd
Joe Duffy with his award.
Image: Conor McCabe Photography Ltd
RADIO HOST JOE Duffy has been awarded with the Lord Mayor's Award for his contribution to Dublin society.
The Liveline host was given the award at a ceremony last night in the Mansion House. Four awards were awarded to Duffy, Paralympic swimmer Ellen Keane, the Dublin GAA County and the workers of Dublin.
The awards are presented to individuals and groups to mark their contribution to Dublin Society.
The Lord Mayor of Dublin, Brendan Carr said that those awarded with the honours represented what was best about the capital.
"The Lord Mayor's Awards are all about saying 'thank you' not only on my own behalf but on behalf of all the people of Dublin, to citizens who, through their ordinary everyday lives, enrich this city in an extraordinary way. It is one of the highlights of my year as Lord Mayor to present these awards and I've chosen to Award two exceptional individuals who contribute to the proud reputation of Dublin city."
Duffy said that he was happy to accept the award for his years presenting Liveline.
"I'm deeply honoured for myself, RTÉ and the Liveline listeners to receive this award."
Jim Jennings, Managing Director, RTÉ Radio, said:
"I am delighted that Joe is being recognised with this honour. Throughout his many years of broadcasting with RTÉ, Joe has always looked to give a voice to people, with the telling of their stories at the heart of his work. Both through his recent dedication to uncovering the stories of the children of 1916, and reaching out to people daily on RTÉ Radio 1′s Liveline, he is a very deserving winner of this award."
The Lord Mayor's Awards began in 1989 and previous winners include Imelda May, Maeve Binchy, Brian O'Driscoll, Jimmy Magee and Commander Chris Hadfield.