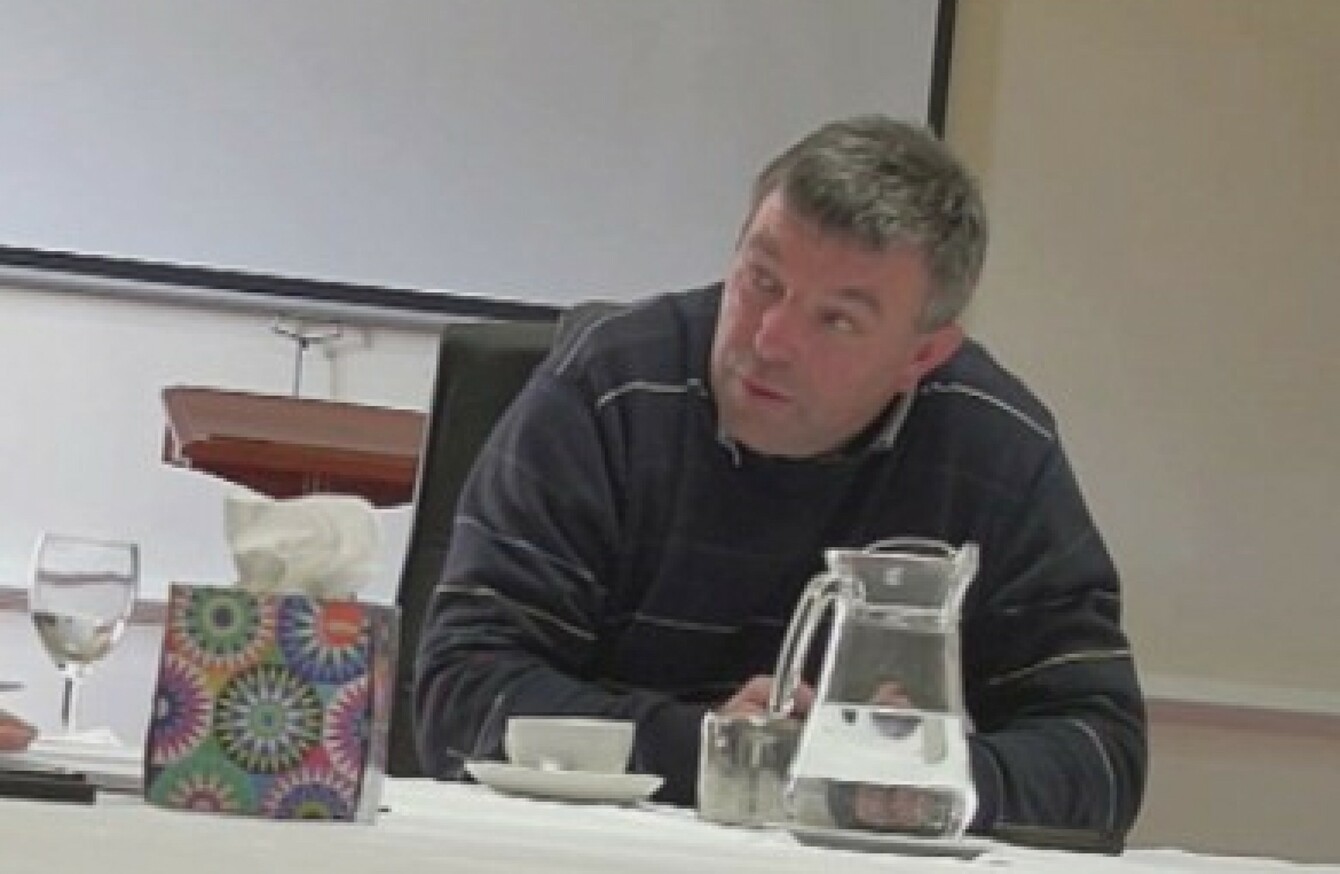 Joe Queenan
Image: RTÉ
Joe Queenan
Image: RTÉ
ONE OF THE councillors featured in RTÉ's explosive documentary on Monday night has been attempting to account for his actions today.
Sligo's Joe Queenan, who resigned from Fianna Fáil in the immediate aftermath of the programme, said people in his area were "furious" in the wake of the broadcast, and insisted he was set-up by the national broadcaster.
He was sorry for his errors, he said – but when asked if he would be resigning his council seat replied "absolutely not".
The documentary uncovered various acts of wrongdoing among politicians – including flouting rules about the non-disclosure of business interests.
It also featured undercover footage of a journalist posing as a wind farm investor seeking help from three local representatives. It showed the councillors agreeing to help in return for money or, in Queenan's case, a possible loan in the future.
Undercover segments of the programme featured a fake investment company called Vinst Opportunities. A reporter named 'Nina' met with the councillors seeking support in gaining sites for wind energy production.
Queenan was filmed suggesting to 'Nina' that he was considering setting up an agri-feed business and may be seeking investment in the future.
"An investment of say €200,000 max, I'll repay it over a number of years," he told the reporter.
'The beautiful Nina' 
Speaking to Drivetime's Mary Wilson this evening, Queenan first apologised for neglecting to properly fill out a declaration of interest form for the council.
He went on to list all the businesses he was involved in – explaining that as well as being a dairy farmer he owned one supermarket, rented another, and was also an auctioneer and a letting agent.
Source: RTÉ TV Promotions/YouTube
Asked about his contact with the undercover journalist, he said he had first heard from "the beautiful Nina" in the third week of October. 
She told him she represented a consortium of business people, and he felt he had an "obligation to meet her". He had no interest whatsoever in the wind farm sector, he told Wilson.
Asked directly about his comments to the reporter about potentially seeking investment for a business in future, he said he regretted the remarks.
Out of context
Over the course of the interview, he insisted there was no direct link between his offer of help with the pre-planning process and his comments about investment.
Here's how the conversation went:
Wilson: What it comes down to was you soliciting potential investment for one of your companies.
Queenan: No no no. That may be how it looked on Monday night.
Wilson: It wasn't how it looked it's what you said.
Queenan: Wait a minute now, Mary. I want to say, as regards the wind farms I told her exactly that – this thing about a go-between. I was doing nothing different than any other councillor would do with any other client on the day. All I was doing was what they call a pre-planning process. I ask her for the maps, I bring them into the planning office, they give me a view on it – I would bring it back to her and say 'right it's a possibility'. But at all times I made it absolutely clear in the conversation that – actually on thirteen occasions during the conversation – that planning was impartial, that I was impartial and that I couldn't guarantee anything. It had to go through the public body.
Wilson: But it's the next step, Councillor Queenan, in that conversation.
Queenan: That is edited by the way. That – it isn't, it didn't… That statement was not made straight after [what] I said about the planning. It was at least 10 minutes later.
Wilson: Does it matter when it was said? It's the content of what was said by you.
Queenan: Okay, I said it, I was wrong, I'm sorry. And I mean that. When you're a businessperson… Here in front of me was an investor. She moved on the conversation to my developments, my projects and I did say – but if you read it clearly or carefully I was talking in a hypothetical situation. I was not guaranteeing anything, I was looking for nothing. I said down the road in the future, if an opportunity for business came I may be looking for an investor.
As the interview ended, he insisted comments in a further recorded phonecall with 'Nina' were taken out of context, and referred several times to the audio being edited.
"At the end of the day, Mary, I regret wholeheartedly what happened," he said.
He insisted, however, that he would remain in his seat on the local authority, and reiterated that he had received strong local support in recent days.