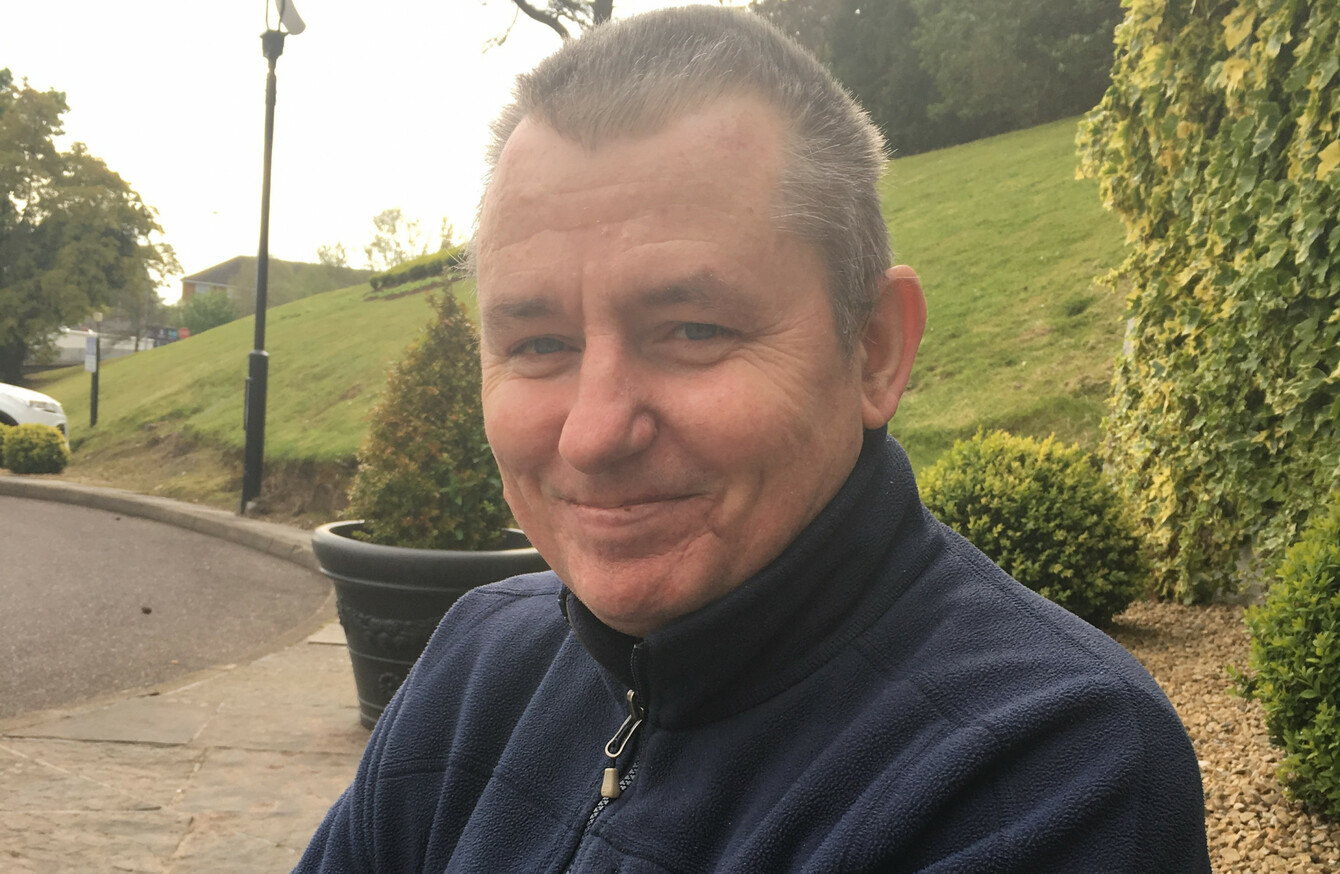 IRISH MEN AND women who were sexually abused in Irish schools when they were children are still fighting for redress, despite the European Court of Human Rights (ECHR) finding the Irish State liable for abuse suffered by Cork woman Louise O'Keeffe in 2014.
Prior to that judgement, both the High Court and Supreme Court had ruled that the State was not liable for the abuse O'Keeffe suffered. Subsequently, the State Claims Agency wrote to 135 people who had taken cases against the State, inviting them to withdraw their complaints, warning they would also fail in their attempts. 
It is now four years on from the ECHR ruling but Irish people abused as children in our schools are still fighting for redress. 
TheJournal.ie has spoken to some of the men battling for justice and heard about the abuse they suffered as children and the impact it has had on their lives. 
One of those men is John Allen.
I remember looking down and calling out for my mother.
Over the space of six years, Allen was sexually abused by three men. For those years he had no escape as the men were entrenched in his life and his community.
Allen went to North Monastery CBS in Cork city from 1969 – 1980 for primary and secondary schooling.
In 1971/72 his teacher was Brother Gary Creevey.
"I recall one day in particular, I was doing a project next to the annex in the gymnasium and for a few weeks previous he'd be saying, 'You're very bold John, you're bold in class.'
"One day I happened to tell a joke. He came into the annex and he called me out and the fear started kicking in.
He held me by the hand and I knew something was not right here. He basically dragged me across the gymnasium and I resisted and I started crying because I knew something was going on… he took me into the cloak room.
"It was a wet day and all the coats were smelly and damp and everything. He just took down my pants and he decided to, you know."
John said a doctor recently asked him if there was penetration and he said, "I don't honestly know but I don't believe so.
To this day… I shut down. All I know is I was crying for my mother. I was nine years of age.
The abuse continued after that, often in the school swimming pool under the pretence of helping the boys to swim.
He'd have his hands inside your trunks under the water or undressing you afterwards. I was well capable at nine of drying myself off but he assisted you, that was the pretence.
"I can remember darkened classrooms. I have this memory of all the blinds down and the lights out. Is it right to have the lights out?
There were two pupils in a seat and the next thing he'd sit next to you and he's obviously aroused and he'd say, 'You're so bold'. Things like that come back to me.
Hiding before school
Allen described how his mother went up to the school to complain as there was a huge change in her son's behaviour. Allen was hiding in the mornings before school and wetting the bed.
"She asked: 'What is wrong with my son? He's locking himself away. I'm finding him in cupboards around the house or up in the shed hiding so he won't have to go to school.
"'There's something wrong, my son is being bullied or something. He's wetting the bed, he came home yesterday and there were brown stains on his leg.'"
Allen said his leg was stained because he ran down the corridor to avoid Creevey.
I thought he was going to take me somewhere and I ran into the toilets but I just lost it, I lost the bowel movement and I cleaned myself up but my mother noticed the stains.
"I pulled things over me so she couldn't find me in the mornings, that's not what school is about but I couldn't say anything to my mother. I was bold you see."
Creevy was not convicted for his crimes until 2004, 33 years after he abused Allen.
Outside of school, Allen was also being groomed by a person involved in a local organisation he was a member of.
"When I was six and a half I was taken on a trip. He was already grooming me, he made me leader of the tuck shop. 'You're very good John, you're going to be one of our best.'
"I do remember occasions where during the day he took me aside and the usual stuff again, 'take down your pants'."
A few years later, a third man also abused Allen but he, like the second, was never convicted.
"There was one instance where he [the third man] took me into a room … basically he was masturbating me. I was a bit older to know what was going on.
There was always a reason, I was being bold. That was his way of rationalising it and he's indoctrinating you that you're bold and then the child will understand why this is being done to him.
Allen recalls how in court for Creevy's case, the clergyman was asked if there were others apart from John and said, "There may have been one or two."
Drinking at 12 
Allen said he started drinking when he was about 12 years old.
"My father worked shift work in ESB and my mother would say, 'Would you get a bottle of Bass for your father coming home?' so I'd buy another with my pocket money so my mam wouldn't notice the money gone.
"I do remember my father coming up to the room and saying, 'Look, what's wrong? Why don't you want to go [to the club]?'
I'd have a bottle of Bass in the room and that gave me the courage. That gave me the feeling to take away the terror to go down. I'd think, 'Jesus that is doing something to me.' You'd feel better walking in.
"It was dark times, dark times. It was awful really.
"I switched off in school, the teachers were saying I was very bright but they were constantly calling my mother into school saying, 'Why won't he knuckle down and this and that?'"
Allen's mother was 'very pro-education' so he did a degree in computer science and mathematics after his Leaving Certificate but went to England within 24 hours of receiving his degree.

I just had to get out of Cork. I lived next door to the school and I was meeting [the club] leader in the town. He still thought he had the power over me.
Homeless
Allen began drinking more in England and also started using drugs.
"I remember having awful nightmares over there, guys I was working with knew there was something not right.
"Some of the Dublin lads I was living with said, 'There's something wrong you John, you're getting awful nightmares.' Looking back, I know what was wrong.
"Illicit drugs and alcohol caught up with me. For a short while, I became homeless."
Allen came back to Cork in 1991.
I knew if I didn't get back from England, I mightn't have survived. I came back and I kind of had a breakdown.
Allen says he was still drinking when he returned home from England but he wanted to get back on track.
He said that he was out of the game with computer programming as things had changed massively in two years and he had a two-year gap in his CV and didn't have the relevant experience.
"That's what led me down the teaching route … I met my wife-to-be, I just wanted to try to get back on track."
'What would I be now?'
Allen says he would like to know where he would be if he didn't suffer sexual abuse as a child.
"I've had 22 hospitalisations, that's half a life spent in hospital or in therapy or recovering from illicit drugs from years ago in London or alcoholism, which I managed to beat.
"You're sculpted from a child into an adult and once we reach a certain age we're already formed. What would I be now without that change in behaviour?"
Allen also asked, "What if a victim was forced to sit in front of the monster who raped her the following day?
I was locked in a room with a man, a monster, and for six and a half hours a day he was in control.
"I remember standing in the schoolyard thinking, 'If I go [to the club] I wake up and the [person] is inside my sleeping bag doing things in the middle of the night. So if I'm good this stuff happens and yet if I'm bold this happens.' I could never figure that out."
A doctor explained to Allen that the conflict of the polarised grooming meant that as a child, he had nowhere to go in his head.
"The minute he said that, the penny dropped. I actually thanked him, I said, 'Now I can see, what you said means so much.'
"He [the doctor] said that that was deeply psychology traumatising, the conflict there is in your head and I have it to this day. He said I would have it for the rest of my life."
'I want justice'
Allen said his mother came home "bawling crying" after giving a statement to gardaí in 2003, a year before Creevey was convicted. Allen said he told his mother:
"Mam, I'll go after all these men. I'll hold the State, the Christian Brothers, [the club] and those three men accountable for what they did and so far I have kept that promise."
Allen set up Vocads, Victims Of Child Abuse in Day Schools, and has connected with other men who were abused in school.
"I contacted a solicitor in Limerick and he put me on to one individual and his name is Christopher Rainbow and he [Rainbow] said come up to Limerick and I was up there within a few hours and I met a couple of lads. I was on my own for 17 years and the lads couldn't believe it.
"It's a close-knit group. We went out to the European Parliament in Brussels, campaigning and talking to media and trying to get someone to listen and say 'you can not do this and walk away from us'."
Survivors of abuse have a long history of battling with the Irish State.
In the high-profile case of Cork woman Louise O'Keefe, both the High Court and Supreme Court ruled that the State was not responsible for abuse she suffered in primary school, but the European Court of Human Rights (ECHR) overruled their judgements.
Following that ruling, the State said it would make settlement offers of up to €84,000 to people with cases similar to O'Keefe's.
However, the government argues that the ECHR decision applies only to people who were abused after an initial complaint was made against a teacher and no action was taken.
This has been widely criticised with survivors saying it essentially means that the second child abused by a teacher is entitled to a settlement but the first isn't. O'Keeffe herself described it as "discrimination of the highest order".
Allen is now considering going to Europe like O'Keeffe but says he shouldn't have to.
"Why should I have to go to the European Court of Human Rights? Because my State is an utter failure.
"My upcoming battle shows Ireland's deeply held hatred of citizen's who dare demand justice.
Louise having gone and fought and battled and now they are trying to destroy another man. They didn't destroy Louise, they sure won't destroy me.
He added that the State "doesn't care if it re-traumatises those who were so traumatised in childhood".
"I went to the gardaí in 2000. Shame on Ireland, the UN have repeatedly castigated Ireland on its Human Rights record – child abuse, Magdalene Laundries, mother and baby homes, institutions, symphysiotomy etc. We lived in a very dark country.
The State is my enemy when it should be my friend. How wrong is that?
Asked what redress would mean, Allen said, "It's a debt that's owed to me.
"I don't want any apologies, it would be shallow now to me at this stage. 'Sorry for putting you through hell for the past 18 years and now because you've caught up with us we're very sorry'.
"I have one life, they fucked up my life. I want my justice now … justice should have been served a long time ago."