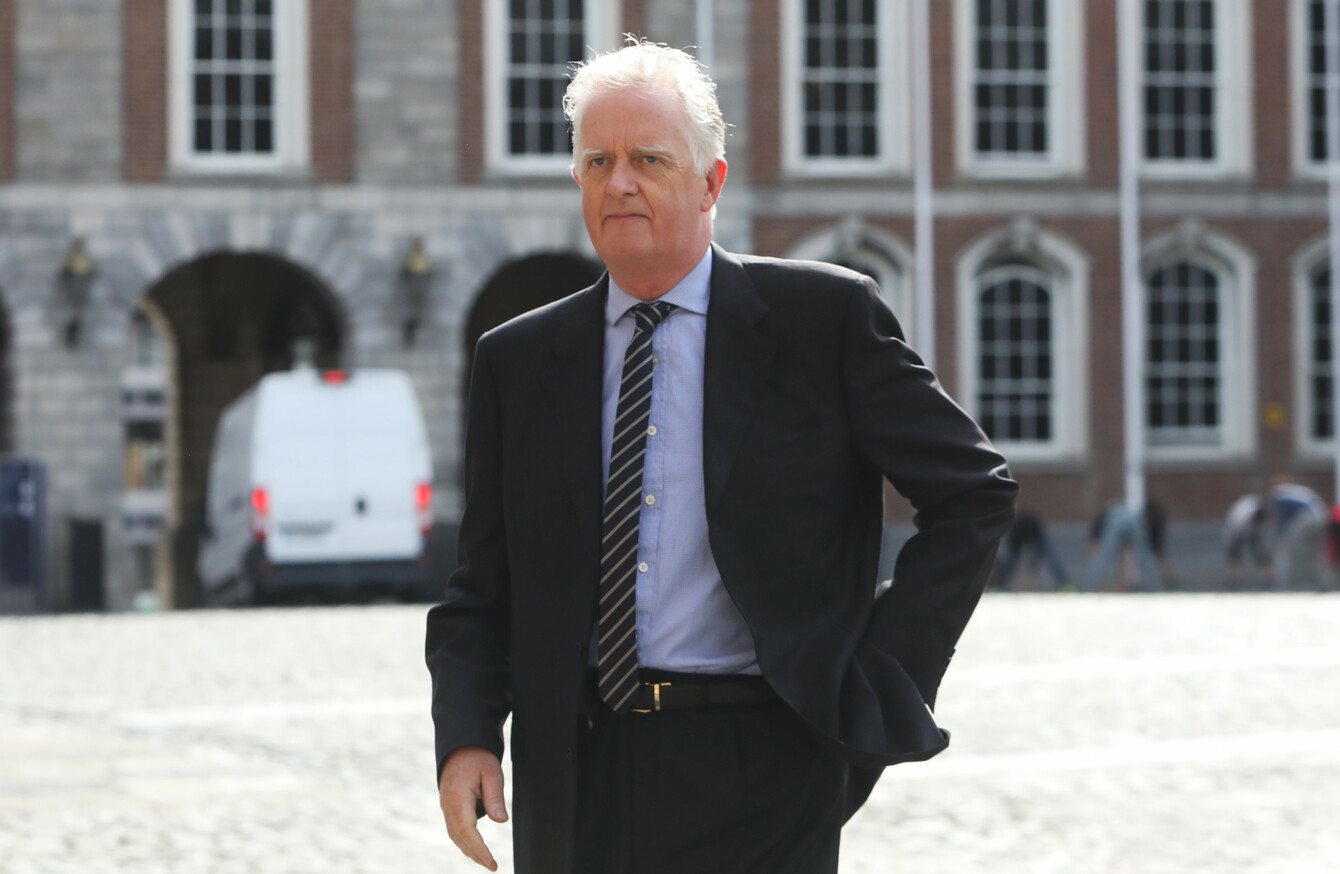 Tribunal chairman Mr Justice Peter Charleton
Image: Leah Farrell/Rollingnews.ie
Tribunal chairman Mr Justice Peter Charleton
Image: Leah Farrell/Rollingnews.ie
Updated 7.14pm
DIARY RECORDS SHOW that former garda commissioner Nóirín O'Sullivan was in London on the day a garda HR executive says she attended a meeting, after which he was told they were "going after" whistleblower Sergeant Maurice McCabe.
John Barrett, the executive director of Human Resources with An Garda Síochána, told the Disclosures Tribunal today that he had a meeting with senior garda civil servant Cyril Dunne and O'Sullivan.
He said he was then asked to stay behind by Dunne, who then told him "we are going after him [McCabe] in the commission".
Barrett said he believed this meeting happened on 13 May 2015, the day before the O'Higgins Commission sat for the first time to hear evidence. Barrett said he did not make a note of this at the time, which he regretted in hindsight.
Barrett said he appreciated there was confusion in that diary records showed that O'Sullivan was in London on this date.
"That's not confusion, Mr Barrett. You say a meeting took place that Nóirín O'Sullivan couldn't have been at," said Conor Dignam SC, representing the garda commissioner.
"I understand the conflict," Barrett said.
In its current module, the Disclosures Tribunal is examining whether unjustified grounds were inappropriately relied upon by former commissioner O'Sullivan to discredit Sergeant McCabe at the O'Higgins Commission of Investigation.
The commission, which sat in private in 2015, investigated complaints made by McCabe about certain policing matters and about serious allegations against senior officers, including former commissioner, Martin Callinan.
Barrett said he had expected that Dunne would also recall the meeting. Dunne denies ever making the comment to Barrett.
Tribunal barrister, Diarmaid McGuinness SC, said that Barrett had arrived at May 13 as the likely date of the meeting by "a process of exclusion".
Tribunal chairman Mr Justice Peter Charleton said that in his initial correspondence to the tribunal in April 2017, Barrett had not given a date for the meeting with Dunne. He said that 13 May 2015 "happened to be a very significant date". The O'Higgins commission held its first hearings the following day.
Questioned by Michael McDowell SC, on behalf of Sergeant McCabe,Barrett said he had not been asked by any investigator at any point about the meeting date until he began his evidence yesterday.
Asked if the conversation had taken place at all, Barrett said: "It is a very clear recollection of a statement being made by my boss to me."
It jarred with the work that essentially was underway for three months in my office to try and build a bridge to create a new engagement with Sgt McCabe. The work at that point in May was, in my opinion, beginning to show imminent results. I was therefore surprised this would be shared with me.
Barrett said he had a good relationship with Dunne, who was the person who had hired him. He said he had spoken with Chief Superintendent Tony McLoughlin about what Dunne had said to him.
Dignam, on behalf of the garda commissioner, said that Barrett had not made a record of Dunne's alleged comment in detailed minutes he had taken during meetings with Sgt McCabe in 2015 and 2016.
Barrett said he had to keep "a very real Chinese wall" about what his boss said to him. He said his minutes of meetings with Sergeant McCabe were about recording the sergeant's voice accurately as part of a process of building trust.
"I didn't ever appreciate that this issue of the actual timing of the statement would overshadow what was said to me," Barrett said.
Barrett said he regretted not making a comprehensive note of Dunne's comments, and if he could relive the events, he "would have done it much more formally, protested more formally".
Apology
In the afternoon, a former garda superintendent apologised for sending a 2011 circular which stated that an internal garda inquiry into allegations of criminality and systemic failures in a local district had vindicated the professionalism of gardaí in the district.
Retired Chief Superintendent Colm Rooney told the Tribunal that he wrote the letter after a meeting in June 2011 with then Assistant Commissioner Derek Byrne, who had just completed an investigation into complaints made by McCabe.
The allegations focused around policing in the Bailieboro garda district in Co Cavan and were investigated by Assistant Commissioner Byrne and Chief Superintendent Terry McGinn.
Rooney said that in June 2011 Assistant Commissioner Byrne came into his office and told him that the allegations made against him by McCabe were not upheld by his investigation.
He said the investigation was now complete and had identified no criminal conduct by any gardaí, the witness said.
As a result of what Byrne further told him, Rooney sent out a circular to garda stations in the Cavan-Monaghan division.
The circular stated that the Byrne McGinn investigation found no systemic failures identified in the management and administration of Bailieboro Garda district and no evidence was found to substantiate alleged breaches of procedure.
Rooney went on to say in the letter: "I would like to congratulate all members who served in Bailieboro. The findings of the Assistant Commissioner vindicate the high standards and professionalism of the District force in Bailieboro.
I appreciate the manner in which the members of the District participated in the investigation, were open and truthful in their account of events surrounding the allegations.
Today, Rooney told the Charleton Tribunal that these views were not a criticism of Sergeant McCabe.
Rooney said that in light of the findings of the O'Higgins commission and of the investigation conducted by Sean Guerin SC, he now believed the views expressed in the July 2011 letter were inappropriate.
"The views expressed in my letter congratulating were not appropriate. My vindication of the high standards was not warranted," he said.
His apology was contained in his statement provided to the Disclosures Tribunal last May. Michael McDowell SC, for Sgt McCabe, told the witness that his client was unaware of this until the statement was circulated this week, prior to Rooney's testimony.
McDowell thanked Rooney for the apology. He said the contents of the circular "were generally known and generally accepted even though they are now known to be wrong."
#Open journalism No news is bad news Support The Journal

Your contributions will help us continue to deliver the stories that are important to you

Support us now
Rooney said that at the time he sent out the circular it was correct insofar as he was told in his conversation with the assistant commissioner.
Rooney said he asked Byrne if all gardaí fully cooperated with his investigation, and if all gardaí told the truth. He was told they had and asked if he could notify everyone of the results of the investigation.
"I was naturally very happy with what the assistant commissioner told me that there was no criminal activity taking place in my area of responsibility," Rooney said.
Rooney said that his vindication of high standards and professionalism in the garda district was not warranted in the circumstances, particularly in light of findings by the Guerin review and the O'Higgins Commission of Inquiry.
"I genuinely believed what I was told about the outcome of the Byrne McGinn investigation," said Rooney, who retired shortly after the circular was sent out.
"Factually correct"
Rooney said that instructions he gave to the garda commissioner's legal team before the O'Higgins commission began hearings were "factually correct", and he did not instruct anybody to challenge Sgt McCabe at the commission.
Asked about a letter provided by the garda legal team at the commission on 18 May 2015, Rooney said that he could only certify paragraphs relating to himself and he was not taking responsibility for the complete document.
"All I can say to that is any contribution that I had, it was factually correct," Rooney said.
Rooney said he could not recall if he was present when Sergeant McCabe gave evidence at the O'Higgins commission. He was on "restricted entry" at the commission, which held private hearings, and was not permitted to attend all sittings.
Rooney said he understood that Sergeant McCabe was dissatisfied with the DPP's directions after he was investigated following an allegation of sexual assault.
Tribunal chairman Mr Justice Peter Charleton said the DPP's direction in the case was "as close to an exoneration as anyone could get."
Rooney's evidence was interposed on Friday as he is leaving the country for an extended period. The evidence of John Barrett will resume on Monday.
The tribunal heard that Chief Superintendent Tony McLoughlin had a conversation in either November or December 2017 in which Barrett told him about this "we're going after him" comment, but did not recall any earlier conversations.
The tribunal chairman said he had "two people who seem to be telling me diametrically opposite things".
"The truth of the matter is, in and around 13 May 2015 in a conversation with Cyril Dunne as I was about to leave he said to me we are going after him at the commission," Barrett said. He said some weeks after this he spoke to Chief Superintendent McLoughlin about the conversation.
"But the conversation with Mr Dunne is a reality," he said.