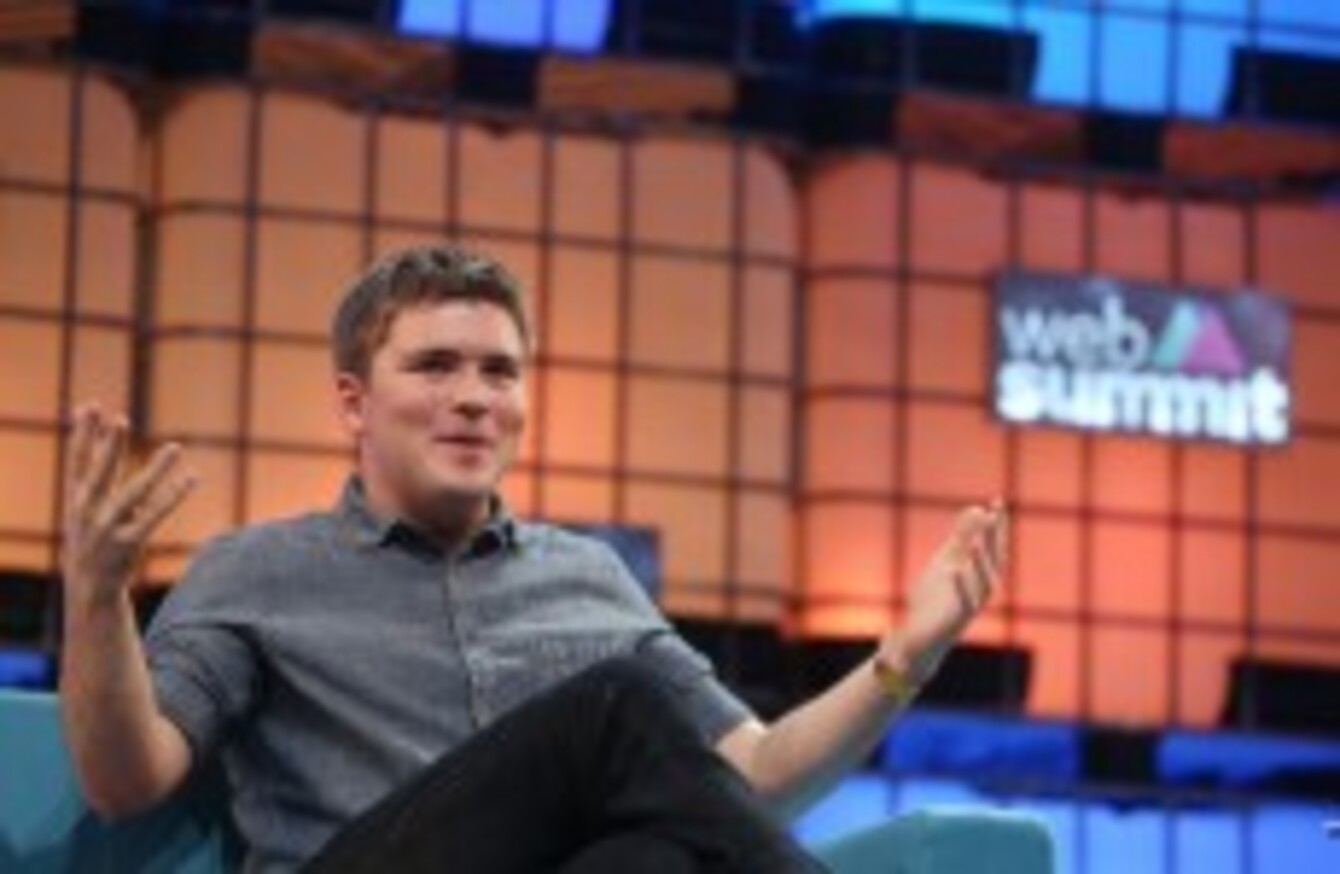 Stripe's John Collison at the Web Summit today
Image: Sam Boal/RollingNews.ie
Stripe's John Collison at the Web Summit today
Image: Sam Boal/RollingNews.ie
JOHN COLLISON, ONE of two Irish brothers behind multibillion-dollar payments company Stripe, says he is still "scratching the surface" of the problem he set out to solve.
Speaking at the Web Summit in Dublin today, Collison, 25, said he took issue with the suggestion he and his brother Patrick, 27, had "made it" since their company hit a $5 billion valuation on its latest fundraising effort.
"It's one of these things that as you start scratching away at the problem you just keep realising it's bigger and there's more to it," he said.
The Silicon Valley-based company, which essentially makes it easier for companies to take payments online, was launched in 2011.
It now employs over 300 staff, operates in 22 countries and counts Twitter and Kickstarter as its customers, while investors include Visa and tech luminary Elon Musk.
Teen Millionaires
The brothers first became millionaires while still in their teens when their previous company, Auctomatic, which made software for heavy eBay users, was sold for a reported $5 million in 2008.
Collison said to start a company you needed to have a "really strong familiarity with the problem at hand" and it helped that he had first-hand experience of the frustration of trying to process payments from overseas.
Stripe recently launched services in Brazil and Portugal, and the company will now be turning its attention to Latin America and Southeast Asia.
However, despite the rollout into new territories, Collison said it was important not to underestimate how difficult it would be to grow internationally.
Serving the 95% of the world's population who lived outside the US was never as easy as catering to the first 5% in Stripe's home market, he said.
If you are going to go international as a company you have to take it extremely seriously, make it part of your DNA and most of all acknowledge it's going to be a long process."
Collison said the companies he most admired were those without peers, like French long-distance carpooling outfit BlaBlaCar, rather than startups that focussed on improving an existing service.
"I think the biggest thing is probably to not be afraid to start a business that feels like it has no precedent," he said.