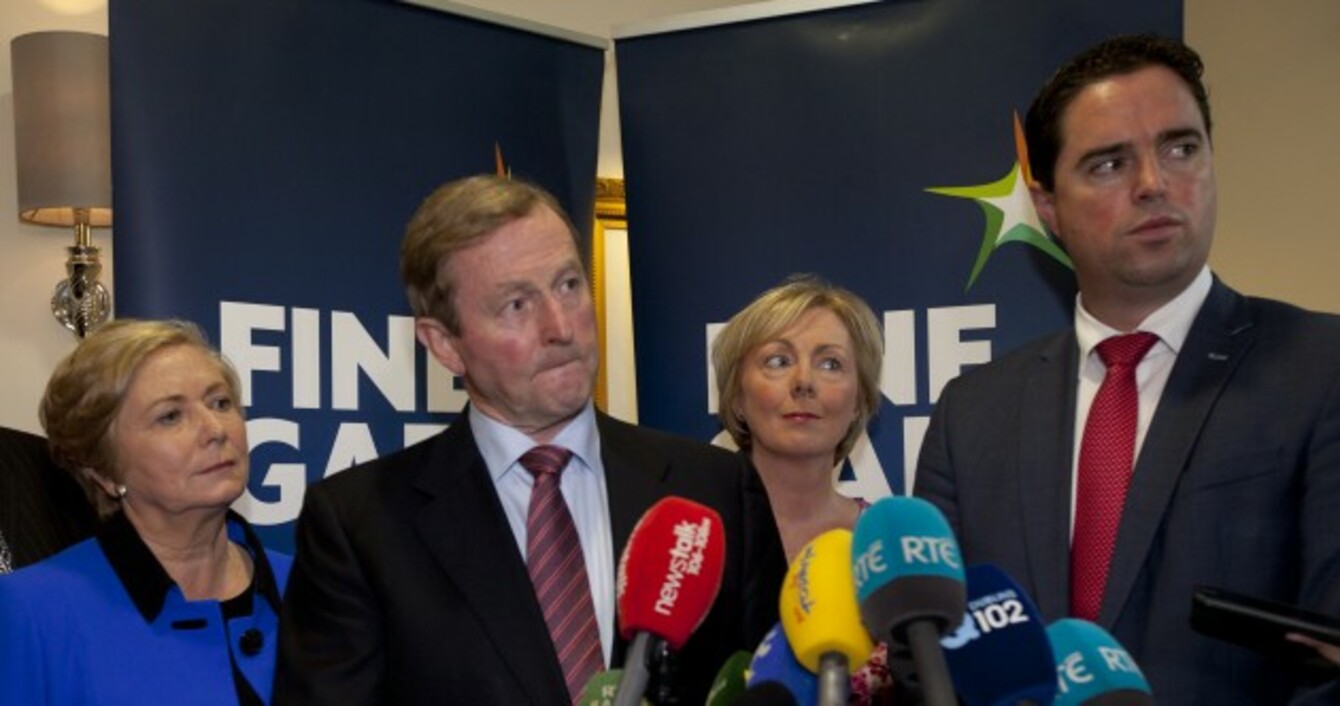 Minister for Justice Frances Fitzgerald, Taoiseach Enda Kenny, Chief Whip Regina Doherty and Martin Hayden, Chairman of the Parliamentary Party
Image: Eamonn Farrell
Minister for Justice Frances Fitzgerald, Taoiseach Enda Kenny, Chief Whip Regina Doherty and Martin Hayden, Chairman of the Parliamentary Party
Image: Eamonn Farrell
THERE WAS A break from the usual navel gazing at this year's Fine Gael think-in as the party had to look outside itself because one non-party member's name just keeps surfacing.
John Halligan's interview with the Sunday Independent – and the reaction to it – was the talk of the Kildare town where the gathering is taking place.
The question that won't go away for Enda Kenny is what he plans to do about the outspoken Independent Alliance junior minister.
Using colourful language in the interview with Niamh Horan, Halligan said he would rain hell down on this government.
He claims he was given a commitment by Simon Coveney that a second cath lab would be delivered to Waterford hospital. However, the Housing Minister said the promise was subject to the independent review of services backing it up.
Stepping out of his car earlier today, the Taoiseach asked the crowd of waiting photographers and journalists if they had seen any mojo around (something he told Pat Kenny he had got back earlier in the day).
Then, during a press briefing, Kenny was bluntly asked if he would use his new found mojo to sack John Halligan. His reply:
The Taoiseach of the day [is] entitled to appoint or dismiss Cabinet ministers… Minister John Halligan was approved by the Cabinet on my recommendation. Every minister of state has a series of both national responsibilities and their local representative functions. Minister Halligan has 11 responsibilities under two departments and I expect all ministers to look seriously at getting on with their work.
"I don't condone that kind of activity or that kind of interview at all. Everyone is entitled to speak directly without descending into that type of language about any issue."
Kenny said if any minister decides to leave, he will "make a replacement to that position".
"I expect John Halligan to do his job," said Kenny.
The Taoiseach hinted that a few other ministers could find themselves in new roles as early next year, with a possible reshuffle on the cards.
"And next year as I always do, I will consider the question of performance for the ministers and ministers for state," he told reporters.
Meanwhile, government Chief Whip Regina Doherty said she found Halligan's interview "difficult reading".
However, she added that her colleague "is a very valued member of this government".
It was difficult reading what he said yesterday, but I think that just goes to show just how passionate he is about delivering for the people in Waterford… I might have a different way of expressing myself.
She said there is no question of her party just "tolerating" Halligan. She noted that he is a member of the partnership government.
I value his support.
#Open journalism No news is bad news Support The Journal

Your contributions will help us continue to deliver the stories that are important to you

Support us now
Doherty said Halligan is a member of her "magic 59″ (the number of TDs that support this minority government).
Officially, there is currently the bare minimum in this category, including Fine Gael party members, the Independent Alliance and Katherine Zappone.
However, the government can count on Michael Lowry being a 59th for now despite Enda Kenny's previous statement that he will "not have any other dealings" with the Tipperary TD.
Doherty said she speaks to all 59 members, including Lowry, on a weekly basis.
Halligan's future still hangs in the balance but it would appear Fine Gael is not going to take the decision off his hands.
If he does survive this week, his days at Cabinet could still be numbered as the Taoiseach says he plans to take all matters into account when he assesses the performances of all ministers and ministers of state in 2017.