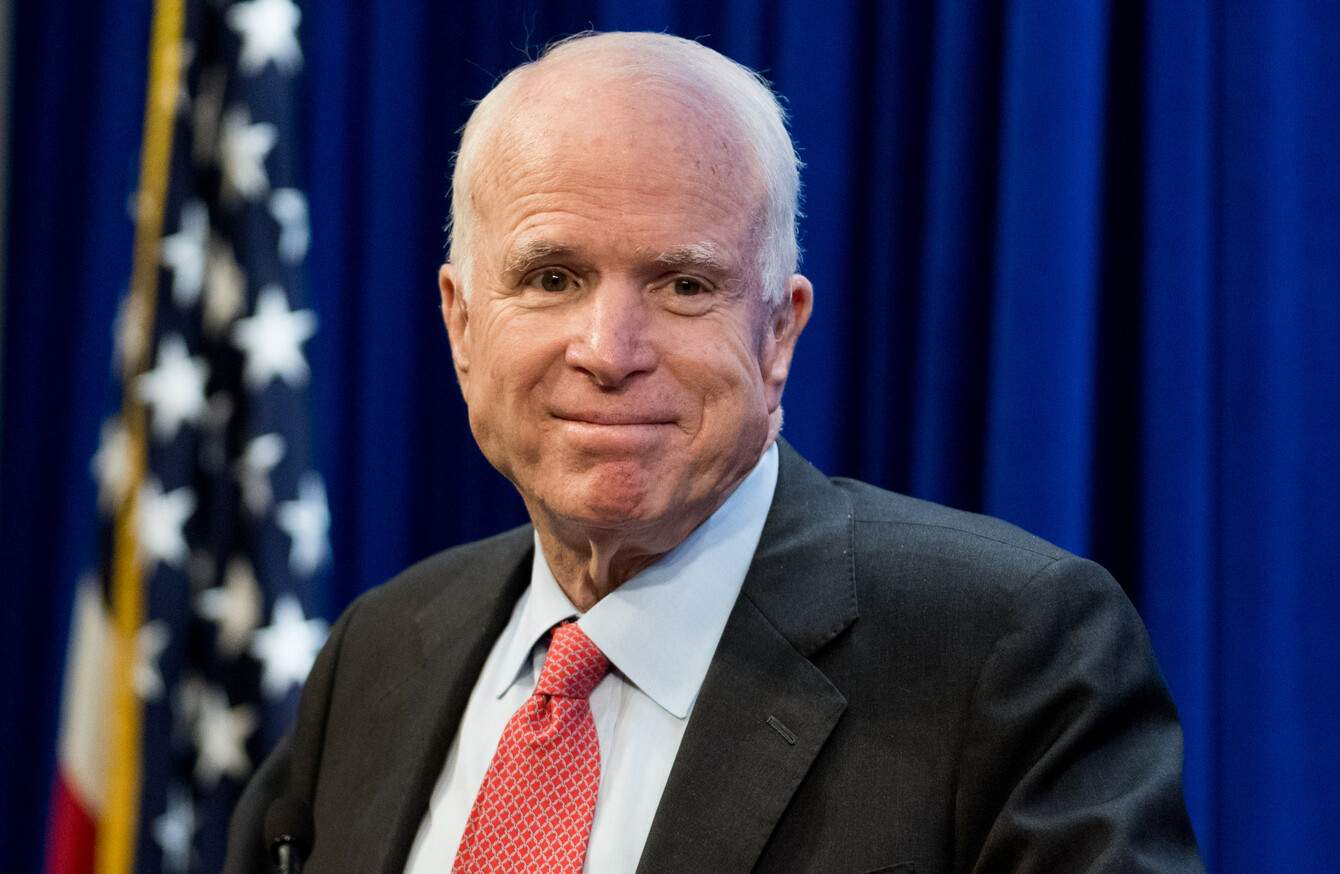 Image: SIPA USA/PA Images
Image: SIPA USA/PA Images
Updated Aug 26th 2018, 7:18 AM
VETERAN REPUBLICAN SENATOR John McCain has died aged 81. The former presidential candidate was diagnosed with a malignant brain tumour in 2017.
On 24 August, his family made the announcement that he had chosen to stop brain cancer treatment. His tumour was known as a glioblastoma – a highly aggressive cancer that begins in the brain.
Tributes have been paid to McCain from across the political spectrum, including the current US President and his predecessor.
Donald Trump sent his "deepest sympathies and respect" to the family of McCain, despite the senator being a long-time critic of the current president.
Former president Barack Obama said that "all of us can aspire to the courage to put the greater good above our own".
"At John's best, he showed us what that means," he said. "And for that, we are all in his debt."
Former US Vice President Joe Biden said that the spirit that drove McCain was "never extinguished" and his impact on America will be felt for many years to come. Hillary Clinton said that there'd "never be another like him".
The former naval aviator spent more than five years in Vietnamese prisons during the Vietnam War and twice ran for the office of President of the United States.
Following the war McCain was decorated with the Silver Star, Bronze Star, Purple Heart and Distinguished Flying Cross.
2008 campaign 
After an unsuccessful bid to secure the Republican presidential nomination in 2000, the Arizona senator was selected to represent the party in the 2008 race, when he eventually lost to Barack Obama.
During that campaign McCain was booed at a rally for telling the audience that they should be respectful of Obama.
In response to a woman who said she couldn't trust Obama because "he's an Arab" McCain shook his head and said: "No ma'am, he's a decent family man, a citizen, that I just happen to have disagreements with on fundamental issues, and that's what this campaign is all about."
During more than 30 years in the senate he sponsored significant lobbying and campaign finance reforms and became well-known for his ability to reach across the aisle and work with Democrats.
He was embroiled in a major scandal not long after he entered the senate and came under federal investigation along with four other senators.
The group, who were known as the Keating Five, were accused of corruption – specifically, improperly intervening on behalf of Charles H Keating Jr, chairman of the Lincoln Savings and Loan Association, which collapsed in 1989, at a cost of $3.4 billion to the US taxpayer.
He was eventually cleared of having acted improperly but was criticised for showing "poor judgment".
'American hero' 
After McCain was diagnosed with cancer last year Obama described his one time adversary as an "American hero".
Obama and his predecessor in the White House George W Bush are expected to deliver eulogies at his funeral which is expected to take place at the Washington National Cathedral.
Bush, who defeated McCain for the 2000 Republican presidential nomination, called his one-time political rival a "man of deep conviction and a patriot of the highest order" and a "friend whom I'll deeply miss".
McCain is survived by his wife Cindy and seven children.
In a tweet, she said her husband passed surrounded by those who loved him in the place he loved best.
President Michael D Higgins said members of Irish communities in the US "will recall his efforts with the late Senator Edward (Ted) Kennedy and others to achieve a resolution of the position of out-of-status immigrants, including the Irish, in the United States".
"His commitment to bi-partisanship on a number of issues should also be acknowledged and particularly his efforts, for example, to attend crucial votes in the United States Senate at some of the most difficult periods of his illness.
"On behalf of the people of Ireland, I extend my sympathy to his wife and family," Higgins said in a statement.
With reporting from Sean Murray, Órla Ryan and AP