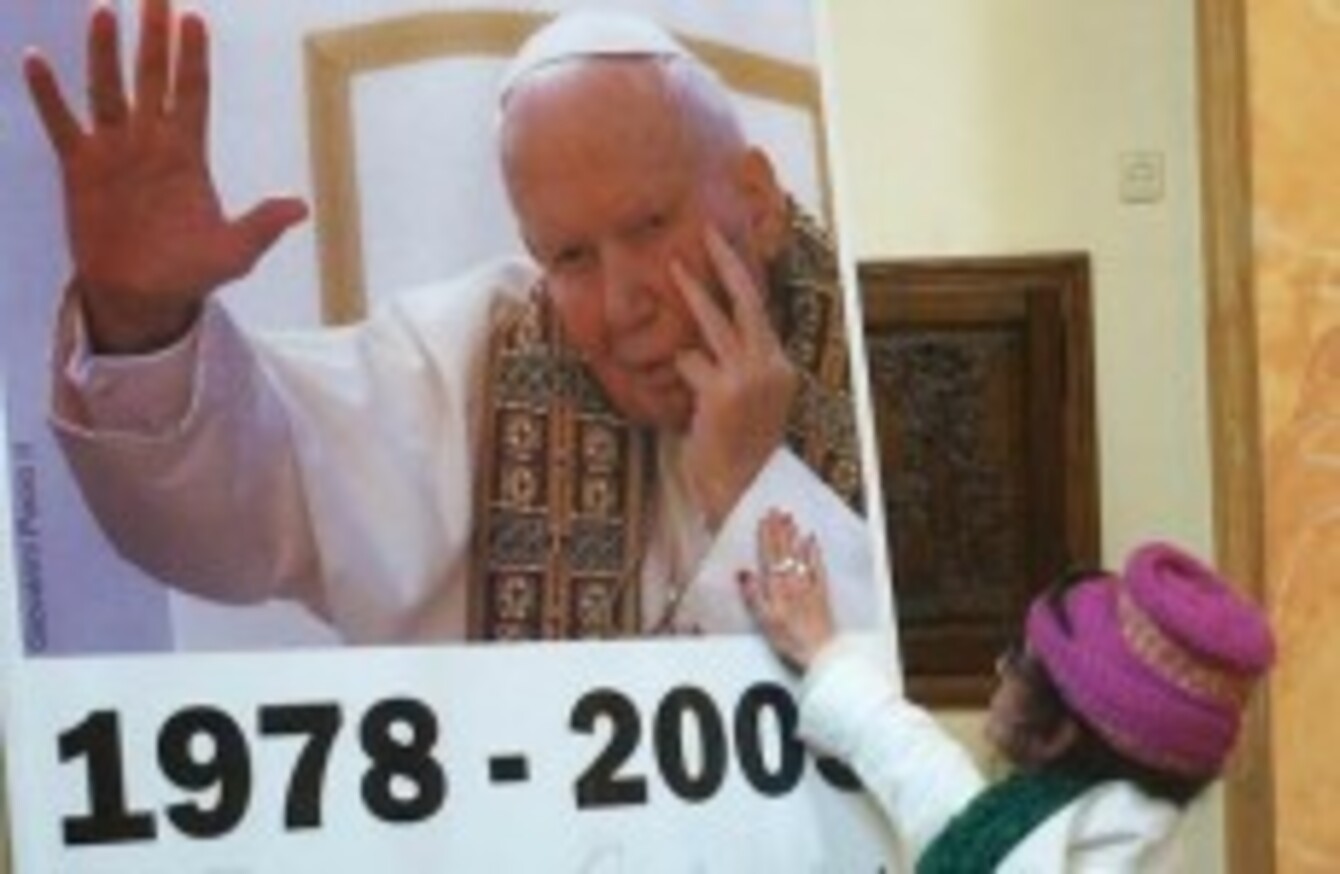 THE LATE POPE John Paul II will be beatified on May 1, the Vatican has announced.
Pope Benedict XVI today gave his official sanction to the beatification which puts John Paul, who died in 2005, one step away from canonisation as a saint. Benedict signed a decree submitted by a Vatican Commission earlier in the week that said John Paul had performed a miracle posthumously.
The Congregation for the Causes of Saints unanimously confirmed the miracle on Tuesday. A French nun called Sr Marie Simon-Pierre claimed she was cured of Parkinson's Disease after praying to John Paul II. She says she dreamed of Pope John Paul II in 2005, after he died on April 2, and believed his intervention had led to her cure.
The incumbent Pope Benedict XVI plans to carry out the beatification himself on May Day. Work is already in place to move the body of John Paul II, born Karol Wojtyla in Poland, from the crypt of St Peter's Basilica to a prime viewing spot near Michelangelo's Pieta in the Chapel of St Sebastian in Rome.
Although beatification is the last stop to sainthood in Vatican procedures, there might be a delay on the line ahead for John Paul. The Italian news agency ANSA says:
One miracle is needed for the Catholic Church to accord beatification, whereas two miracles are required for sainthood.
So the Vatican will have to hold out for another miracle before John Paul II can be made a saint. They will surely be hoping they won't face the same difficulties they did with the first one. The Polish newspaper Rzeczpospolita reported last March that doctors investigating the Sr Marie Simon-Pierre's medical case said that she may not have had Parkinson's at all. They believed she "might have been suffering from a similar nervous disease, not Parkinson's, whcih could go into sudden remission", according to The Guardian.