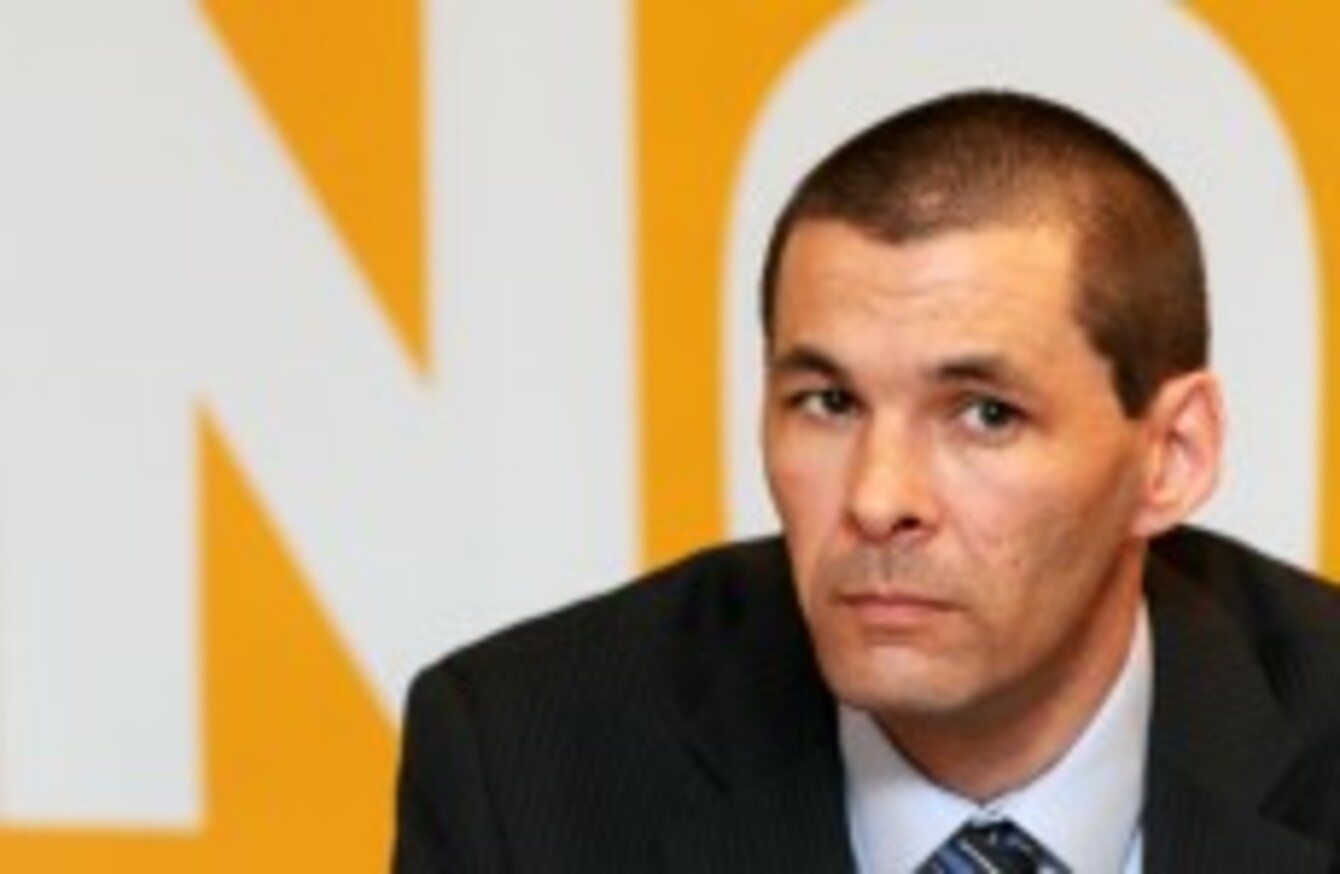 Jonathan O'Brien.
Image: Laura Hutton/Photocall Ireland
Jonathan O'Brien.
Image: Laura Hutton/Photocall Ireland
Updated 4.10pm 
SINN FÉIN TD Jonathan O'Brien says that he is not expecting an apology from Labour backbencher Eric Byrne after "ignorant and flippant" remarks made about O'Brien's brother in the Dáil.
During Leaders' Questions yesterday, O'Brien interrupted Tánaiste Joan Burton to reveal his brother is homeless as she spoke about the government's plans to tackle the issue of homelessness among people who have completed drug rehabilitation programmes.
Deputy Maureen O'Sullivan had raised the issue, citing the example of a person who has been drug-free for 20 months, but has been forced to live in accommodation with drug users.
A government reconfiguration before Christmas meant that some drug-free hostels were required to admit drug users. That is something that O'Sullivan said worried many drug users, quoting one man whom she had met.
His great fear is for his fellow addicts in the house, that someone will lose his or her life through relapse. He states that he has been through many services in his time and has learnt what works and does not work, and the house where he resides is a perfect example of what does not work. He attends 12-step meetings which tell him to avoid persons, places and things connected to drug use, and that has been impossible to do with the reconfiguration that has taken place.
"As a result of that reconfiguration, there is now widespread heroin use. There is dealing and chaotic behaviour. There are multiple relapses. There has been at least one serious overdose and there are debt issues as well."
Heated Dáil exchange
When the Tánaiste resumed her answer, O'Brien interrupted, telling her she "did not have a clue". He revealed that he has a brother who is homeless and a recovering drug addict. He said his brother had been forced to go back into a hostel where drug taking was happening.
That prompted Labour backbencher Eric Byrne to interject, eliciting a strong reaction from O'Brien.
Deputy Eric Byrne (Lab): Why does his good family not take him home?

Deputy Jonathan O'Brien (SF):  Shut your mouth.

Deputy Derek Keating (FG):  A Leas-Cheann Comhairle, that is completely out of order.

Deputy Pádraig Mac Lochlainn (SF): Deputies should have a bit of common decency.

Deputy Derek Keating: It is completely out of order for Deputy O'Brien to tell another Deputy to shut his mouth.

Deputy Eric Byrne: What would one expect from Sinn Féin?

Deputy Derek Keating: He should withdraw the remark and apologise.

Deputy Pádraig Mac Lochlainn: In the circumstances, Members should have a bit of common decency and cop themselves on. The Deputy is the first one to run to the television. He should cop himself on.
Speaking to TheJournal.ie this morning, O'Brien said that he hadn't planned on bringing his personal experience into the debate, but had been angered by the Tánaiste's answers.
"It's frustrating because [what the Tánaiste suggested] doesn't address the issue. She was just giving an answer for the sake of giving one.
"I'm sure she doesn't want to see recovering drug addicts coming out and ending up back in rehab, but the answer she gave doesn't solve the issue on the ground."
On Byrne's comments, O'Brien says he has yet to receive an apology, nor does he expect one.
That's the kind of person you're dealing with, who will make ignorant and flippant remarks.
"He's entitled to his opinion, but he simplified a complex problem. If it was as simple as he suggested, there would be no homelessness. This is coming from a man who spent 20 years on a drugs taskforce.
"There are real people behind these stats and the solution is more complicated than that."
'Hesitated'
Deputy Byrne could not be reached for comment this morning.
#Open journalism No news is bad news Support The Journal

Your contributions will help us continue to deliver the stories that are important to you

Support us now
Speaking on RTÉ's Liveline this afternoon, the other govenrment TD involved in yesterday's exchange, Fine Gael's Derek Keating, said he had not heard O'Brien tell the chamber that his brother was homeless.
"I did not hear Deputy O'Brien make reference to homeless. I heard him say something about his brother," he told Joe Duffy.
Keating said that if he had heard the full contribution from O'Brien he would "hesitated" before raising the matter with the Leas Ceann Comhairle and asking for it to be withdrawn.
"My comment was solely in relation to the circumstances that arise when TDs begin to tell each other to shut up," he said.
- additional reporting from Hugh O'Connell
First published 9.40am