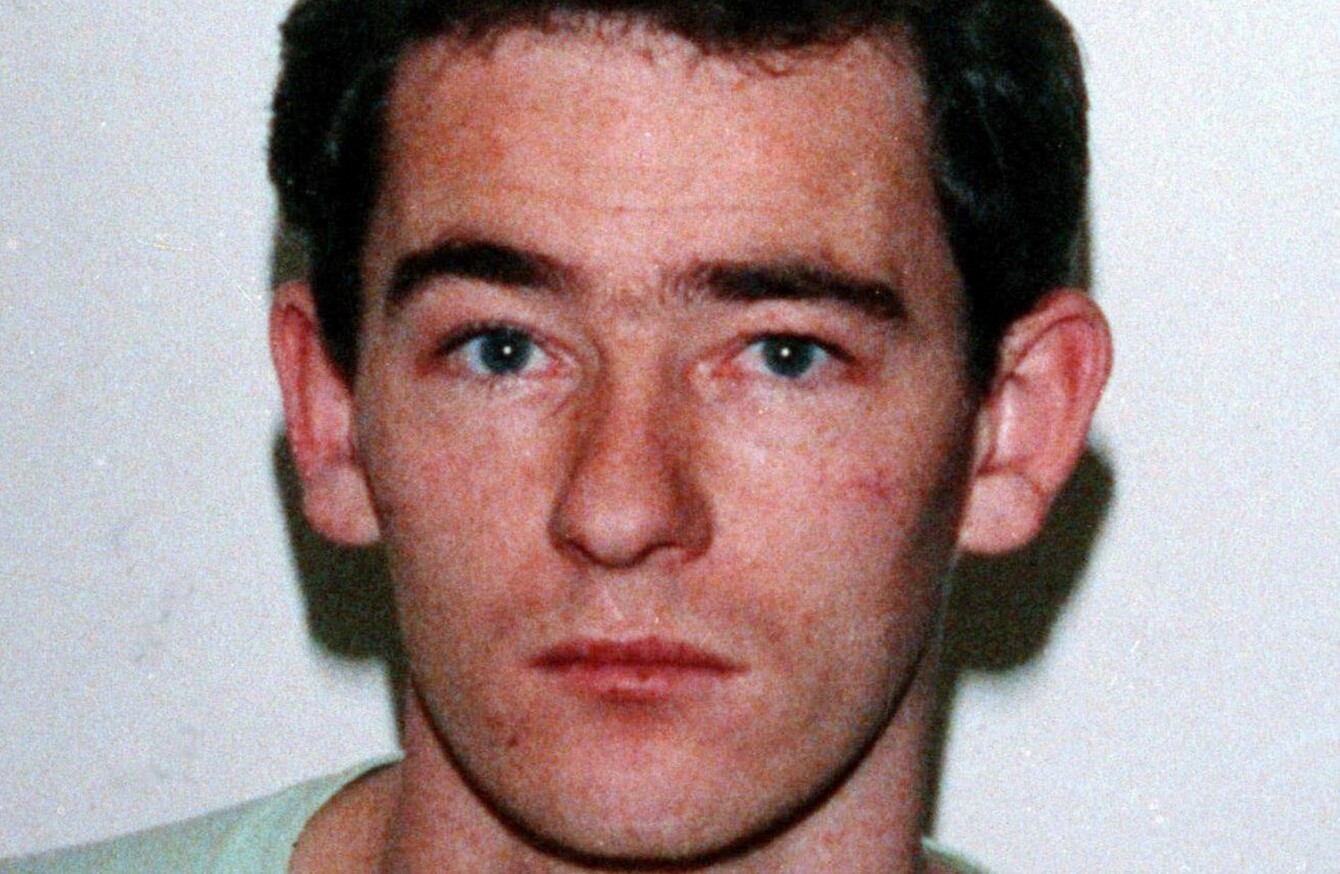 1992 Derbyshire Police handout picture of Joseph Magee
Image: PA Archive/Press Association Images
1992 Derbyshire Police handout picture of Joseph Magee
Image: PA Archive/Press Association Images
A FORMER PARAMILITARY who served two years of a life sentence for the murder of a British soldier has been spared jail for possessing €10,000 worth of stolen designer sunglasses in Dublin.
Joseph Magee (50) claimed he found the sunglasses, which cost €150 each, in a park and was planning to give them away or sell them "for a few bob". Gardaí believe he was holding onto them for a third party, Dublin Circuit Criminal Court heard.
Magee of Marsfield Avenue, Clongriffin, Dublin pleaded guilty to possession of 55 pairs of stolen 'Maui Jim' sunglasses at his home on 2 April 2015. The sunglasses had been taken from the car of a salesman however Magee was not charged with the theft.
Magee is a former member of the INLA. He received his first conviction in Northern Ireland when he was 12 years old and by aged 17 was serving a three-year term for firearm possession, his counsel said. He was jailed for three years by the Special Criminal Court here in 2001 for another count of possession of firearms.
In 1992 he took part in the murder of Sergeant Michael Newman who was shot dead by the INLA outside a recruitment office in Derby, England in 1992.
The British government attempted to extradite Magee to face trial for the murder but the request was denied by the Irish High Court. He was later arrested by British authorities while attending a funeral in Northern Ireland.
The court heard he was convicted of murder in 2004 but released under the Good Friday Agreement after serving two years, at which point he moved to Dublin.
Defence counsel Dean Kelly BL conceded that Magee's previous convictions were the most serious aspects of the case but submitted that the Irish and British governments had taken a certain attitude towards him under the 1998 agreement.
He asked the court to take a similar non-custodial position, which would allow Magee to keep his social housing.
Judge Melanie Greally said Magee's convictions "speak for themselves" but noted they were "committed in a certain context".
She said if Magee was to be jailed he would lose his house which would hinder his efforts to reform. She also accepted that he wasn't the final beneficiary from the sunglasses and imposed a two-year suspended sentence.
Mr Kelly said they were "high-end sunglasses" which were sold for "eye-watering prices" exclusively in Brown Thomas.
The court heard gardaí raided Magee's homes while acting on confidential information that another person was dealing drugs from the premises. No drugs were found but the stolen property was located in a boiler-room.
Magee turned up at the garda station the next day and admitted his role.