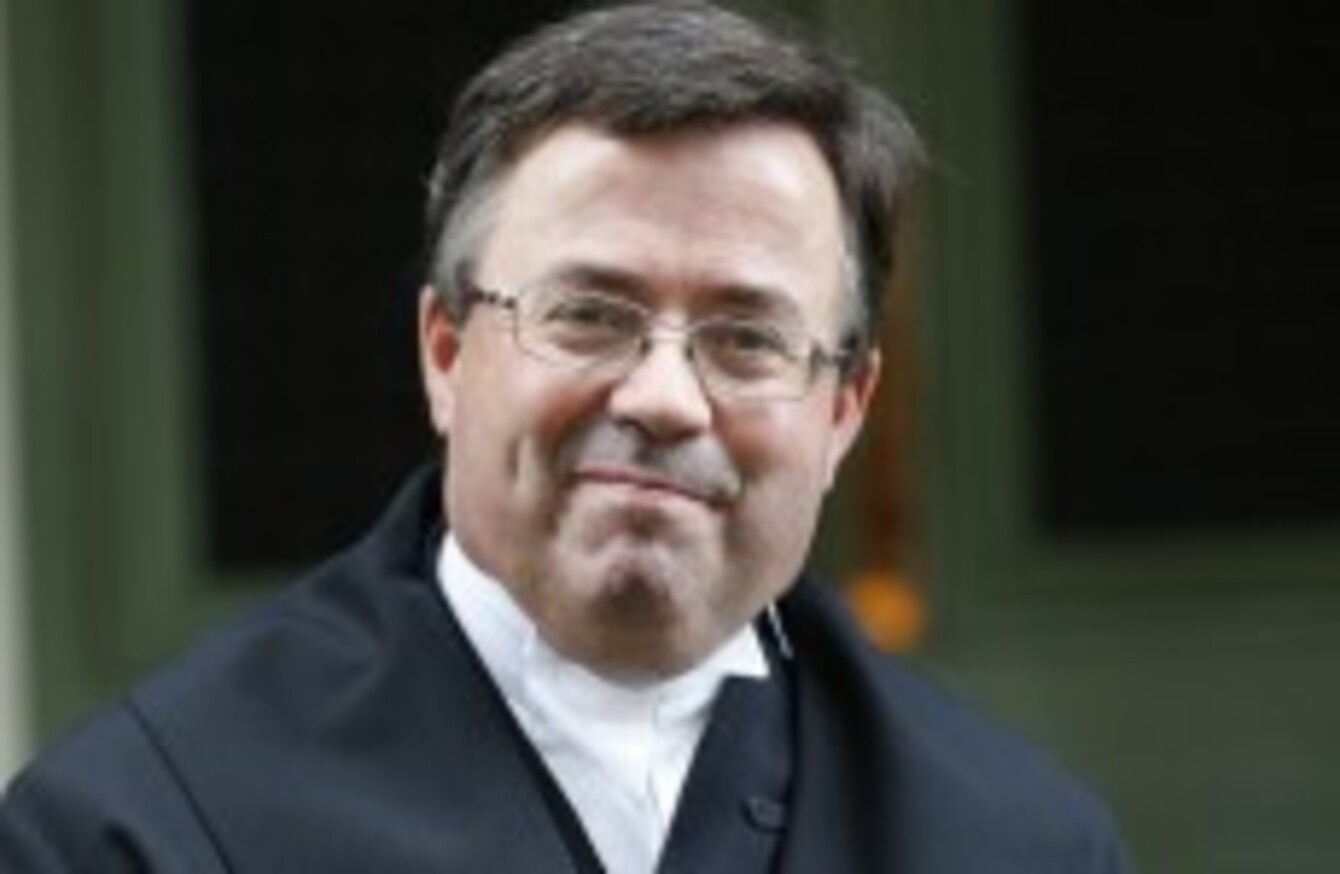 Mr Justice Gerard Hogan
Image: Sasko Lazarov/Photocall Ireland
Mr Justice Gerard Hogan
Image: Sasko Lazarov/Photocall Ireland
AT THE CENTRE of today's news story about how Ireland has legalised ecstasy, ketamine and magic mushrooms, sits Judge Gerard Hogan.
The judge made the unexpected decision to allow for the possession of some drugs in a ruling on an appeal this afternoon, with the backing of two of his judicial colleagues at the Court of Appeal who agreed with his assessment of Ireland's drug laws.
His 30-page ruling can be read in full here – and it's well worth a read.
In it, it's clear that Judge Hogan was aware of the gravity of what he was doing, saying the appeal "presents a constitutional issue of far-reaching importance".
Basically, the judge gave a judicial death certificate to a specific section of the Misuse of Drugs Act 1997 because it failed what is called the principles and policies test. This basically means that the legislature – i.e. the Oireachtas –  is meant to set out how a power should be used if it is delegating it to the government.
Arriving at his judgement, Justice Hogan said there was not enough guidance given in this case in section 2 (2).
He says that while the terms used in the title – misuse, dangerous, harmful – are "laudable and desirable objectives", they do not constitute a "sufficient restriction on the more or less unlimited power of regulation" given to the government in relation to what substances or products that they can declare controlled drugs, and therefore make illegal.
In the judgement, he says:
The special cases of tobacco and alcohol apart, it is nevertheless clear that… the Government is more or less at large in determining which substances or products should be declared to be controlled drugs.In the present case, the fundamental choice which remains with the Government for the purposes of s. 2(2) is which dangerous or harmful drugs are liable to misuse such that they should be declared to be controlled drugs. But there is almost no guidance given on this topic by the substantive provisions of the 1977 Act itself and the key words of the long title ("misuse", "certain", "harmful", "dangerous") are in themselves too general to be sufficient for this purpose."
He brought alcohol and tobacco into it as an example. He questioned whether the legislation left the government open to ban other types of drugs that are currently in everyday use, such as alcohol and tobacco. He said:
Alcohol is a major factor in range of serious anti-social activities, including road traffic fatalities and accidents, domestic violence and other serious crimes such as assault and public order offences. Alcohol is addictive and the abuse of alcohol in Irish society is regrettably so prevalent that it presents major public health challenges, of which alcoholism and cirrhosis of the liver are among only the most prominent.
Tobacco consumption is highly addictive and greatly increases the risk of lung cancer, heart disease and a range of other serious illnesses. On any view, both drugs are harmful and are liable to be misused.
The judge who heard the initial case, Mr Justice Gilligan, had called for the 1977 Act to be interpreted in a 'holistic fashion', believing it to be directed at drugs which would have 'negative and detrimental effects on human health… and limited to those substances which are likely to be universally harmful to those who misuse them'.
However, Judge Hogan disagreed with this interpretation by Judge Gilligan.
I would observe, however, that there is nothing as such in either the long title or the 1977 Act which states that only substances "which are likely to be universally harmful to those who misuse them" can, as such, be the subject of an order under s. 2(2) of the 1977 Act.
Judged by the long title, it is simply sufficient that the substance is harmful (or, for that matter, dangerous) and is liable to misused. In any event, there can be little doubt but that both alcohol and tobacco are likely to be universally harmful to those who misuse them.
The Dáil will sit late tonight to pass emergency legislation in order to reclassify drugs – including ecstasy, ketamine and magic mushrooms – following the ruling by Mr Justice Gerard Hogan.
The legislation will then go to the Seanad tomorrow, but can only take effect the day after it's signed into law, meaning that the new law will not come into force until 12am Thursday.
Additional reporting by Christine Bohan