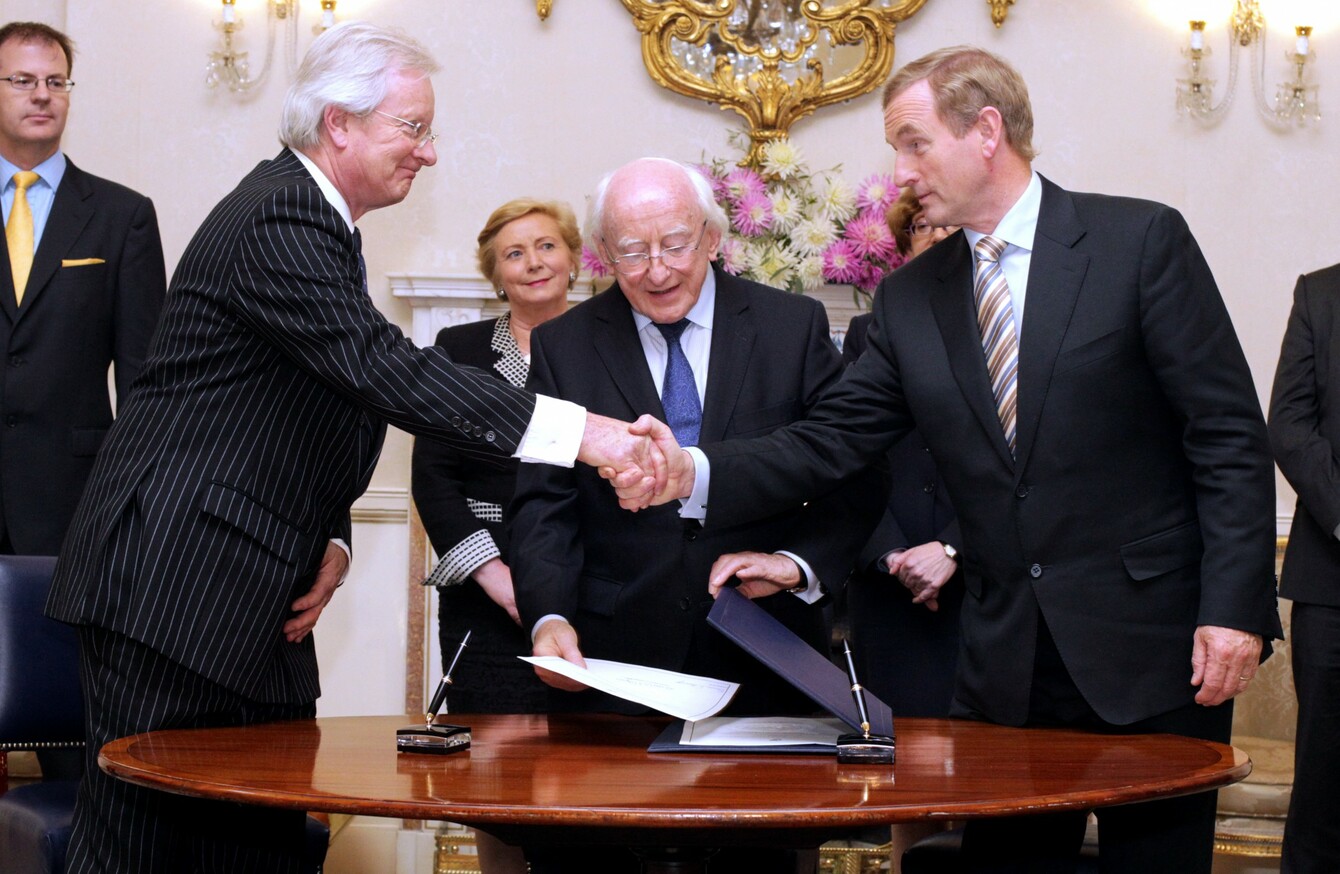 President Higgins and Taoiseach Enda Kenny with His Hon. Judge Alan Mahon a he is appointed to the Court of Appeal in 2014.
Image: Mark Stedman/Photocall Ireland
President Higgins and Taoiseach Enda Kenny with His Hon. Judge Alan Mahon a he is appointed to the Court of Appeal in 2014.
Image: Mark Stedman/Photocall Ireland
THE JUDICIAL APPOINTMENTS Bill, which Minister Shane Ross states will "virtually remove the appointment of judges from the political arena", was approved by Cabinet.
Currently, the Judicial Appointments Advisory Board identifies candidates and makes recommendations to government – with Cabinet ministers having the final say.
Instead, it will be the responsibility of a judicial appointments commission to make recommendations of appointments to government, which will be made up of a lay majority.
The bill will also reduce the number of recommendations to three, as opposed to the minimum of seven under the current system.
Transport Minister Shane Ross said the Bill was one of the keystone commitments needed in order for the Independent Alliance to enter into government with Fine Gael.
He has been adamant since entering government that he wanted to change the way judges were appointed and at one stage blocked any further appointments from being made under the current system.
However, he faced opposition due to judicial vacancies arising from some retirements, which then could not be filled due to the block on new appointments, leading to backlogs and resentment in the court system.
New appointments
The Irish Times reported that a number of recent new appointees have links with the Fine Gael party – however, the minister would not be drawn on any specific cases today.
In addition to some current vacancies being filled, a number vacancies that will not occur until later in the year were also approved.
Speaking to reporters today, he said he did not agree with the way in which judges have been appointed up until now.
I do not like the way they are appointing judges at the moment, that they have been appointing judges under the old system while I have been in government. I made it a condition at one stage that they didn't appoint anymore. We then came to an agreement that they could appoint more judges because there was a case being made by many that they system was being clogged up and we didn't want to see justice being deprived by anybody.
Last week's appointments were just that pattern… It is that sort of old system that gives rise to the argument where people automatically assume that because they have been politically appointed, they are politically connected, and therefore they are appointed for that reason.
Ross also said he did not ask if any of the appointees had any political links at today's Cabinet meeting.
"I had agreed there would be judges appointed under this system provided that this Bill [the Judicial Appointments Bill] was published and went to the Dáil – that was the deal," said Ross, adding:
I wasn't misled at all.
He said he was given no assurances by anyone that the appointments were "non-contentious".
The minster said it was not the case that he was forced to approve the judges in order to get his Bill approved today.
Ross said the new judicial appointments commission will provide transparency in the selection of judges and ensure they are appointed on merit.
The new commission will have an "enormous impact" in ensuring the public have confidence in future appointments.
It is understood the judicial appointments bill will come before the Dáil on 20 June. Ross said he wants the Bill to be enacted as soon as possible.